Tools & Materials
Understanding Heating and Cooling Equipment Terminology
Knowing industry-specific HVAC lingo will help you make more informed decisions about heating, cooling, and ventilation strategies.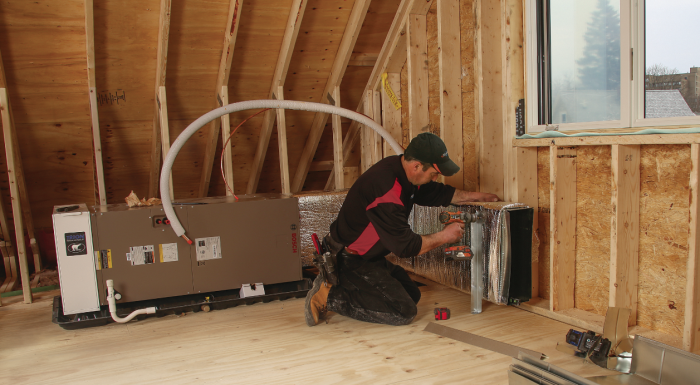 Variable-capacity heat pumps and air conditioners have an output that is matched to the heating or cooling load automatically (as opposed to the on/off operation of single-stage and to a lesser extent two-stage equipment, which has two operating speeds). The compressor of variable-capacity equipment runs at a slower speed for a longer time, which provides quieter operation, better humidity control, and greater efficiency. But specs among variable-capacity heat pumps and air conditioners vary widely. Understanding their differences starts with understanding the terms that describe their performance.
Key HVAC terms
SEER, or seasonal energy-efficiency ratio, describes the cooling efficiency of central air conditioners and heat pumps in cooling mode. Higher numbers mean greater efficiency.
EER, or energy-efficiency ratio, compares the Btu per hour of cooling to the amount of electricity used to produce it. Higher numbers mean greater efficiency.
HSPF, or heating seasonal performance factor, describes a heat pump's overall heating efficiency taking into account defrost cycles and the need for supplemental heat. Higher numbers mean greater efficiency.
Turn-down is defined inconsistently, but refers to the minimum capacity of a variable-capacity heating or cooling appliance. Variable-capacity central equipment turn-down is generally between 30% and 70% of the equipment's maximum output.
Sensible cooling is the load associated with making the building a comfortable temperature. Solar gain, heat generated from appliances, and air leakage are only a few of the factors affecting it.
Latent cooling is the load associated with dehumidification and the energy consumed in removing it from the air and water-absorbing materials in the building and home furnishings.
Manual J is the Air Conditioning Contractors of America (ACCA) heat gain and loss calculation to determine the loads in a building. A building's size, airtightness, insulation, and glazing are a few of the considerations.
Manual D is the ACCA method for calculating register number and sizes, duct layout and design, and airflow per room. Short-cycling is when heating and cooling equipment runs for short periods of time, which hampers efficiency, reduces comfort, and reduces equipment life.
Commissioning is the setup of a new system, including adjusting blower speed, air delivery, and any other aspects of operation for maximum efficiency and comfort.
---
RELATED LINKS