Podcast 396: Protecting Foundation Insulation, Recycling Greywater, and Drying a Damp House
Mark, Kiley, and Patrick hear from listeners about design software and Gold Medallion homes before taking listener questions on using greywater systems, ventilating a damp house, and protecting foundation insulation.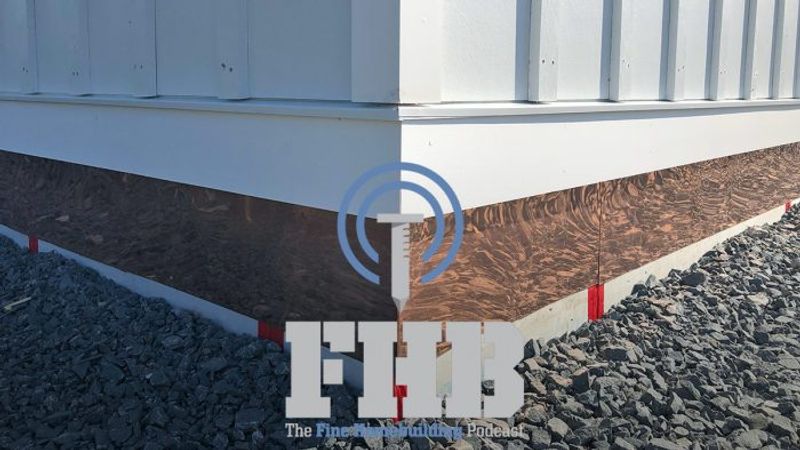 ---
Follow the Fine Homebuilding Podcast on your favorite app. Subscribe now and don't miss an episode:
Help us make better episodes and enter for a chance to win an FHB Podcast T-shirt:
www.finehomebuilding.com/podcastsurvey
Tony shares his preferred design software and his method for protecting foundation foam insulation. Matt's grandparents had a Gold Medallion home and $1000 electric bills. Brett wants to learn more about greywater systems. Steve wonders if the humidity in his new house is a problem.
---
Editor Updates:

​
---
Listener Feedback 1:
Tony B writes: Hi Patrick, This is in response to a previous show where your listener asked about platforms to draw plans on. He was a builder looking for fairly intuitive software without a monthly subscription. For a number of reasons, I bought Chief Architect Home DesignerPpro a few years back. Just like him, I didn't want to pay the monthly subscription so I bought a one-time license. I still have a draftsperson draw most my plans but I wanted software I could design something like a simple garage, sun room, or deck. I also wanted assistance with material take offs. My uses for it have changed since buying it. It's most helpful for throwing together a dollhouse view of something like a bathroom remodel. I don't have to be perfect with all the structural work but I can get a model together that gives the customer spatial awareness to make decisions on say a vanity size or shower door-hinge location. I save a bunch of 3d photos of the final and send the link to my guys when they start the project also. I can also easily call out dimensions and locations, like a timer switch and a vent fan.
I would say it took about 8 hours of tutorials and playing around before I could accomplish much. Like anything, it gets better with time. I have struggled with dormers, attic spaces, and complicated roof framing when I have tried. But I also don't think the home designer pro version is best geared for that kind of work. Additionally, I have a qualified draftsperson do all of that anyway. For the cost and the years of use I have gotten, I find it helpful. I can throw together decks, bathrooms, and bonus room layouts in an hour or two for a basic start. Another hour or so of tweaking details and exact dimensions after showing the customer and getting feedback. Just last week my guys were remodeling a mudroom while the customer was on vacation. She left us with a hand drawn sketch of the layout and built-in she wanted. My guys requested I draw something so on night 1 I did just that. In the morning, I texted some photos to the customer for approval and then sent the same to my guys. Very convenient. Hope that helps.
Related Link:
---
Listener Feedback 2:
Matt writes: When I heard someone reference gold medallion homes as being all electric, a few things fell into place for me. 20 or so years ago, I had moved into my grandparents' old house which was built in 1968. It was all electric and a friend of mine pointed out a gold medallion that was stuck to the front door saying how the house was all electric. I had no idea this was some sort of certification. I just thought it was a novelty. Each room had its own thermostat and radiant ceiling heat with the exception of two rooms which were originally unfinished and had electric baseboard heaters. The house was very comfortable until I got the first electric bill in the fall and my jaw dropped. It was around $600 for the month! I immediately turned off most of the heat except for the electric baseboards and one or two other rooms that I used. When I asked my dad, he told me my grandparents would regularly have $1000 or more monthly electric bills! I suffered through cold winters and would never recommend radiant ceiling heat to anyone. It was comfortable but so expensive, although it seems some of your listeners had a more positive experience. At any rate, I was glad to find out about the gold medallion electric houses.
Separate question. When back priming exterior trim, what kind of paint do you like to use? I've used oil primer, latex primer, regular paint, and porch and floor paint when working on porch floors or stairs. I'm sure everyone has their own preferences but I'd love to hear your opinions. Thanks
Related Links:
---
Question 1: Is using copper for a frost-protected shallow foundation a good idea?
Tony writes: Hello again Patrick, Can we talk frost-protected shallow foundations? I know this has been brought up maybe just once or twice on your show. You have your exterior foam on the outside of the footing or haunch. Some below grade and some above. We have come up with a good system to deal with this and done it on a few jobs now. I have attached some photos below but we use copper. I love this for a few reasons:
1. Copper is readily available and no special tools needed to install.
2. The copper can get scratched, dented, hit with the weed whacker, buried under snow and it will not ever rust or need repainting.
3. In just the matter of a couple months, it will be a brown color that looks natural and blends in with stone, mulch, or dirt.
4. It is better than relying on a cementitious product that will crack and peel.
We tape it to our WRB above and to the foam below. On our latest, we actually hemmed each piece to lock on to the piece before and after it. Thanks, Tony
Related Links:
---
Question 2: What systems in the house could safely be considered greywater, and what can be put into those system?
Brett writes: Hello all, I don't know if you would be able to answer this on the regular podcast or if it requires a Pro Talk, but I was wondering if you could discuss 'greywater systems' at some point. It seems a boon to be able to use water that would otherwise be sent to a treatment plant, especially with the current droughts going on. In particular, I am interested in:
1. What systems in the house could safely be considered 'greywater'? After all, a bathroom sink and shower is at least exposed to fecal matter (although hopefully neither sees any significant size of waste particles). Likewise, a washing machine, assuming small children or gastronomically ill residents vacate their bowels on their clothes.
2. What can be put into a greywater system? In a traditional septic system, oils, food solids, etc. are generally not recommended. But I could see benefits of food solids being sent into a greywater system, namely compost. Although if the water goes through a pump, I could see why that would still be a bad thing. Likewise do you have to be careful with what soaps and detergents you use?
Related Links
---
Question 3: How do I figure out what the best ventilation system is to deal with the moisture buildup in my post-and-beam home?
Steve from Long Island writes: Dear Patrick, I recently retired and built my dream home in VT. Well, I had the shell built and now I'm finishing it… some retirement. The house is a post-and-beam structure with SIP panels. This summer was really hot for VT and I noticed a buildup of moisture and started thinking about how tight and insulated the house was and started to get worried. I was thinking, maybe I need some kind of ventilation system, HRV or ERV? And I'm wondering, is this something I can handle myself by choosing a manufacturer and calling them? Do they have experts to help fit a system to my needs… I'm not sure where to start… I'm not even sure what my problem is? Thanks for any advice.
Related Links:
---
Question 4: What is the best way to air-seal a ceiling with can lights?

Brian writes: What is the best way to air-seal a ceiling with can lights?
Related Links:
---
Check out our latest Project Guide: Siding & Exterior Trim!
Check out our new 2021 FHB Houses:
Visit the Taunton Store  •  Magazine Index  •  Online Archive   •  Our First Issues   •  All Access
---
Help us make better episodes and enter for a chance to win an FHB Podcast T-shirt: www.finehomebuilding.com/podcastsurvey
---
If you have any questions you would like us to dig into for a future show, shoot an email our way:

[email protected]

.
If we use your question we'll send you a FHB Podcast sticker!
---
FHB Podcast T-shirts!
Represent your favorite podcast! Available in several styles and colors. Made from 100% cotton. Find the Podcast t-shirt and more cool products in the Fine Homebuilding Store.
---
This episode of the Fine Homebuilding podcast is brought to you by Loctite's TITE FOAM.
The best contractors take weatherization seriously. When they need to seal a gap that's too small for insulation but big enough to create a draft, they reach for Loctite TITE FOAM. With products for everything from small cracks to the biggest gaps, there's a TITE FOAM product for every job, including a low- pressure expansion product designed to seal the rough opening around windows and doors. The high-density foam forms a tenacious bond to most common building materials, stays flexible to prevent cracking when materials move, and keeps air, moisture, and pests out of the house. Contractors who care about energy efficiency, comfort, and durability choose TITE FOAM. Visit Loctiteproducts.com for more information
---
Fine Homebuilding podcast listeners can now get 20% off anything in the Taunton store, including Insulate & Weatherize.
Use the discount code FHBPODCAST to take advantage of this special offer.
---
We hope you will take advantage of a great offer for our podcast listeners: A special 20% off the discounted rate to subscribe to the Fine Homebuilding print magazine. That link goes to finehomebuilding.com/podoffer.
The show is driven by our listeners, so please subscribe and rate us on iTunes or Google Play, and if you have any questions you would like us to dig into for a future show, shoot an email our way: [email protected]. Also, be sure to follow Fine Homebuilding on Instagram, and "like" us on Facebook. Note that you can watch the show above, or on YouTube at the Fine Homebuilding YouTube Channel.
The Fine Homebuilding Podcast embodies Fine Homebuilding magazine's commitment to the preservation of craftsmanship and the advancement of home performance in residential construction. The show is an informal but vigorous conversation about the techniques and principles that allow listeners to master their design and building challenges.
Other related links