Taper Flat Stock
Use a temporary wedge of scrap and a planer to carefully mill material for a wide, sloping surface.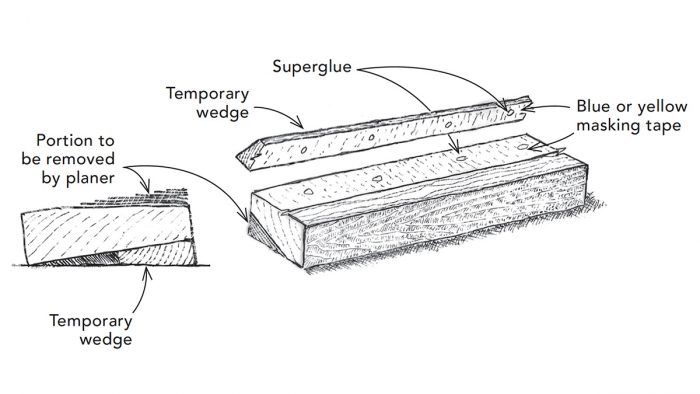 When I have to mill material to make a wide, sloping surface—for a flooring transition, for example—I use my planer, temporarily attaching a wedge-shaped piece of scrap to the underside of the stock and gradually removing material until I reach my desired profile.
To do this, cut a piece of scrap wedge at the correct angle, clean up any saw marks on the jointer, and cut it again to its final height on the tablesaw. Next, adhere a piece of painter's tape to the underside of the workpiece and the wedge, and place dabs of superglue on the tape—one on the wedge and a corresponding dab on the workpiece. Set your planer height so that it just nips off the top corner of your workpiece, and take extra care to guide the piece so that the wedge and the workpiece are making good contact with the bed rollers.
—Laura Smarrito, Philadelphia
Edited and Illustrated by Charles Miller
Published in Fine Homebuilding #303