Fitting Out-of-Level Prehung Doors
Use these two methods for measuring and cutting to install a door when the floor isn't level.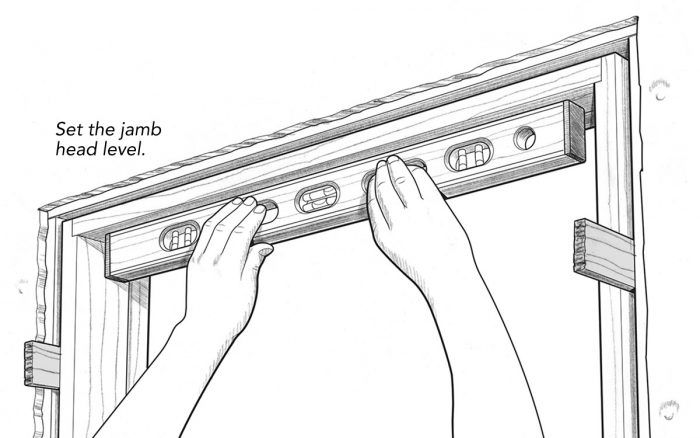 I'm new to installing prehung doors. I'm finding that I sometimes can't get the head level without raising one of the legs off the floor with a shim. Is there a better way to accomplish this?
—Diana via email
Contributing editor Andy Engel replies: Assuming both jamb legs (by the way, the term "jamb" comes from the French word for leg) are the same length, this means your floor isn't level. I work on a lot of old houses and encounter this condition all the time.
For ease, take the door out of the frame, and then put the frame in the opening. Stick a couple of shims between the studs and the jambs at the head to hold the frame in place, then check the head for level. Raise the low side by inserting a tapered shim between the bottom of the jamb leg and the floor. When the head is level, make a pencil mark on the shim where it meets the bottom of the jamb. The thickness of the shim at this point is the amount you need to cut from the bottom of the other jamb leg for the head to sit level.
| | |
| --- | --- |
| Use a shim to measure the cut when one jamb is higher than the other. | Use a compass to measure the cut when one side of the same jamb needs to be trimmed. |
In old houses, it's common for the floor to be out of level in both axes and under both jamb legs. The process is a little more involved here. Start the same way, with the door frame shimmed into the opening and the head level. Take a compass—the cheap metal kind with the sharp point that kids can't take to schools anymore works best—and open the gap between the metal point and the pencil point to the widest space between either of the jamb legs and the floor. Hold the compass with the point on the floor directly below the edge of the jambs, and scribe lines on each jamb leg. This is the line you'll cut. It should be zero at the point the jambs are highest above the floor, and at the maximum where the jambs touch the floor.
Make the cut with whatever works— miter saw, handsaw, or jigsaw. In many cases, it's good to back-bevel the cut slightly—the old floor will be higher in the spots where earlier door jambs were located than between them because of previous floor sanding.
Drawings: George Retseck
From Fine Homebuilding #303
---
RELATED LINKS: