Podcast 513: Trusses in a Fire, Roof Outsulation, and Problems With Spray Foam
The crew hears from listeners about tilt-turn windows and roof sheathing before taking listener questions about trusses, rigid insulation on the roof, and spray foam.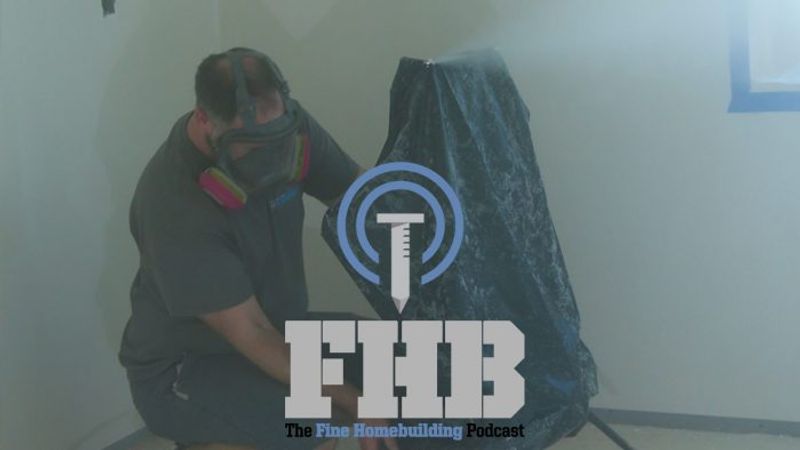 ---
Follow the Fine Homebuilding Podcast on your favorite app. Subscribe now and don't miss an episode:
Help us make better episodes and enter for a chance to win an FHB Podcast T-shirt:
www.finehomebuilding.com/podcastsurvey
Eric shares his experience with tilt-turn windows. Jon is concerned about reroofs with OSB sheathing. Marc asks about trusses holding up in structural fires. Dustin wonders about his plan to use recycled foam to insulate his roof. David asks about the efficacy of AeroBarrier. Mark inquires why we discourage the use of spray-foam insulation.
---
Editor Updates:
---
Listener Feedback 1:
Eric from Boston writes: Hi Patrick and Co., I'm writing regarding your conversation with Kylie and Mike in Episode #505 about European style tilt/turn windows. My wife and I recently had them installed in a newly renovated portion of a second home we purchased in 2020 in western Mass. I would describe them as quirky to say the least. The manufacturer we went with is DAKO, a Polish company made the UPVC triple glazed units and we have a set of picture windows with operable casement style Tilt/Turn units that open to the interior and 2 large slider door units that are known as Tilt /Slide.
You mentioned the issue of opening the casements inward rather than outward- well, I hadn't really thought about that at all when ordering the units and we most definitely have issues with them and the furniture that's up against that window wall near a small table and above the couch. For the couch unit we can at least tilt in the windows from the top for fresh air while we simply move the chairs out of the way, open the window and put the chair back in its place. All slightly annoying.
For the Tilt/Slide door units the main concern is leaving enough space in front of them to allow the unit to open as the mechanism requires the door to first open into the room about 4" before it can slide to the side. (Hope that. makes sense). The other thing about the slider units is that they don't come with any outside handles, which the window supplier told me when we ordered them, but had forgotten about by the time they arrived. You can still pull the units mostly closed from the outside by the door, but there is no handle to latch. The units lead out to a deck and mostly when they are open the screen is in place, so it's not really a bit deal. Other than those small annoyances the windows/doors performance and air tight design make them very comfortable to sit directly next to on the coldest winter day. Would I recommend them? Probably due to their efficiency. The entire window package including the front door, 2 picture units, 2 sliders and 2 triangle units with screens and inside blinds was $14K.
Here's a bit of background on the house—It was built in 1789 and I've heard it referred to as an antique cape with an Ell addition, but had been modified and renovated poorly and piecemeal over the last 50 years and had lost all of its interior colonial elements during that time, so essentially, we preserved the old wide plank floors (some boards are 2ft wide upstairs!!) and timber frame structure, but re-configured, re-wired and re-plumbed the entire first floor.
The Ell addition off the back of house is where the new DAKO windows were installed which are all black. We hired a GC to manage most of the project, but as a veteran DIY-er I was pretty much the person that was on-site keeping an eye on the project. I would have liked to have done the entire project myself, but it would have been way too much to handle on my own. With help from friends, we did all of the demo (2 chimneys), all of the finish work after drywall including casement trim, flooring, tiling, painting, and stairs inside as well as a good portion of new work on the outside including installing board and batten siding on the Ell and some other spots that needed to have the clapboards patched as well as painting most of the exterior. This is my third old house and the challenges of repairing and maintaining them won't be news to anyone familiar with 200-year-old structures. Keeping the rain and rodents out and heat inside through envelope/insulation upgrades can all be tackled piece by piece over time if you have the inclination, a few dozen cans of spray foam and solid guidance from pro resources like FHB.
BTW, my window research began in the 2020 Fine Homebuilding print issue dedicated to windows and glazing and I joined All Access last spring before building the deck. I really appreciate the community that you guys have created and the knowledge and level of passion that you all bring to the conversation.
Cheers, Eric from Boston
Related Links:
---
Listener Feedback 2:
Jon writes: I listened to podcast 501 again, and have some more thoughts about OSB losing strength from reroofing. I'm not sure I agree with the math about nailing. The reason is that the math assumes a random distribution of nails in the OSB. That is not the case, as shingles have a specific nailing pattern and layout. It's likely that nails from subsequent installations will fall close to the previous layer's nail's locations. with a bunch of area not touched by nails, rather than a random layout. I'm not sure it is a problem; I just want to point out a potential problem with your assumptions.
Following up on the costs of building in the DC suburbs, specifically Montgomery County. There is a LOT of money in this area (think people like Dan Snyder), but there are also MANY more average joes. I've found that in some cases I can actually get better prices here than in some rural areas like Western PA, because what is considered a commodity item here is unusual in those areas.
Those areas have also given some great innovations, with products from the little town south of where I grew up being featured by Matt Risinger! That was surprising. The town I grew up in is the county seat, known as a college town, and home to a lot of manufacturing. Some big names have left (Owens Illinois Glass Plant, other glass plants, the railroad, and Sealy mattresses), and some larger names have held on and sometimes done well (I have many friends who work in factories like Ashland, Colony, etc.), and new supporting industries like a fiberboard plant and transportation industries have popped up.
One of the gems I believe is a business local to where I grew up, Structural Modulars Inc. I used to have a bad opinion of the term "Modular Home", from some experiences in the 70s and 80s. There was a time when that term was a killer in real-estate listings. I think that is no longer the case. They are semi-custom; in that they have a lot of basic layouts as a starting point. My in-laws started with a basic design, but their modifications were incorporated with little effort or additional cost. Their result was great, of reasonable cost, and has held up well over the years. For something like the Silver Spring project, I think this is a great approach: The foundation is precast. The home is pre-built. Then the local folks have to do some excavation, the foundation is set in 1-2 days, hire a crane and the house is set in 1-2 more days. There will be some more work for the local trades after, which you will have anyway, but less work for them, and less work overall. Less costs (by a LOT), less time, less disruption for the neighbors, I think this is a win.
So, kind of a long response, but I think shows how someone like the person in Silver Spring could possibly save some money, and how in the future we can have better building more quickly and with far less cost.
Related Links:
---
Listener Feedback 3:
Mike from Belchertown writes: My family and I had a great time at Touch a Trade. Thank you and Mason Lord and all of the other volunteers—they did a wonderful job. My daughters and I are looking forward to doing it again next year. My girls love carpentry and it's reassuring that they will know they can do this kind of work in the future if they decide. I'm a huge fan of the podcast. It was a big part of my decision to pursue a master's degree in Building and Construction Technology from UMass in Amherst. Keep up the great work, your entire team is an inspiration. I included the case study of our mass-timber school building. Maybe you can get a ProTalk out of this amazing place. Keep up the great work.
Related Links:
---
Question 1: Are wooden trusses a fire risk?
Marc writes: Hey FHB Crew! You guys are awesome. A buddy of mine started telling me about how wooden trusses in residential homes are a big risk and I decided to do my own research. I found the problem he was talking about fairly quickly. If a house catches fire, apparently the gusset plate used to make connections on trusses fails very quickly. The teeth only penetrate the surface of the lumber and as soon as heat/charring is applied, the plates fall right off and collapse is inevitable. This article "How They Fail: Gusset Plates" goes into more detail.
What do you think? Is this a big problem and if so, why is no one talking about it? I feel like a modified version of the gusset plate (using deeper penetrating teeth) is a simple fix.
Thanks for your time.
Respectfully,
Marc
Related Links:
---
Question 2: Can I apply used foam boards on top of existing roof shingles?
Dustin writes: I live in a 1.5 story cape in climate zone 5 Albany, NY with the typical issues of kneewalls and cathedral ceilings in the upstairs. I need a new roof within 5 years. The roof has two valleys and two shed roof dormers on a 22.8 sq (2280 sq ft) roof. I recently got a quote for $12,400 for a new roof. I understand the opportunity of adding insulation above the roof deck that re-roofing brings and I'm exploring those options. I contacted two roofers that were in the GAF shingle brand referral program because I was originally inquiring about a nail base product GAF has on their website that consists of foam insulation layer (up to 6+ inches) ventilation blocks spaced for cross ventilation, then a decking osb layer. Turns out GAF discontinued this product.
My question is…
Could a homeowner in an effort to save money and time, buy used foam boards, apply them in layers over top of existing shingles, tape the seams, put on ventilation channels with long screws, and then block off/spray foam the area behind the knee wall to make the old roof non vented. I would then hire a roofing company to put down layer of decking and new roof. The savings are in doing the work myself and buying used foam. Also saving labor of stripping old shingles and saving money not having the roofing company do it. I see this as a way to do the work myself and never have to worry about going without a weather barrier because there would always be an aging but still fully functional roof at all times before the project is finished. I know this isn't the ideal way to do it but is it hurting anything? My rafters are 2×6 with board sheathing, is the layer of old shingles too heavy? Or is this no heavier than a solar array, or slate roof. My point being that are roof rafters really often undersized? What do you think about this over roof retrofit and the load bearing capacity of my 2×6 rafters?
Related Links:
---
Question 3: Is AeroBarrier a solution for air-sealing?
David from YouTube writes: Aerobarrier (spelling?) is this a solution for air sealing? I've never heard you mention this, but have heard other quality building people talk about it.
Related Links:
---
Question 4: ???
Mark writes: Hey folks, Have been listening to your podcast for a little over a year now. Love it! It seems like anytime insulation comes up there is a major effort to discourage the use spray foam insulation. But it is never clear why you folks think of it as the last solution if nothing else will work. Unless I missed that podcast. It seems like a fast way to insulate and vapor barrier at the same time. Is it because it covers up everything in walls, electric, plumbing, and more, making it difficult for future renovations? I see it being used on many home improvement TV shows all the time (i.e. This Old House, Holmes on Homes, etc).
Thank you, Mark
Related Links:
---
END NOTES:
Members-only Aftershow Podcast 513: Selecting Materials — Patrick, Ian, and Kiley talk about selecting materials for residential construction projects and the many considerations that go into choosing methods and materials.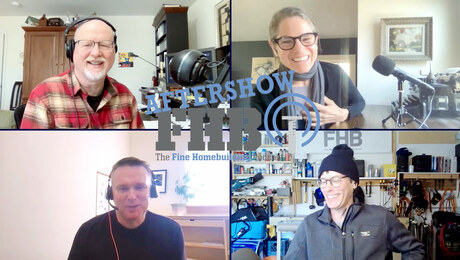 ---
Check out one of our Project Guides: Siding & Exterior Trim!

Check out our FHB Houses:

Visit the Taunton Store  •  Magazine Index  •  Online Archive   •  Our First Issues   •  All Access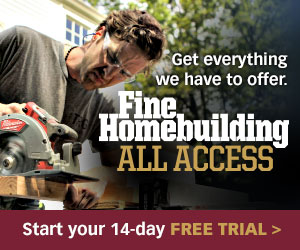 ---
Help us make better episodes and enter for a chance to win an FHB Podcast T-shirt: www.finehomebuilding.com/podcastsurvey
---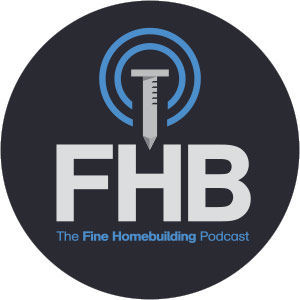 If you have any questions you would like us to dig into for a future show, shoot an email our way:

[email protected]

.
If we use your question we'll send you a FHB Podcast sticker!
---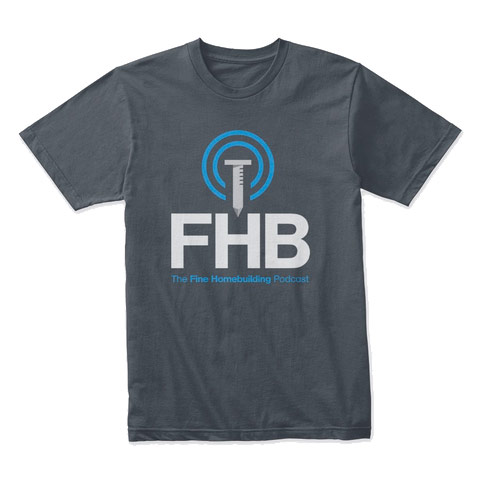 FHB Podcast T-shirts!
Represent your favorite podcast! Available in several styles and colors. Made from 100% cotton. Find the Podcast t-shirt and more cool products in the Fine Homebuilding Store.

---
This episode of the Fine Homebuilding podcast is brought to you by Loctite's TITE FOAM.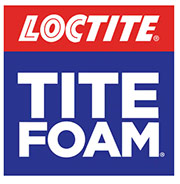 The best builders take weatherization seriously. When they need to seal a gap that's too small for insulation but big enough to create a draft, they reach for Loctite's TITE FOAM. With three formulations for everything from small cracks to the biggest gaps, there's a TITE FOAM product for every job, including a low-expanding product designed to seal the rough opening around windows and doors. The high-density foam forms a tenacious bond to most common building materials, stays flexible to prevent cracking when materials move, and keeps air, moisture, and pests out of the house. Builders who care about energy efficiency, comfort, and durability choose TITE FOAM. Visit Loctiteproducts.com for more information.
---
Fine Homebuilding podcast listeners can now get 20% off anything in the Taunton store, including Pretty Good House.

Use the discount code FHBPODCAST to take advantage of this special offer.

"Finally, knowledgeable people talking about building reasonably-sized, high-performance houses for normal people with real budgets!"
— DanD, VA, 8/19/22, Amazon.com review
---
We hope you will take advantage of a great offer for our podcast listeners: A special 20% off the discounted rate to subscribe to the Fine Homebuilding print magazine. That link goes to finehomebuilding.com/podoffer.
The show is driven by our listeners, so please subscribe and rate us on iTunes or Google Play, and if you have any questions you would like us to dig into for a future show, shoot an email our way: [email protected]. Also, be sure to follow Fine Homebuilding on Instagram, and "like" us on Facebook. Note that you can watch the show above, or on YouTube at the Fine Homebuilding YouTube Channel.
The Fine Homebuilding Podcast embodies Fine Homebuilding magazine's commitment to the preservation of craftsmanship and the advancement of home performance in residential construction. The show is an informal but vigorous conversation about the techniques and principles that allow listeners to master their design and building challenges.
Other related links