Connecting to the Outdoors and Neighbors
Working within a small footprint, this remodel for an intergenerational family incorporated simple elements to open up the space both inside and outside.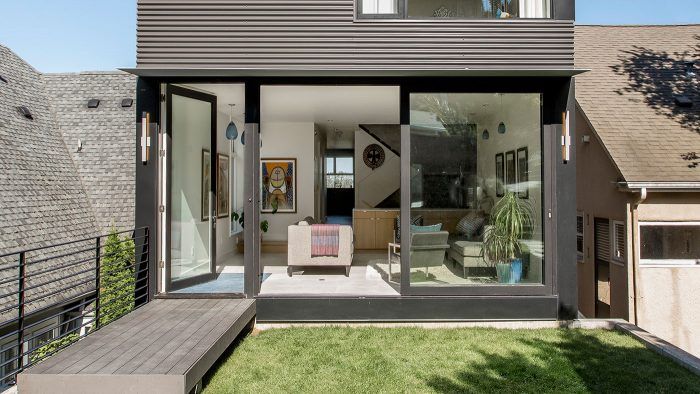 For this remodel, the aim was a better connection between the home and the backyard, which the client, an intergenerational family, shares freely with neighboring families. The residents on the block have chosen not to incorporate fences into their backyards, encouraging free movement among homes. Built on a narrow, 25-ft.- wide lot, the original house was only 19 ft. wide. In an effort to open it up, the architects wanted to incorporate a wide sliding door on the main floor, which wouldn't allow for enough bearing wall to remain. The solution was to swap out the classic wood-frame structural system for a steel moment frame welded together prior to construction. The result is a home open along the entire width of the garden, invisibly structurally sound and visibly inviting.
The interiors were split up into remodeled space and new construction. Given the modest footprint of the house, it was important that one couldn't distinguish the new construction from the remodeled space, which ultimately makes the spaces feel more generous in size. The raw-steel stair sits at the intersection of the new and old buildings.
Skylights at the top of the stair draw light down into the middle of the footprint and augment the beautiful surface of the steel. To take the focus away from the 1970s-era low ceilings in the remodeled space, the quartz backsplash was extended from countertop to ceiling. In addition, the usual upper cabinets were eliminated in favor of a single linear shelf. These two design moves make the wall the focus instead of the ceiling.
Architect Allied8, allied8.com
Builder Envision, envisionremodels.com
Location Seattle
Photographer Rafael Soldi
---
RELATED LINKS