Podcast 416: Video Doorbells, Engineered Siding, and What it Costs to Build Your Own House
Mark, Ian, and Patrick hear from listeners about hex wrenches and PEX plumbing before taking questions about doorbells, engineered siding, and sketchy framing.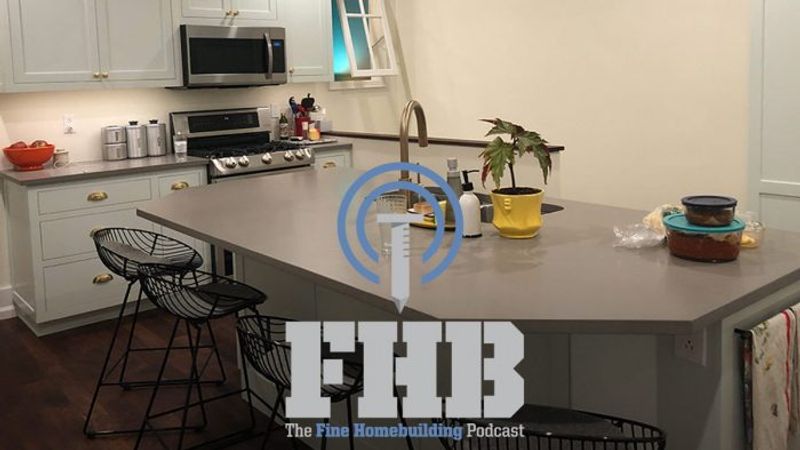 ---
Follow the Fine Homebuilding Podcast on your favorite app. Subscribe now and don't miss an episode:
Help us make better episodes and enter for a chance to win an FHB Podcast T-shirt:
www.finehomebuilding.com/podcastsurvey
Mike suggests a superior screwdriver. James tells us about PEX at the home center. Anthony shares his kitchen island. David asks about Ring doorbells. Dack asks about LP Smartside. Patrick asks about dodgy framing. Ian opens the books on his new-house build.
---
Editor Updates:
Mark's house
Ian's house

ProTalk LIVE
---
​
Listener Feedback 1: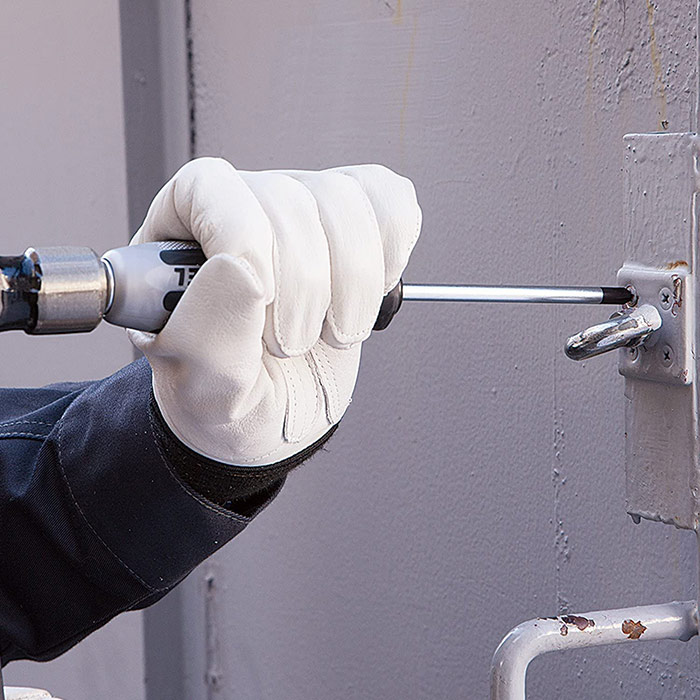 Mike writes: Hey FHB Podcast, Love the show! I hope I can attend PRO-TALK Seattle. I am a recovering mountain-bike mechanic, who now works as a finish carpenter in Seattle. I heard you talking about the Wera Toolcheck. Not many fasteners in your home use hex fasteners, but in a bike shop, that's 90% of the bolts. Wera uses a 'hex plus' shape on their hex wrenches. The flats of the tool are slightly concave to force the tool to only pull from the corners. These things are so good, customers referred to them as the magic wrenches when they came in with stripped out bolts. I heard you say the toolkit is neat, but will likely live un-used in your truck. Please do yourself a favor, and don't use any other hex wrenches. Especially when working on your vehicle.
While Ive got you on the line talking about must have tools… As a carpenter, I would also like to give the Vessel Megadora Impacta screwdriver some love. This thing removes stripped brass hinge screws with ease!! Do you guys have any must-have lesser-known tools you want to talk about?
Related Links:
---
Listener Feedback 2:
James writes: Hey FHB team, Home Depot has started carrying PEX-A at some of their stores. They're using the same brand for their PEX-A as they use for their PEX-B and both are primarily labeled as "PEX", so it can be difficult to tell them apart on the shelf. They don't have PEX-A at all of their stores and they're still missing PEX-A variants of several SKUs (e.g. washer outlet boxes), but it's a great resource to have available when it's 8pm and you realize you didn't order enough couplers.
When I replied my basement, having the option of using Home Depot was a lifesaver. There was a PEX-A fitting shortage at the time, so several types of fittings weren't available at my plumbing supply house. By using my supply house and Home Depot, I was able to get most of what I needed, though I did still need some workarounds like putting a reducer immediately after a tee or using a $15 brass fitting.
---
​
Listener Feedback 3:
Anthony writes: Hi, I appreciated the article in the email today about island design. I referenced that article when I planned our kitchen remodel and read it again today a few weeks after completing the remodel and living with the choices we made.
We made one choice that I haven't seen discussed or shown in the reading that I've done that I thought I'd share. Clipping two of the corners on a fairly conventional island did the following for us:
1. There are two seating areas on the diagonal so we can better see each other's faces while eating
2. the space feels less constricted and more open even though space is tight I had to limit clearance behind the seating to 36" and between the stove and island to 40″
3. It allows for a full run of cabinets/appliances on the working side of the island
One other choice we made that I've been happy with was to address a narrow set of stairs to the basement by placing the basement wall so the kitchen floor is slightly cantilevered angling up where it meets the pony wall. The pony wall is the constricting point when navigating the stairs but the treads themselves end up being 6″ wider. I'm sure you'll note the missing handrail…
I frequently listen to the podcast and read the magazine. I appreciate all the content you have provided over the years.
Related Links:
---
Question 1: What video doorbells deliver the best video and audio quality?
A listener writes: At our construction company office we have a 1st Gen Ring doorbell (2018-19 era). We rely on this to help facilitate deliveries, the mail, and unexpected visitors (mostly when we aren't there). The video feed seems choppy and not very clear most of the time, and having a two-way conversation can be difficult. It gets the job done most of the time, but feels like a pain to use, like I'm loudly saying instructions more than once like "just leave the package at the door" and the user looks like they are struggling to make out the message. This should not be a WiFi-signal issue though as we have fast WiFi and a strong wireless signal. Wondering if the newer generations of video doorbells would be better, meaning higher def, smoother video, and better audio. All new ones appear to be 1080. Willing to leave Ring too, if there is better equipment out there. No wires present, so must be battery operated. Asking because the $200 piece tag for the most expensive Ring has me hesitant. Thoughts?
Michael Oh responds
In our experience, the requirement for "meaning higher def, smoother video, and better audio" and "must be battery operated" ultimately end up at odds with each other. In order for Ring (and any similar consumer doorbell) to work off of batteries, they have to operate with power-saving chip sets which will not be able to process high-def video audio and transmit at the best WiFi speeds. You might have the best WiFi access points and signal, but ultimately, Ring has to make engineering compromises to make sure that a battery powered smart doorbell doesn't burn through all of its juice, especially when using IR illuminators for night vision, etc.
You're better off working with wired doorbells that operate off of Power over Ethernet, or even traditional 2-wire doorbell wiring which can be repurposed for that use. If you want to stay within the Ring ecosystem, the Ring Elites will give you the best video and audio quality over simple wiring which can be run by most low-voltage electricians.
---
Question 2: What options does a Fine Homebuilding reader/enthusiast have to clad his house in something that's low-maintenance, durable, and takes paint?
Dack writes: Hello FHB Podcast: I walked by a very expensive-looking remodel this morning and wanted to find out what kind of siding they were applying. From a distance it looked like Hardie board, but on closer inspection is was some kind of engineered wood product, with an OSB backing and fake-grain veneer. The foreman told me it is "LP," and after a quick Google search found out it's a Louisiana Pacific product that I wouldn't touch with a 10-foot story pole.
What options does a Fine Homebuilding reader/enthusiast have to clad his house in something that's low-maintenance, durable, and takes paint? (No, Patrick, we're not doing vinyl 🙂 Is Hardie the only good option? Thanks for any suggestions.
Related Links:
---
Question 3: What's going on behind this stucco corner?

On social media: I recently saw in my Facebook feed a post from Michael Anschel. Michael has a design-build firm in Minneapolis. He posted a photo of a building corner behind stucco. It was unbelievable. It looked like someone dumped out the scrap bin and stacked all the pieces on top of each other like building blocks.
So, what are the most egregious framing or structural fubars you've seen? Send them to us: [email protected]
Related Links:
Question 4: Discussion about Ian's house costs:
Related Links:
End Note:
Wednesday January 12th 9-6:30 — our first ever PRO TALK LIVE in Portland, 
Oregon!

---
Check out our latest Project Guide: Siding & Exterior Trim!

Check out our FHB Houses: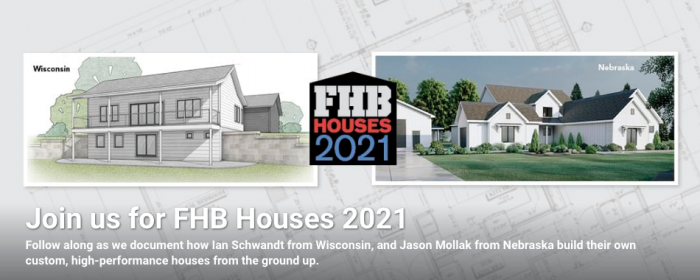 Visit the Taunton Store  •  Magazine Index  •  Online Archive   •  Our First Issues   •  All Access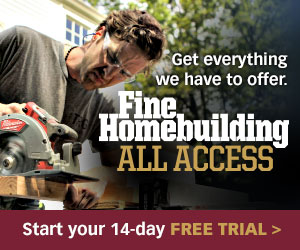 ---
Help us make better episodes and enter for a chance to win an FHB Podcast T-shirt: www.finehomebuilding.com/podcastsurvey
---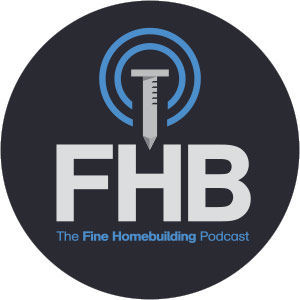 If you have any questions you would like us to dig into for a future show, shoot an email our way:

[email protected]

.
If we use your question we'll send you a FHB Podcast sticker!
---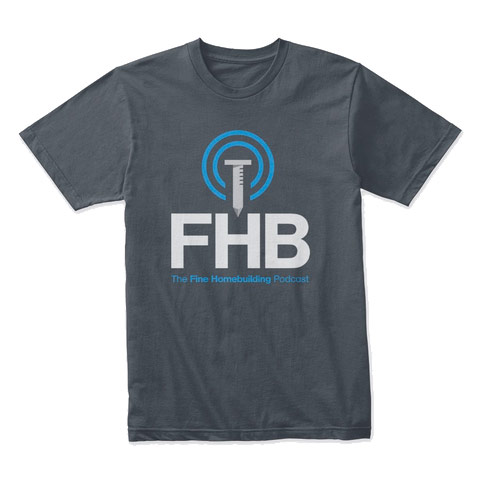 FHB Podcast T-shirts!
Represent your favorite podcast! Available in several styles and colors. Made from 100% cotton. Find the Podcast t-shirt and more cool products in the Fine Homebuilding Store.

---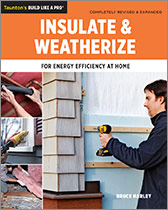 Fine Homebuilding podcast listeners can now get 20% off anything in the Taunton store, including Insulate & Weatherize.
Use the discount code FHBPODCAST to take advantage of this special offer.
---
We hope you will take advantage of a great offer for our podcast listeners: A special 20% off the discounted rate to subscribe to the Fine Homebuilding print magazine. That link goes to finehomebuilding.com/podoffer.
The show is driven by our listeners, so please subscribe and rate us on iTunes or Google Play, and if you have any questions you would like us to dig into for a future show, shoot an email our way: [email protected]. Also, be sure to follow Fine Homebuilding on Instagram, and "like" us on Facebook. Note that you can watch the show above, or on YouTube at the Fine Homebuilding YouTube Channel.
The Fine Homebuilding Podcast embodies Fine Homebuilding magazine's commitment to the preservation of craftsmanship and the advancement of home performance in residential construction. The show is an informal but vigorous conversation about the techniques and principles that allow listeners to master their design and building challenges.
Other related links