Filling Nail Holes in Stained Trim
What's the best approach to filling the nail holes of my stained white oak trim?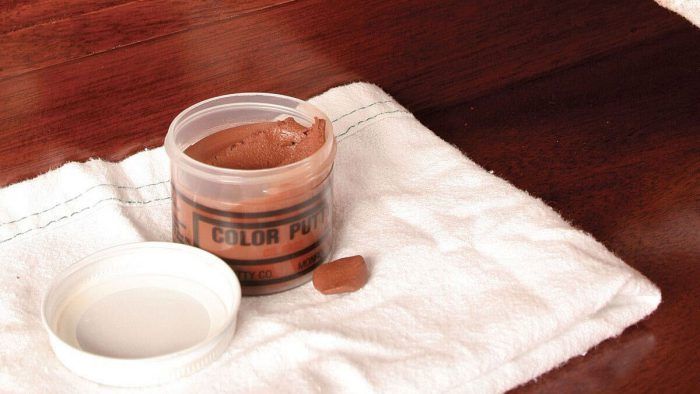 Bucking the trend of painted moldings, I'm trimming my house with stained and varnished white oak. What's the best approach to filling the nail holes so they aren't obvious?
—Luke Winnerbeck, Buffalo, N.Y.
Mike DiBlasi, of DiBlasi Painting in Millbrook, N.Y., replies: I like to see everything sanded, stained, and with one coat of clear finish applied before I begin filling nail holes. If your trim carpenter is thoughtful and accurate, most of the nails will have been shot into similarly colored areas of the wood grain, minimizing the number of colors of filler needed.
I like to use Crawford's Painter's Putty, a linseed oil–based putty that can be tinted to correspond to the variations of the wood. I keep a variety of universal colorant tubes on hand that I custom-mix each time I set up for a project. This often means keeping four or five containers of differently shaded fillers on hand for one job. I purchase my tints at a local art-supply store, which has a great selection of finely ground pigment in an oil medium. One can buy kits with a full spectrum of color or individual tubes.
It's a great resource for achieving the perfect color when tinting putty.
Keep on hand a small container of cornstarch. When mixing the tint into the putty, it's possible for the product to become a little too rich in oil, making it sticky and difficult to tool well. Simply sprinkle some cornstarch into the mix and—poof—the workability returns.
Off-the-shelf fillers are also quite good. They dry quicker than tinted linseed oil and don't tool quite as well, but they come in a reasonable variety of colors and can be combined to make a custom match where necessary. The colorants I use are perfectly compatible with oil-based off-the-shelf fillers as well. With alcohol- or water-based fillers, aniline dyes and trans tints can be used to help match up the color.
By applying the first coat of clear finish first, excess filler can easily be wiped off without discoloring the bare wood around the hole. Once the filler has dried, I often apply the final coats of clear finish. These final coats give a uniform sheen to the project and help the filler blend more naturally into the wood.
From Fine Homebuilding #305
---
RELATED LINKS