Hose Management
Mark uses a spring clamp to help manage his unruly pneumatic nailer hoses and maintain safety.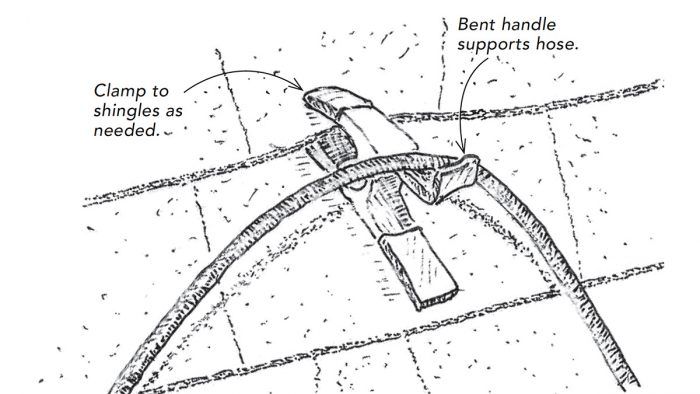 Stepping on a pneumatic nailer hose while working on a roof can spell disaster. Luckily, I've never had a serious fall because of this, but I have come too close for comfort on more than one occasion. I use a spring clamp to help manage my unruly hoses. I bend one of the handles up to form a hook of sorts and just clamp it to one of the shingles near where I'm working. This way I have enough hose to work with, but the rest of it isn't in my way or constantly falling over the edge of the roof and pulling on my nailer. I move it to where I need it as I shingle my way up the roof. This also works well as a small hand tool or fastener holder, but don't try to use it to secure anything too heavy or you could damage a shingle. Also, be careful using this technique on either really cold or really hot days, when shingles are more susceptible to breaking or tearing.
—Mark Petersen, Waco, Ky.
Edited and Illustrated by Charles Miller
Published in Fine Homebuilding #307