A New Generation of Builders Take Part in FHB House KS
Building relationships and teaching the next generation of tradespeople is what #KeepCraftAlive is all about. Here's a look at how Catalyst Construction and the Turner High School building trades program are working together.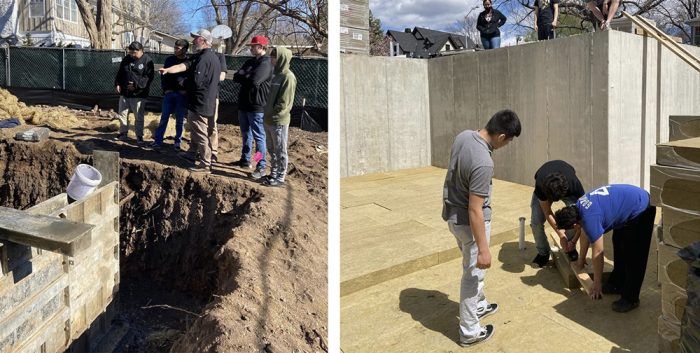 Catalyst Construction's relationship with Scott Hughes and the Turner High School building trades program began at the Midwest Building Science Symposium in 2021 when we were introduced by friend Matt Blomquist (who teaches the Taylorville High School building trades program in Illinois). Since that introduction in September of '21, we've found numerous ways to be part of the Turner High program to help when we can and to involve the students in our work when it makes sense.
Scott Hughes and his students build a new home in Kansas City, Kan., every one to two years depending on pandemic conditions. The students are exposed to every aspect of residential building from surveying the site to final paint touchups and everything in between. The students learn in three-hour blocks (a morning or afternoon session), which allows for the work van to be loaded with students, tools, and materials, before it heads out to the nearby job site for work with subcontracted licensed professionals who help instruct the students in their various trades. Joe Cook, my partner at Catalyst Construction, and I are fortunate to have been able to visit their most-recently completed (and sold above market price!) new home earlier this year. The students treated us to a full tour of their efforts and the pride in the work they had performed was clear. It's no surprise then that when Scott called us to see where we were on a couple builds and if the students could be part of them, we jumped at the chance to have them assist with our underslab insulation install.
The students made their first visit to the Fine Homebuilding House here in Prairie Village, Kan., during preparation for the foundation. They were on-site after the footings were cast and cured to see formwork being set and braced as well as reinforcing steel being tied. Between Joe and I sharing what we know, and Mr. Hughes instructing the students on the elements we hadn't explained well, they were well-informed if not mildly entertained.
Their second site visit was a little less talk and a little more action. After a short lesson about R-Value, energy conservation, and thermal bridging, we gave them a crash course in handling and cutting stone wool before we all worked as a team to load and install the material for the built-up insulated landing in the basement slab. In only an hour and half, these hardworking "kids" broke down four pallets of Comfortboard 110, loaded the bundles into the basement, installed them in a running bond pattern, and cut to fit the infill at either side. They learned about an important detail with an enormous performance benefit, a new material, and the associated techniques needed to work with it, and also really helped us get work done on an actual high-performance build for real clients.
As we progress in this build and others we'll continue to work with the THS building trades program, visiting their classroom for discussions when we can and having them on site when they can get away from their own build.
Our efforts to get involved with local school districts to participate in creating and supporting programs like this at the high school level have been underway for years with limited success. Joe and I went to the same high school, so we started there, but thus far have been more successful at Turner—though I've also really enjoyed teaching a weekly "Building Science Friday" at my kids' elementary school. These endeavors are part of a larger sea of change we hope to enjoy in the coming years as the next generation becomes increasingly aware of the tremendous opportunities, pride, and pleasure to be found in the building trades.
The future is bright as we look ahead, having shared what we know and love about our work with the next generation. This is what we can do to #KeepCraftAlive, and we hope others are finding their local programs to participate in as well. Let us know if we can help.
Check out more projects from THS Building Trades on Instagram.
Photos courtesy Catalyst Construction