Tools & Materials
Tough and Precise Hand Lift
The Viking Arm by Massca Products can lift up to 330 lb. and is usefully for a tasks from snapping in flooring to installing doors.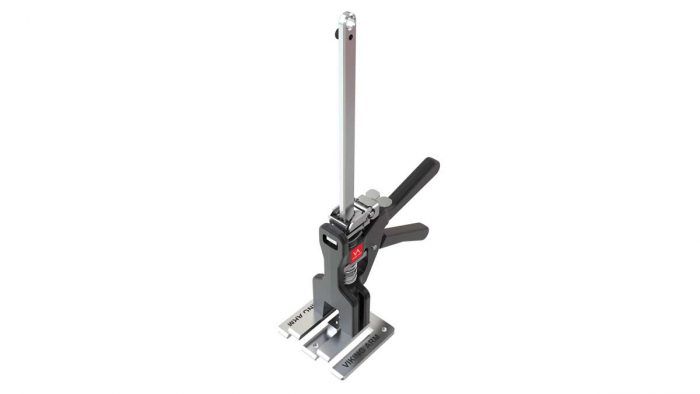 I first ordered the Viking Arm by Massca Products to help me set several preposterously heavy pocket doors. It was the perfect tool for the job, but I was skeptical about how often I would use it for other tasks. My skepticism was unfounded. Just in the last few months, I've used the Viking Arm to lift a 12-ft. sheet of drywall up into place, to snap in the last row of LVP flooring, and to fine-tune the installation of 7-ft. MDF prehung doors. The tool has also proven useful around the house. It's helped me balance a heavy truck tire so that I could line it up with the lug nuts, and I regularly use it to lift up my lawnmower deck so that I can spray
it clean.  
A couple features make the Viking Arm stand out from its competitors. First is the sheer amount of weight it can lift: It's rated for 330 lb., which in my experience seems like an underestimation. What has really sold me on this tool is the controlled lowering feature. Once you've lifted your workload, one lever releases all of the tension, while a second lowers the load a fraction of an inch at a time. I've worked with similar tools in the past, and it has seemed inevitable that I lift my project too high and end up dropping it way back down to start over. The Viking Arm allows you to move up and down in tiny increments until you achieve ­perfection. 
At $200, the Viking Arm is an investment. But it's both useful and well-built, which makes it worth the price to me.
Mark Petersen, technical editor
Photo: courtesy of Massca Products
From Fine Homebuilding #308
---
RELATED STORIES