Will Insulating a Crawlspace Save Me Money?
A crawlspace doesn't have to be the exact same temperature as the rest of the home. Instead, focus on controlling moisture accumulation.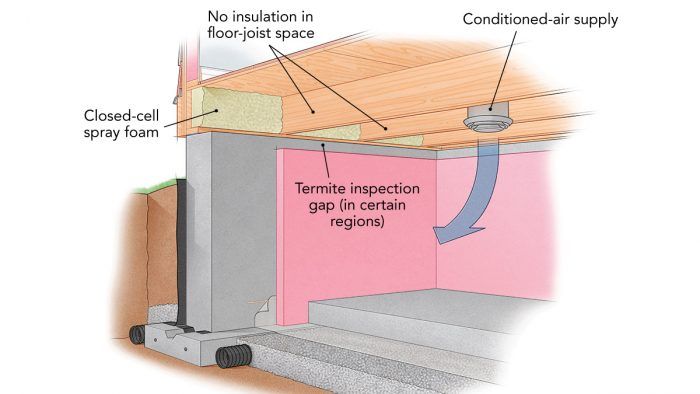 I'm building a house with a conditioned crawlspace that will have a poured-concrete slab, rigid insulation on the walls, and closed-cell spray foam in the joist spaces. The HVAC equipment will be located in the crawlspace, which has 5-ft.-tall walls and will otherwise be used just for storage and as a storm shelter. To save energy, I was thinking of opening up a very small supply and return vent in the space, and am guessing that it will likely stay 5°F to 10°F warmer in the summer and the same amount cooler in the winter. Given the difference in temperatures, would it make sense to insulate the floor-joist space separating the crawlspace from the living area above to condition the space, or is that a waste of money?
—Bob Welle via email
Emily Mottram, architect and energy specialist, replies: I'm going to make a few assumptions. You made the decision to encapsulate the crawlspace already, so that tells me that you don't foresee any bulk water issues, that you aren't in a flood-prone area that would prevent you from making this choice, and that you have checked to make sure the building-code provisions allow you to place your HVAC equipment in this location.
The crawlspace doesn't have to be the exact same temperature as the rest of your home; it just needs to resist moisture accumulation on cooler surfaces. In certain instances, ventilation—exhaust only or balanced supply and exhaust—may be enough to keep the condition of the crawlspace from becoming an issue. It all depends on the conditions of the crawlspace during different seasons of the year and the amount of moisture in the crawlspace relative to the outside temperature. In Maine, if it's cooler in the crawlspace but the relative humidity is well below 40, you likely won't see any moisture accumulation. But in the shoulder seasons when the humidity is high, but the temperature isn't, moisture can accumulate in those cooler crawlspace areas and dehumidification may be necessary.
The bottom line: You would see very little, if any, savings by insulating the floor space and could create an issue you wouldn't otherwise have by further changing the temperature difference between the spaces. However, it's important to discuss moisture control and HVAC/ducting solutions with a mechanical consultant familiar with your particular home design and climate.
From Fine Homebuilding #313
---
RELATED STORIES