Timeless and Modern Bucket Sinks
An interior designer explains why she chose this sink for her kids' bathroom.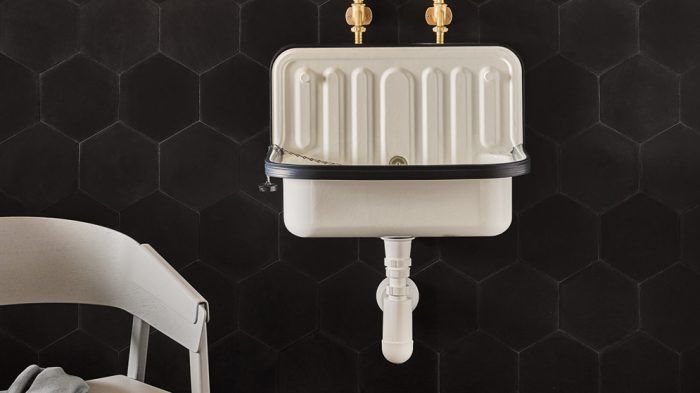 Bucket sinks are classic fixtures dating from the 1930s that look just as stunning in historical renovations as they do in current new construction. The wall-mounted bucket sink from Alape in particular is both utilitarian and design-forward. We installed two in our kids' bathroom (see Passive-House Remodel in a Historic Neighborhood), and it is a versatile option for other places in your home such as workshops, laundry rooms, or kitchens.
This sink provides both a vintage look and a durable option to help us handle real life messes. To keep them accessible, we hung them low in the bathroom, with single-lever faucets in chrome. We liked the look and character of a vintage, wall-mounted sink, especially when pairing two in our child's bathroom. We added a shelf above the sinks and underneath the mirror to create a landing spot for soap, toothbrushes, and other items and to create an aesthetic that both kids and adults can appreciate.
The flexibility to select most any wall-mount faucet and the exposed trap can provide endless opportunities for design, whether mounted on subway tile, centuries-old brick, a marble slab, or a wall featuring your favorite paint color. The glazed steel basin and integrated backsplash are strong enough for the toughest users and bold enough to make a statement in any room.
The bucket sink is currently available in white with black or grey edge protectors, as well as an option with a white interior glaze and a black exterior. Alape also offers a number of accessories including hanging shelves for undersink storage and a grate that folds down over the basin. Pricing starts at $300 per unit. You can find this product at your preferred local plumbing showroom.
Adrienne Farmer is an interior designer and founder of Studio Ferme in Austin, Texas.
---
RELATED STORIES