Tools & Materials
Hole Saws That Are a Cut Above
The Spyder carbide-tipped hole saws cut quickly with a quick-release arbor that makes it easy to remove the core.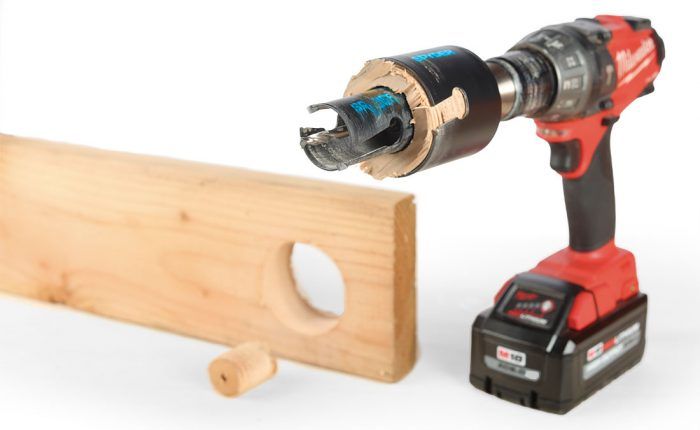 I've had a mishmash of different brands, styles, and sizes of hole saws rolling around in my toolbox for the last decade or so. Inevitably, I can't find the right size when I need it, and when I do find the right size, the hole saw is dull and does a better job of burning than cutting.
Recently, on a whim, I tried one of Spyder's tungsten-carbide-tipped (TCT) hole saws, and I realized I've been living in the dark ages. This hole saw cuts quickly, the cores are very easy to remove, and so far it has held up through all the different materials I've encountered remodeling my house. Finally, I sprang for a full set.
The hole saws have just a few teeth each, with very deep gullets (unlike traditional bimetal hole-saw design). The smallest hole saw in the kit has just one tooth, and the largest has five. The carbide teeth are brazed on the steel hole-saw bodies, similar to how carbide teeth are attached to sawblades, allowing them to cut a hole that's just slightly larger than the body. This appears to help with binding and overheating—something users of bimetal hole saws are likely familiar with.
Spyder 14-piece Carbide Tipped Hole Saw Kit (600880)
Hole saw sizes: 1-3 ⁄ 8 in. dia. to 4-1 ⁄ 2 in. dia.
Cutting depth: 2-3 ⁄ 8 in.
Pilot bits: 1 ⁄ 2-in. hex shank, 1 ⁄ 4-in. drill bit
Price: $130; extra arbor $20
Cutting a hole is one thing, but removing the core from the hole saw is another area where these hole saws shine. The quick-release arbor locks the hex shank of the pilot bit in place with a push-button mechanism. After you've cut the hole, just push the button and slide the hole saw down the shank (toward the drill), and the hex part of the bit pushes the core out. It's a simple, elegant design that works well.
One of the benefits of the set (or of having multiple Spyder hole saws) is that with an additional quick-release arbor, you can use two saws for enlarging holes. If you drill a hole too small, or a pipe size changes, the smaller hole saw acts as a big pilot bit, keeping the new hole saw centered while you cut the new size.
The 14-piece kit ($130) comes with 11 carbide hole saws from 1-3 ⁄ 8 in. to 4-1 ⁄ 2 in., two pilot bits (one HSS for wood, one TCT for other materials), and a quick-release arbor (which also works with Spyder's line of bimetal hole saws). Now I just need to figure out what to do with all my old hole saws.
—Andrew Zoellner, editorial director.
Photos: Rodney Diaz.
From Fine Homebuilding #314
---
RELATED STORIES