Podcast Episode 102 — Bathrooms, Blades, and Batts
PEX, caulks, tubs, track saws, insulation, door removal, trim, and reciprocating saws.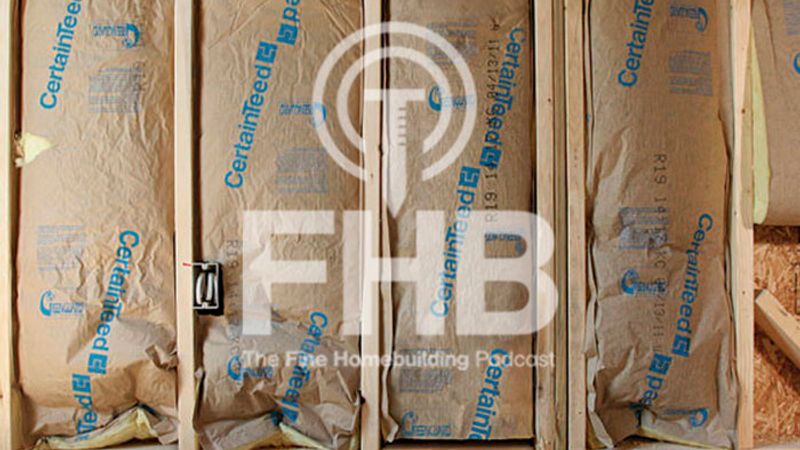 In this episode, Fine Homebuilding editor Justin Fink is joined by design editor Brian Pontolilo and editorial director Rob Yagid. As Justin mentions, please click on over to our HOUSES Readers' Choice Contest. Enter your info, vote for the house you like best, and you'll be entered to win a $500 shopping spree at the Taunton Store. And you can come back every day to vote again, too. The three top house designs, of the ten submitted by our readers, will be featured in the magazine. The voting ends March 1, so get those votes in.
Scroll down to "See Vote Standings" to see the current vote leader.
Also, on Facebook a listener told us that our podcast sucks; evidently the guys are talking about their own projects too much. Speaking of which, Rob has an update on the electrical upgrades to his bathroom. Plus Rob's cousin the plumber helped him out on drain-waste vent systems. There is some talk about PEX vs. copper and acrylic tubs vs. cast iron. And when to caulk a tub.
Listener BJ has a question about his new Makita Track Saw kit and its saw and guide rail. He has alignment and clamp issues. That leads the guys to a discussion on sharpening tablesaw blades.
Listener Rob calls the guys out on batt insulation. Is it ever really a good choice, or are the guys mentioning it for the sake of "CYA"? If it is any good, how DO you install it correctly?
Listener Jeff writes about removing an exterior door – frame and all – to swap it for a new unit. But there are wainscot issues …
This episode of the podcast is brought to you by Benjamin Obdyke.
Benjamin Obdyke would like to use the special occasion of their 150th anniversary to thank the nuisances that builders and homeowners despise. Their premium products protect from those pesky things like rain, snow, humidity, and the neighbor's sprinkler system. Take HydroGap, a drainable housewrap that eliminates moisture from your wall assembly. Or Cedar Breather, an underlayment for wood roofing that allows continuous airflow behind shingles or shakes. One man's headache is another man's successful business. To build better with Benjamin Obdyke, visit benjaminobdyke.com.
We hope you will take advantage of a great offer for our podcast listeners: A special 20% off discounted rate to subscribe to the Fine Homebuilding print magazine. That link goes to finehomebuilding.com/podoffer.
The show is driven by our listeners, so please subscribe and rate us on iTunes or Google Play, and if you have any questions you would like us to dig into for a future show, shoot an email our way: [email protected]. Also, be sure to follow Justin Fink, Rob Yagid, and Fine Homebuilding on Instagram — and "like" the magazine on Facebook. Note that you can watch the show above, or on YouTube at the Fine Homebuilding YouTube Channel.
The Fine Homebuilding Podcast embodies Fine Homebuilding magazine's commitment to the preservation of craftsmanship and the advancement of home performance in residential construction. The show is an informal but vigorous conversation about the techniques and principles that allow listeners to master their design and building challenges.
Batt insulation articles:
Other links related to this episode: