How-To
An Easy Way To Build a Well-Insulated House
Builder Stephen Bonfiglioli describes how he builds an R-30 wall using strips of rigid foam insulation on the interior of the studs as a thermal break.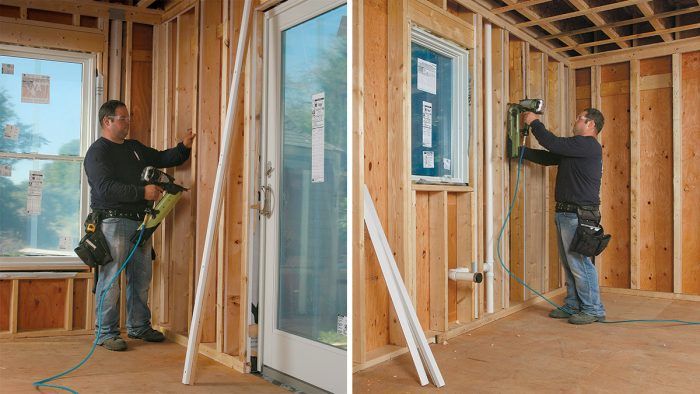 Synopsis: Longtime builder Stephen Bonfiglioli describes how he builds an R-30 wall using polystyrene strips on the interior of the studs as a thermal break. The method is less expensive and easier to build than wall systems with similar R-values. Bonfiglioli explains how his wall system is constructed, and he gives details for the installation of electrical boxes and the whole-wall vapor retarder he includes as part of the wall system. He also discusses how he prevents moisture accumulation in the stud cavities.
---
You might say I've always been ahead of the curve as far as building performance goes. When i started building in 1977, my houses had 2×6 walls and R-19 insulation, while code-built homes had 2×4 walls with R-11 insulation. Other builders, subs, and suppliers said I was crazy for installing more insulation than the building code required, but I've always thought that building energy-efficient homes made perfect sense. In my quest for efficiency and comfort, I tried just about every high performance wall assembly there was, all of which seemed overly complex and expensive. Then one day 12 years ago, I asked myself, "What if I fur out the interior wall with strips of rigid foam and strapping?" I reasoned that the foam strips would address thermal bridging, add thickness to the wall to accommodate high-density fiberglass batts, and cost less than alternative methods. I have been building my walls this way ever since.
Foam selection
I assemble lengths of 1-in.-thick high-density expanded polystyrene (EpS) foam and 1×3 strapping picked up from my local lumberyard. While the strapping is readily available, the high-density foam isn't always a stock item, so I buy my foam from insultech in Bridgewater, Mass. This foam resists compression more than regular EPS, and it comes in convenient 1-1/2-in. by 4-ft. pieces. Alternatively, i could cut full sheets of rigid foam into 1 1/2-in.-wide strips on a tablesaw.
While it may appear to make sense to use extruded polystyrene (XpS) or polyisocyanurate insulating strips, both of which have higher R-values, R-value matters very little in this application. EPS is the least expensive type of rigid foam, and with an R-value of R-4 per in., it creates enough of a thermal break to sufficiently slow heat transfer through the framing.
Speed and strength
Once we have a new house dried in or a remodel gutted, we can add the foam strips to an entire 3000-sq.-ft. house in a day or less, saving us considerable time and money when compared to more-complicated wall assemblies. Also, because the foam strips are covered with 1x3s, drywall and trim can be installed with conventional fasteners instead of using long nails or screws to find the framing behind the foam. The 1x3s also allow the homeowners to hang pictures and shelves more easily later on.
Don't forget the air barrier
Air-sealing is paramount when using fiberglass batts (see Making Fiberglass Work, FHB #246), so we fill any holes or gaps with spray foam before installing the high-density r-30 batts. We're careful to fill the stud cavities completely with minimal compression.
From Fine Homebuilding #250
To view the entire article, please click the View PDF button below.
View PDF
Previous:
Dense-Pack Cellulose Insulation Done Right
Next:
How to Insulate Walls with No Sheathing