Podcast 539: Seasonal Gaps in Flooring, AeroBarrier for Existing Homes, and Wood Foundations
The crew hears from listeners about LED lights and DIY solar before taking questions about seasonal movement of softwood flooring, tightening an 1850s house, and a permanent-wood foundation for a new build.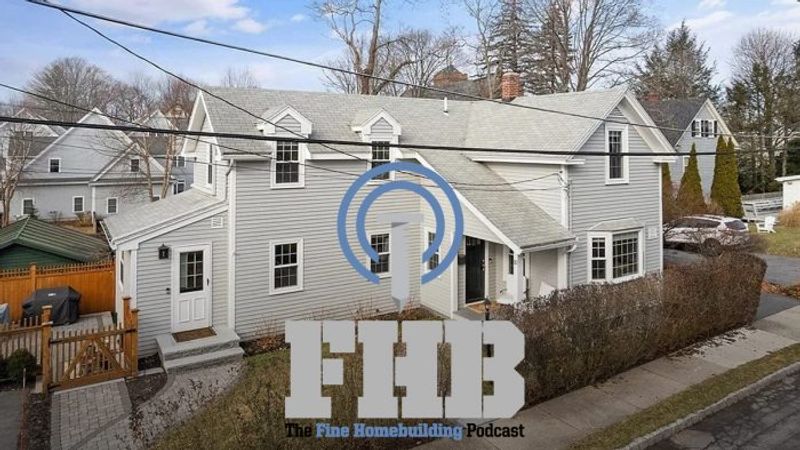 ---
Follow the Fine Homebuilding Podcast on your favorite app. Subscribe now and don't miss an episode:
Help us make better episodes and enter for a chance to win an FHB Podcast T-shirt:
www.finehomebuilding.com/podcastsurvey
Terry thinks the efficiency of LED lights means people install more of them. Doug has additional thoughts on demolition by neglect. John has extreme seasonal movement of his wide-pine floors. Dane needs help improving the efficiency of an old house near Boston. Ross Wants us to weigh in on permanent wood foundations.
---
Editor Updates:
Ian: Pro Talk Podcast hosting, Luke DiBlasi, interior grow room
Kiley: stewarding the landscape
Jeff: Robin's set tool storage
Patrick: filling out his new storage wall
---
Listener Feedback 1:
Terry, Project Manager at Dexter Builders, writes: Hi all, just listened to episode 527 and had some thoughts. Your conversation about lighting reminded me of something I learned in school. I can't remember the specifics, but when LED lights came into homes the expectation was that people would use less energy, but what has happened is people just install more lights. In the projects I run, this seems to be the case. The company I work for does renovation and we never remove lights, just add more, usually many more. When we finish basements, its common to install dozens of lights—4, 6, or 8 in each room it seems.
We also install quite a few sun tunnels, and there are some bells and whistles available. There are night-light options that include a small solar panel and rechargeable battery that turns on automatically at night to provide a soft glow. There are also light kits that can be installed inside and tied to a wall switch, so at night they double as a large LED light.
Something I learned about last year is that skylights can come outfitted with solar-powered shades. If the shades are installed by the manufacturer (not retrofitted), the whole unit qualifies for the same tax rebate that a solar panel would—I think its 30%. This tax break is also available to certain windows with motorized shades between the glass, if the shade is powered by a solar cell. Pella has an option like this. We've only installed these once, and I haven't checked with the customer to see how it works in practice, but this is a large savings on some relatively expensive windows. The rebate doesn't quite cover the upcharge for the motorized shades, but it's a large part of it.
Love the show, look forward to it every Friday!
Related Links:
---
Listener Feedback 2:
Doug writes: I mentioned the term demolition by neglect to Brian when he lived in Charleston. He had talked on the podcast about the difficulty that historic-preservation rules presented for building. Our daughter and her husband live about 20 miles inland from the peninsula. On one visit, we were driving toward downtown and passed some houses in very poor condition. Our son-in-law explained that the rules made it too expensive to renovate these houses, but they were not allowed to tear them down. They were just left to collapse. It's not necessarily developers trying to get land, but also owners who have no economic choice.
Related Links:
---
Listener Feedback 3:
Mike P. in Rhode Island writes: Podcast crew,
Just sharing this interesting info in case it hasn't already come to your attention.
The Strange and Awful Path of Productivity in the US Construction Sector
Perhaps you'd like to address this on your podcast and offer your thoughts.
I'm an engineer living in Rhode Island who really enjoys your podcast. Much appreciated.
Related Links:
---
Question 1: What's the best way to fix a buckling wood floor?
John in Block Island writes: We have heart pine floors that buckle with the humidity, and they recede in the late fall. Thanks to a plumbing leak and subsequent casualty loss, I have the funds to attempt to solve this annual problem. One contractors' solution is to tear up the existing flooring, install a vapor barrier, and reinstall new flooring (approx. 1500 sq. ft).
Another solution I think would be to put down a vapor barrier and install new flooring, or perhaps to use a foam insulation sprayed from the basement. Whole-house air conditioning using the existing ducting and/or state-of-the-art air conditioning would further mediate the humidity problems and is not out of the ballpark. I would be interested in your suggestions for upgrading our classic Victorian in a desirable seaside location here on Block Island. Any suggestions would be appreciated as we are about to embark on this upgrade in the next few weeks.
Related Links:
---
Question 2: Is AeroBarrier the best choice for an old house?
Dane writes: Hi Folks, We are under contract for this 1850s house outside of Boston.

We are deciding what, if anything, to do on the house before we move in our furniture. Besides removing the textured ceilings, I'm thinking about AeroBarrier. I have no evidence of comfort issues, but given the house was built in 1854 and then expanded what looks like 4 times, I am betting that it doesn't have a contiguous air barrier. Should I be concerned about messing up the drying potential of the house by using AeroBarrier? Would this trade comfort issues for rot issues? Has anybody studied the impact of AeroBarrier on old houses? Would you do this if this was your house?
Related Links:
---
Question 3: Is there interest in permanent wood foundations?
Ross in Minnesota writes: Hi Fine Homebuilding team!
In the past year, I've seen permanent wood foundations (PWF) being discussed on a few media channels, including the UnBuild It Show podcast, the BS and Beer Show podcast, Passive House Accelerator podcast, and Fine Homebuilding podcast. There is a lot of intrigue around this unique foundation, however few people on the shows had much experience with it.
I'm starting an owner build this spring (April 2023) in Minnesota (climate zone 7), and I'm considering doing a wood foundation along with a "slabless slab," so I would also have a wood slab.
My father was a framer early in his career and built many houses using the permanent wood foundations in the '80s, including my grandmother's house using PWF, which is still a healthy structure today! I know this was a topic that you had talked about on previous shows, so I wanted to reach out to see if there would be any interest on your side to run a video/site visit on a unique build like this?
I think there could be a few points of interest. First, the project would rely on some products, including Rockwool Comfortboard 80 for below-grade insulation and Advantech subfloor for the slabless slab, and maybe there would be interest from them in doing a product sponsor or product highlight. Second, my dad has some experience and lessons learned from building with PWF—for example, my Grandma's house had some lateral-load movement due to lack of proper lateral bracing on the floor joists. And lastly, it's a fairly relevant topic with the recent struggles to source concrete and its increasing prices. There has been a lot of discussion on the topic recently, and if you think it would be something of interest, I would be happy to chat more, thanks!
Related Links:
---
END NOTES:
Podcast 539: Members-only Aftershow — Building Science Training
Ian, Kiley, and Patrick talk about training classes and educational resources available to learn more about building science.
---
Check out one of our latest Project Guides: Energy Retrofit!
Check out our FHB Houses:
Visit the Taunton Store  •  Magazine Index  •  Online Archive   •  Our First Issues   •  All Access
---
Help us make better episodes and enter for a chance to win an FHB Podcast T-shirt: www.finehomebuilding.com/podcastsurvey
---
If you have any questions you would like us to dig into for a future show, shoot an email our way:

[email protected]

.
If we use your question we'll send you a FHB Podcast sticker!
---
FHB Podcast T-shirts!
Represent your favorite podcast! Available in several styles and colors. Made from 100% cotton. Find the Podcast t-shirt and more cool products in the Fine Homebuilding Store.
---
Fine Homebuilding podcast listeners can now get 20% off anything in the Taunton store, including Pretty Good House.

Use the discount code FHBPODCAST to take advantage of this special offer.

"Finally, knowledgeable people talking about building reasonably-sized, high-performance houses for normal people with real budgets!"
— DanD, VA, 8/19/22, Amazon.com review
---
We hope you will take advantage of a great offer for our podcast listeners: A special 20% off the discounted rate to subscribe to the Fine Homebuilding print magazine. That link goes to finehomebuilding.com/podoffer.
The show is driven by our listeners, so please subscribe and rate us on iTunes or Google Play, and if you have any questions you would like us to dig into for a future show, shoot an email our way: [email protected]. Also, be sure to follow Fine Homebuilding on Instagram, and "like" us on Facebook. Note that you can watch the show above, or on YouTube at the Fine Homebuilding YouTube Channel.
The Fine Homebuilding Podcast embodies Fine Homebuilding magazine's commitment to the preservation of craftsmanship and the advancement of home performance in residential construction. The show is an informal but vigorous conversation about the techniques and principles that allow listeners to master their design and building challenges.
Other related links