Podcast 567: Soundproofing, Garage Doors, and Rotted Balconies
Row homes, wealthy clients, quiet walls, garage-door airtightness, rotted balconies, and foundation improvements.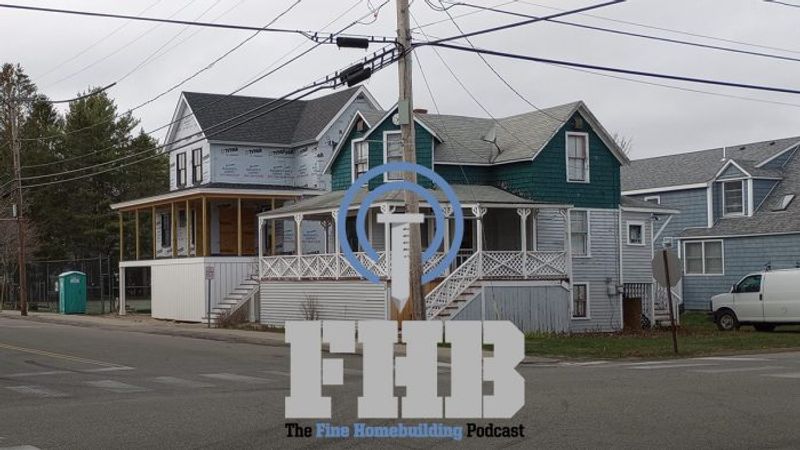 ---
Follow the Fine Homebuilding Podcast on your favorite app. Subscribe now and don't miss an episode:
Help us make better episodes and enter for a chance to win an FHB Podcast T-shirt:
www.finehomebuilding.com/podcastsurvey
Matt tells us what it's like to work on Baltimore townhouses. Bob the upholsterer shares his thoughts on charging clients based on income. Justin gives an update on making his own windows and fixing cracked brick veneer. Maria wants a quiet house. Ouray has a plan for airtight garage doors. Tom wonders if the plan to fix his rotted balcony is sound. Canada_deck wonders if people will pay for a more reliable foundation.
---
Editor Updates:
NY Times Opinion section Times Editorial Board May 4th, 2023
The United States needs 47,300 gigawatt-miles of new power lines by 2035. A gigawatt is 1 billion Watts. We need to expand the current grid by 57 percent, according to the Energy Department. A 2021 report by the National Academies of Sciences, Engineering and Medicine arrived at a similar figure. To hit that target, the United States needs to double the pace of power line construction.
The current power grid was constructed over more than a century. Building what amounts to a new power grid on a similar scale in a small fraction of that time is a daunting challenge. It will require tens of billions of dollars in financing, vast quantities of steel and aluminum and thousands of specialized workers. But building is the easy part. What makes the target virtually impossible to hit is the byzantine approval process that typically includes separate reviews by every municipality and state through which a power line will pass, as well as a host of federal agencies.
The Great Electrician Shortage by David Owen The New Yorker April 24, 2023
According to a recent report published by Associated Builders and Contractors, a trade group, job openings in the construction industry averaged three hundred and ninety thousand a month in 2022, and the shortfall was made more ominous by the fact that roughly a quarter of existing workers are older than fifty-five.
One reason for the skilled-labor gap is that the work is real work. The crew who restored power to the houses on our road spent Christmas Eve in bucket trucks, buffeted by winds so strong they made the screens on our porch hum like kazoos. LeMieux told me that he's had apprentices who quit after a few months because they had decided the job was too wet, too messy, too cold, too dirty, too hot.
A more significant factor may be that, for decades, employers, educators, politicians, and parents have argued that the only sure ticket to the good life in America is a college degree. People who graduate from college do earn more, on average, than people who don't, but the statistics can be misleading. Many young people who start don't finish, yet still take on tens of thousands in education loans—and those who do graduate often discover that the economic advantage of holding a degree can be negated, for years, by the cost of having acquired it.
Last year, Stanley Black & Decker published a report, called the Makers Index, which estimated that there were six hundred and fifty thousand unfilled jobs in construction-related trades in the United States, and ten million worldwide.
---
Listener Feedback 1:
Matt from Baltimore writes: On your podcast a few weeks ago, a listener wrote in asking about coverage of the structural brick row houses he works on in Philadelphia. I haven't heard anything on the subject for a few weeks and figured I'd add my thoughts and experiences.
The majority of my work is on structural brick row houses in Baltimore, mainly from 1900 -1920. There are definitely a few unique things we have to deal with. The roofs are joined together, and it's not uncommon for a careless roofer to cause leaks in the neighboring houses. For the majority of these houses lives, they had hot tar mopped on every few years. Need to replace a skylight or vent a bathroom through the roof? I've had to cut through roofing tar 6 in. thick to get a skylight replaced. (By the way, the best tool I've found for this job is a hatchet. Any kind of saw melts the tar and ruins the saw blade.)
Deck ledgers usually need to be through-bolted, which frequently means having to drill through 12-16 in. of brick, sometimes with a joist right on the other side. This calls for some long drill bits. It's almost guaranteed that the electric panel is on that back wall and all the wires coming out run right where you need to drill.
I do a lot of work on front porches, and some blocks have a porch roof design where a beam spans the property line and the houses share one extra-wide staircase. A lot of times these are box beams with no 2x material inside of them. I come across many houses where someone replaced the 1x on the side of the box beam and just cut it at the property line, which leaves both sides unsupported. Replacing this involves getting both neighbors on board to adequately span and support the beam.
There are other issues, such as having to set up workstations on the sidewalk because no one has a yard, and brick firewalls between properties making attaching anything just a little harder, but there are positives too. In Baltimore, houses were usually built a block at a time by the same developer. If you know one house on a block, you know them all.
—Matt Baker Home Improvement
Related Links:
---
Listener Feedback 2:
Bob the upholsterer writes: While listening to podcast 559 I laughed when you talked about charging more to wealthy clients. I wish I could say we don't, but we totally do at my upholstery shop. We have found that we have clients from upper-class areas that jump at our low prices. Then they get their own fabric for $400/yard, so we lose the markup, and then try to haggle the labor price at delivery.
We tend to up the labor cost for clients in these areas. There's no set amount—sometimes we base it on the customer's attitude when talking about the piece.
On another note, I went to visit friends up in Ocean Park. I saw a renovation underway that looked well done and fit the look of the area.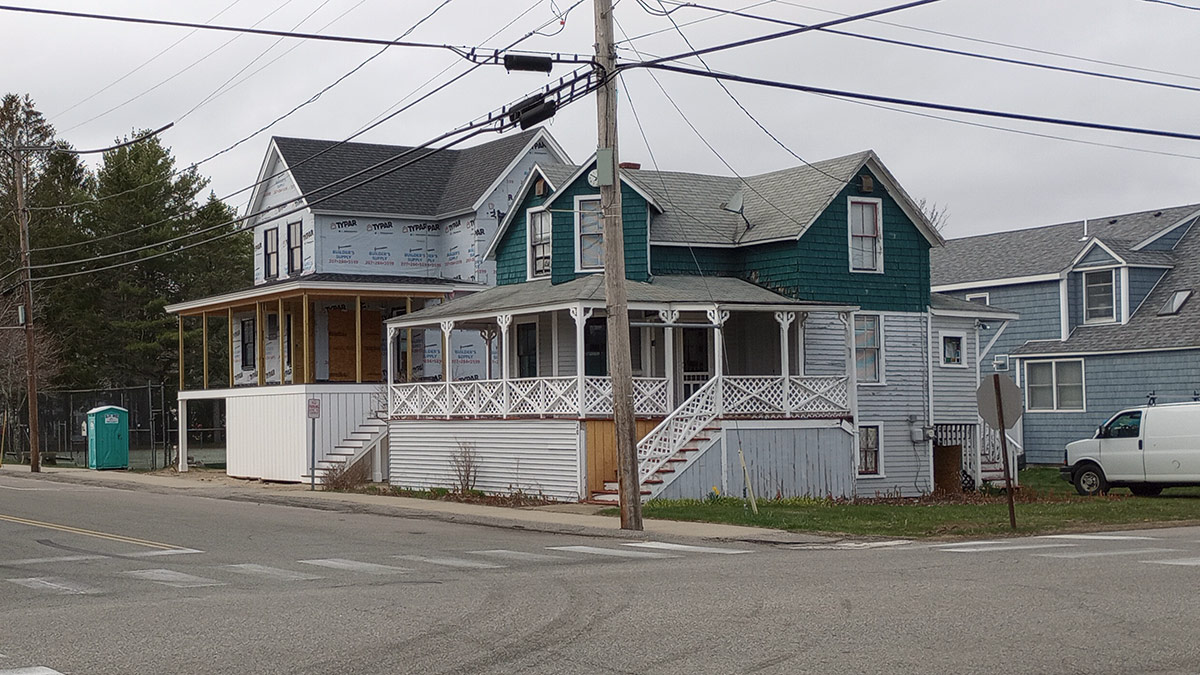 Related Links:
---
Listener Feedback 3:
Justin, the crazy mailman from Oklahoma, writes:
Hello again FHB friends! I am so happy I could, at the very least, give you all a good laugh and generate some good discussion. Thank you all for taking the time to answer my questions. We are going to have someone come out to examine our brick and cracking issues (my wife won't let me open up anything myself until someone helps us determine what needs to be done), but I am determined to do the work myself if at all feasible. It's not that I don't trust that a specialist would do it better and faster, it's that I want the experience and knowledge for myself, and to know that I have the ability to learn new skills and fix things as they come up. I am a philomath at heart, and nothing excites me more than having the opportunity to learn something new, expand upon the knowledge I already have, and to practice and refine practical and useful skills. I value knowledge more than almost anything else (there are certainly caveats), and truly believe that knowledge is empowering. Combine that with practical skills, and you have a recipe for a gratifying and fulfilled life. Besides, the more I learn, the more I learn how little I know. Always having something new to discover excites me.
I played the podcast segment where you discuss making your own windows for my wife, and she's willing to let me do it now.
Related Links:
---
Question 1: Will extra insulation help with soundproofing?
Maria writes: Greetings! I'm an avid listener to the FHB podcast. I'm not an industry pro, just a regular homeowner in the design phase of a new home build in the mountains of central Washington. I'm hoping you can provide some insight into "advanced framing techniques."
We're in climate zone 5, super-hot summers, cold snowy wet winters. The west border of the property is a fairly busy, 40-mph street. I work some nights, and I'm really concerned that the house will be noisy, which is primarily why we're interested in added insulation. However, there are great views to the southwest, which we would like to optimize with windows. We are also trying to utilize the most passive solar gain and build as environmentally, consciously as possible. We plan to have a single-pitch roof that slopes downward to the northeast. So essentially, the road noise, the views, and the summer heat are generally on the same side of the house.
Our designer sounds fairly unenthusiastic about advanced framing techniques. He agreed double offset studs will help insulation but significantly add cost, primarily due to materials. He did not offer exterior insulation as an option, though I wonder about this, too.
My question: Is it worth considering double offset studs or exterior insulation, primarily for noise reduction, as well as added insulation? Will it be worth the added insulation—especially since the biggest wall (facing the road) will have several large triple-paned windows? Are we just paying more for minimal gains? We do have a budget, and adding any of these options will be a significant stretch financially.
Thanks for your expertise.
Related Links:
---
Question 2: How can I get airtight garage doors?
Ouray writes: Hello,
My name is Ouray, and this spring I will start building my home myself. As I work through various details, I have come to the garage doors as being a major leak in the envelope.
I was wondering if I could oversize my garage door on three sides to accommodate additional weatherstripping, as shown in the attached picture.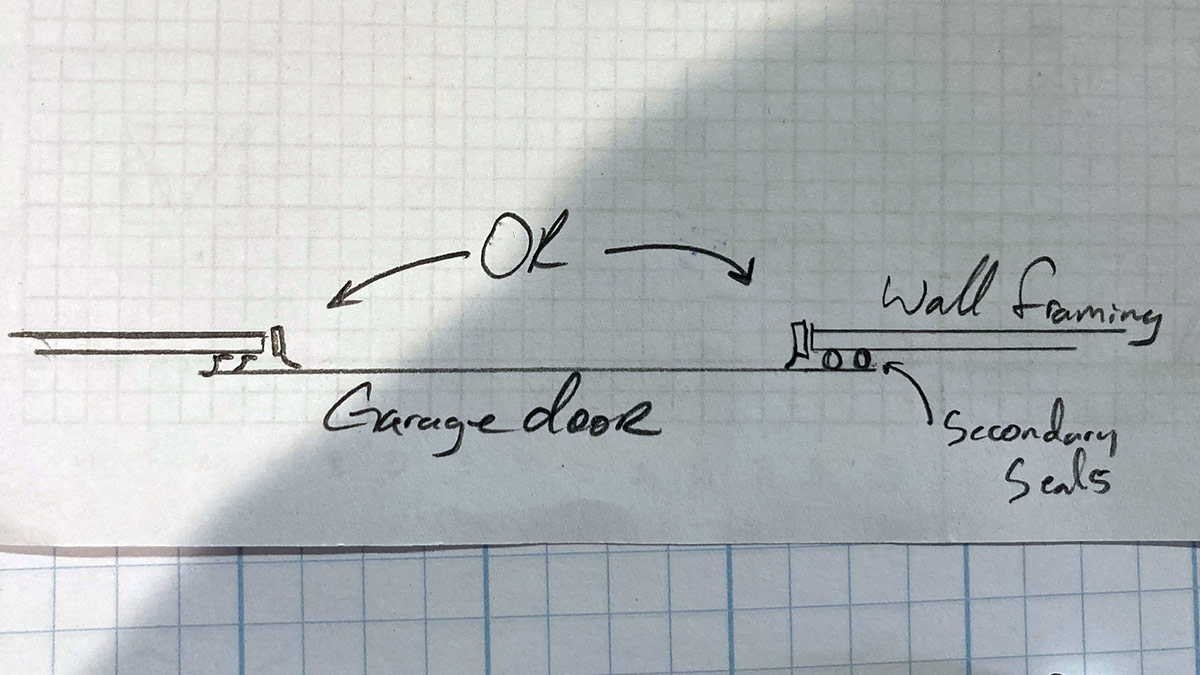 Related Links:
---
Question 3: What's the best way to connect a second-story deck to the house?
Tom writes: I currently have a second-story cantilevered balcony. The plan is to cut the cantilevered joists off and install a traditional deck with posts, beam, and ledger. The local contractor wants to screw the ledger through the sheathing into the end grain of the cut-off floor joists, which doesn't sound right to me. Looking for a second opinion on properly attaching the new ledger. Safety for my family will be my top priority. Thanks for your time.
Related Links:
---
Question 4: Will people pay more for a better-than-code foundation?
Canada_Deck writes: Will buyers pay a premium for improved footing/foundation details? I'm in British Columbia.  The provincial housing authority has published a very informative Builder Guide to Site and Foundation Drainage on best practices for footings/foundations.
They point out a number of areas where the recommended best practice exceeds the minimum code requirements. If I was buying a home that I wanted to own for a long time, I would personally pay a premium for these extra details given the consequences of water issues in the basement and the difficulty of making repairs down the road. However, I think I may be an exception. I'm in the process of planning to build a new home that I will sell after living in for a year or two. Will other buyers pay more for a house if they know the builders paid attention to these details? How much extra does it make sense to invest? Or will the market generally assume that the building code is adequate and be much more concerned about countertops?
Some examples:
– Use gravel for all of the backfill
– 6-in. PVC for the footing drain pipes
– Rough-in piping for radon evacuation, even if not required by local code
– Apply non-tankable waterproofing vs damproofing and use a product that can bridge medium-size cracks
– Capillary break between footing and foundation walls
– Strength (wider footings than the bare minimum, etc.)
Related Links:
---
END NOTE:
Podcast 565: Members-only Aftershow — Andrew Zoellner's House
Mike, Andrew, and Patrick talk about how to improve the airtightness of living space over porches, retaining wall options, and Andrew's new career.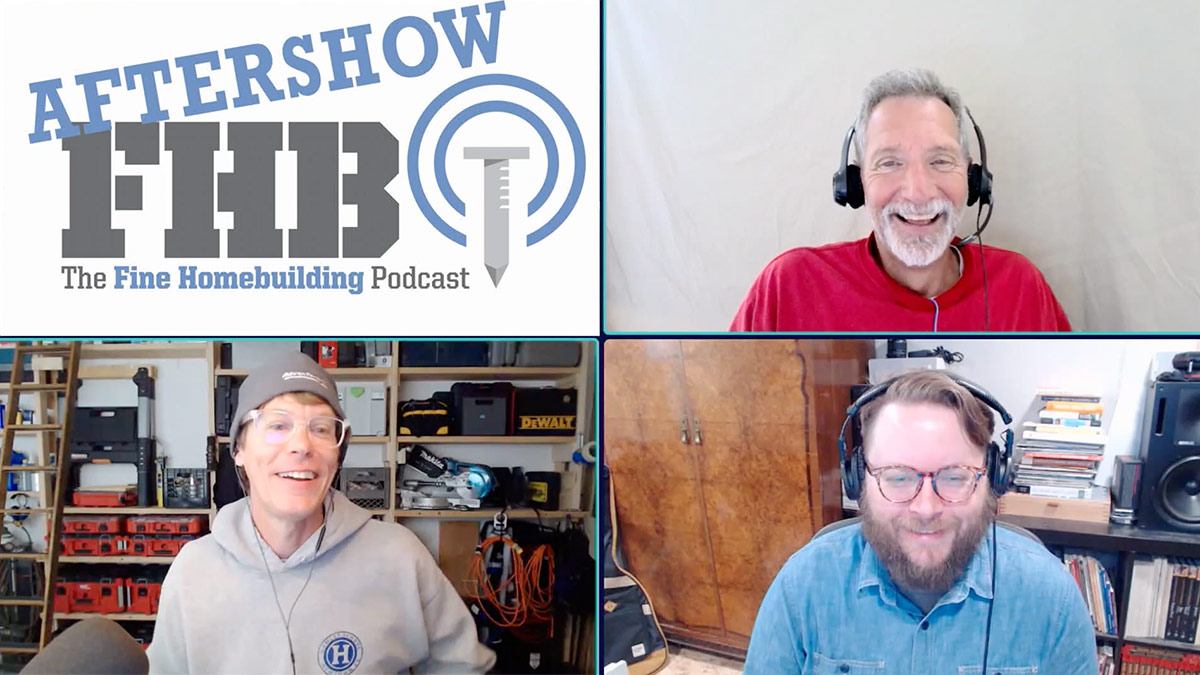 ---
Check out one of our latest Project Guides: Energy Retrofit!

Check out our FHB Houses:

Visit the Taunton Store  •  Magazine Index  •  Online Archive   •  Our First Issues   •  All Access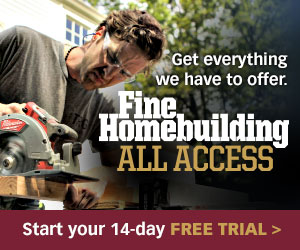 ---
Help us make better episodes and enter for a chance to win an FHB Podcast T-shirt: www.finehomebuilding.com/podcastsurvey
---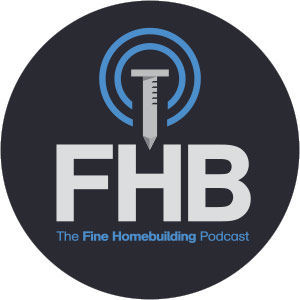 If you have any questions you would like us to dig into for a future show, shoot an email our way:

[email protected]

.
If we use your question we'll send you a FHB Podcast sticker!
---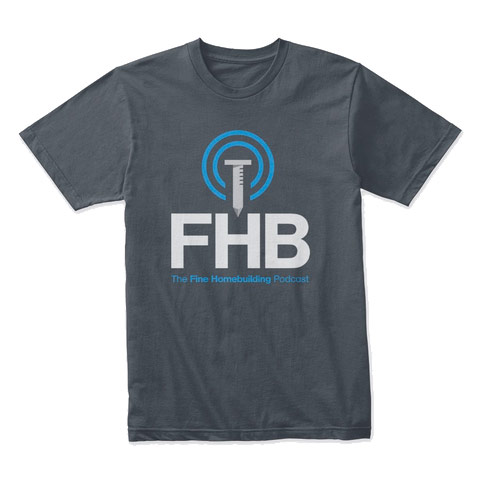 FHB Podcast T-shirts!
Represent your favorite podcast! Available in several styles and colors. Made from 100% cotton. Find the Podcast t-shirt and more cool products in the Fine Homebuilding Store.

---
Fine Homebuilding podcast listeners can now get 20% off anything in the Taunton store, including Pretty Good House.

Use the discount code FHBPODCAST to take advantage of this special offer.

"Finally, knowledgeable people talking about building reasonably-sized, high-performance houses for normal people with real budgets!"
— DanD, VA, 8/19/22, Amazon.com review
---
We hope you will take advantage of a great offer for our podcast listeners: A special 20% off the discounted rate to subscribe to the Fine Homebuilding print magazine. That link goes to finehomebuilding.com/podoffer.
The show is driven by our listeners, so please subscribe and rate us on iTunes or Google Play, and if you have any questions you would like us to dig into for a future show, shoot an email our way: [email protected]. Also, be sure to follow Fine Homebuilding on Instagram, and "like" us on Facebook. Note that you can watch the show above, or on YouTube at the Fine Homebuilding YouTube Channel.
The Fine Homebuilding Podcast embodies Fine Homebuilding magazine's commitment to the preservation of craftsmanship and the advancement of home performance in residential construction. The show is an informal but vigorous conversation about the techniques and principles that allow listeners to master their design and building challenges.
Other related links