How to Make a Zero-Clearance Miter Saw Fence
Quickly make a subfence out of scrapwood and Super Glue for precision cutting of trim and cabinet parts.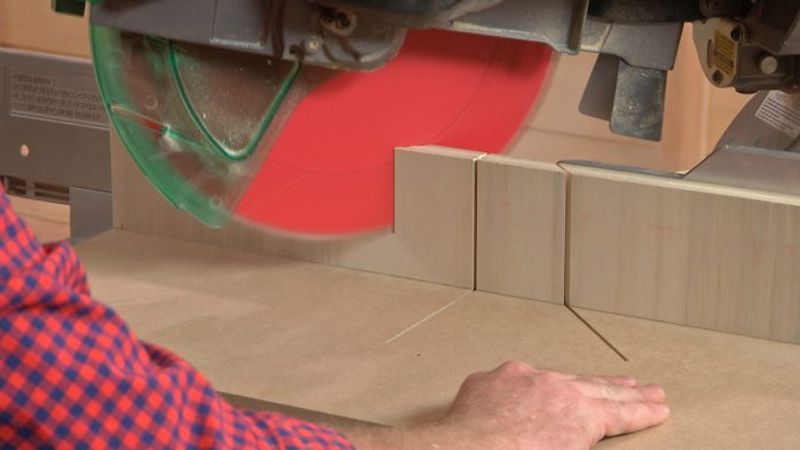 Making small, accurate cuts on a miter saw is safer when using a zero-clearance fence. Here's how to make one:
Cut two pieces of stock about the same length as the base—or even longer if you want additional support for long pieces of molding. The vertical piece should be taller than the material you want to cut, and the base should be at least the depth of the table—the key is to make it deep enough that the saw won't cut all the way across it. Ideally you want at least a few inches of meat left in the front of the base after kerfing it for the 90° cut, because this is all that's going to hold the zero-clearance fence together.
To assemble, start by placing the base piece tight against the fence, then position the vertical piece, and draw a line where the two pieces intersect. Remove the vertical and apply a bead of CA glue, also known as Super Glue, along the back of the base, staying between the line and the back of the piece.
To speed up the curing of the glue, spray the vertical's bottom edge with curing activator. Then place the vertical tight against the fence, activator down, as you slide it down into the bead of glue. Hold the vertical firmly against the base for about 10 seconds, or until the glue grabs hold.
To finish the fence, push the saw's slide carriage (if it has one) all the way back and lock it there, then make the three primary cuts at 90° and 45° in both directions, and the zero-clearance fence is ready for use.
Previous:
Coping Moldings
Next:
How to Cut Extreme Angles on Your Miter Saw