Net-Zero Design for Aging in Place
Homeowners work with Living Shelter Architects to build their energy-smart future.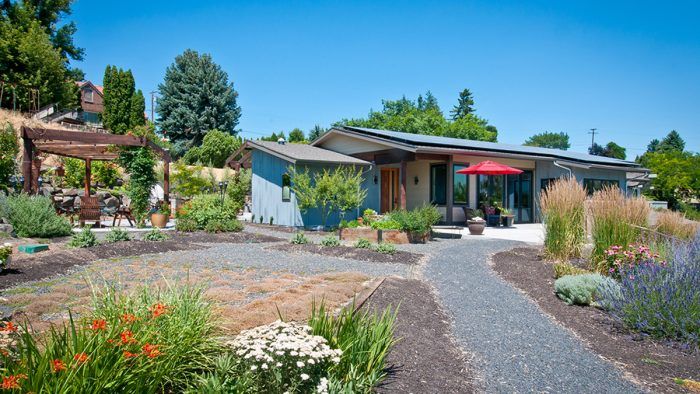 "Designing homes for aging populations plays a key role in our residential future, and passive solar strategies help make these homes more comfortable and affordable."—Terry Phelan
Located in Yakima, Washington, this net-zero home by Living Shelter Architects benefits from its south-sloping infill lot. With the property's 9-ft. drop from back to front, the basement was built into the hillside using a system of insulated concrete blocks (ICFs), the topography providing an additional thermal barrier. Additionally, the lot size could support a closed-loop geothermal system for heating and cooling the house.
Because the clients were interested in aging in place, the transition from the garage and lower drive is a 1-in-12-slope walkway. Thought was given to mobility—even if restricted—around the entire property. "You can reach all the points of outdoor living and the main level without any steps," notes principal architect Terry Phelan. Inside, with the master bedroom/bath and primary living areas all accessible, the plan supports single-floor living. Another aging-related element is the framing that was put in for a future elevator. That portion of the structure is completely isolated and the walls are dimensioned to handle additional loads. In the meantime, it serves as surplus storage space. This kind of planning ahead avoids the complexity of a future retrofit.
The concrete and cork floors on the main level provide the thermal mass needed to stabilize the temperature of the house year-round, and radiant heat runs up to a 4-ft. perimeter section. "If you put radiant heat where you also have sun coming in, it's easy to overheat because the slab can only hold so much," notes Terry, who typically runs tubing shy of walls, unlike many builders who run it around the perimeter only, because that is where thermal bridging takes place. But, says Terry, that is not a concern with a high-performance envelope.
Of course, good ventilation is vital with so tight an envelope. To that end, the team installed a mechanical heat-recovery ventilation (HRV) system, which allows more than 80% of the heat in the exhausted air to be recovered. Many of the appliances have their own outside air supply, and humidity is controlled with a properly sized cooling system.
As a new build in a residential neighborhood whose houses average 30 years old, measures were taken to make it a good fit. They include the modest scale, low-slung roofs, and ranch style, which was made modern with a mix of exterior-siding materials. In addition to limestone stucco and Hardie fiber-cement lap board, the design team made use of corrugated metal from the roof of a deconstructed apple shed. This latter choice was a nod to the region's agricultural history as well as to the lot itself, which was once an apple orchard.
Terry talks about some key takeaways from this project. First, she says, forming a design team early is especially important for a net-zero house, which will require a contractor, solar designer, mechanical designer, and building-envelope consultant. Because everyone was at the table from the start, they were able to determine passive solar strategies that allowed for scaling back on the size of the solar array, thereby meeting net zero with fewer panels. "A lot of times people will take a standard plan and add things on rather than coming together early to see what might be peeled away for a more affordable build," Terry explains, noting that the synthesis of systems has the potential to maximize efficiencies.
Another hindsight consideration involves the solar panels themselves. The homeowners have been in the house for five years, the last two of which they didn't reach net zero because of increased snowfall. Terry explains that the low roof pitch doesn't allow snow to fall off. She is researching a heat tape that can be applied around edge of the panels to melt snow. She is also trying to determine if such a product could be used on panels without it interfering with their function and without the panels melting the tape.
Terry pinpoints one last lesson, saying, "At 3200 sq. ft., I think the house is larger than it needs to be. I'm always looking to see if there is a way to make things a little more efficient in the footprint while still allowing for livability and architectural interest."
Photos courtesy of Living Shelter Architects.
If you have a project that might be of interest to our readers, please send a short description and images to [email protected].
---
For more net-zero houses:
Previous:
High-Performance Farmhouse
Next:
From a Leaky Old House to a Tight New Home