Vernacular Architecture and Sustainable Design
Architect Janet Harrison views incorporating regional forms and materials as the first step toward green building.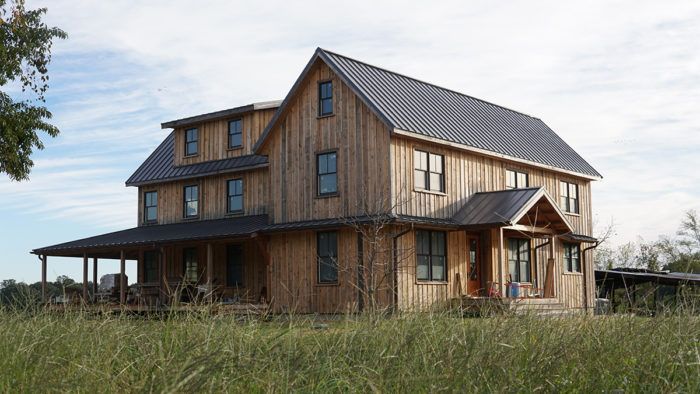 "We have to base architecture on the environment."— Toyo Ito, Japanese architect
It's been said that sustainability, as applied to the building industry, began as an ecologically friendly approach to design and construction but that it has evolved into a series of expensive high-tech solutions. It could be argued that the current emphasis on building-science technologies has de-emphasized what can be accomplished with vernacular forms and materials. (Here, vernacular architecture is being defined as "buildings designed in direct response to the local climate, materials, geology, and traditions.") Many would counter-argue that advances in technology are furthering sustainability efforts. Whichever the stance, there is clearly a relationship between vernacular architecture, sustainability, and technology.
Annapolis, Maryland–based architect Janet Harrison believes vernacular architecture is inherently in step with sustainability—specifically the principles of energy efficiency and local materials usage, which results in lower embodied energy. She makes the point that vernacular buildings resulted over time in response to existing environmental, socioeconomic, and sociocultural conditions. "Some people think of vernacular architecture as primitive, but it's actually highly evolved—the forms have been refined over centuries of trial and error, and they align perfectly with the local conditions," she says.
Those conditions inform a vernacular building's size and shape, functionality and stability, recyclability and reusability, embodied and recurring energy loads, embodied and recurring pollution outputs, and contribution to or disruption of microclimates and biodiversity. "Vernacular architecture is a perfect adaptation to the climate, materials, and resources," notes Harrison. "It's is a really smart place from which to start designing."
There are examples of vernacular buildings across the globe that demonstrate sustainable solutions to local conditions. The classic Cape Cod-style house—ubiquitous in the northeast United States—is one such example. Its compact form, steeply sloped gable roofs, center hearth, and small windows are all designed to minimize heat loss. Conversely, in southern regions, where ventilation is key, spreading forms are designed for capturing cross breezes. In the west, where extremely hot days and bitter-cold nights are the norm, adobe houses are exceptionally functional. The thick walls store the day's heat; by the time it reaches the interior walls, it's nighttime, when warmth is needed. It's also a dry climate, so they make use of evaporative cooling. Harrison refers to the adobe form as "a very local adaptation."
In her own region, Harrison designs for a mixed climate. "We want high ceilings like those in the south—but not too high because we don't want to be heating massive volumes," she explains, adding that in her designs she regularly includes large overhangs for sun protection and louvres oriented to a site's latitude. She notes the vapor barrier dilemma in a mixed climate—where to put it is climate-dependent. "You want it on one side in the winter and on the other in the summer," she explains. "We typically don't use a vapor barrier because we want it to be able to dry on one side or the other."
Located on Maryland's Eastern Shore, the house pictured above is representative of the vernacular architecture. Traditional houses are farmhouse style and notably tall and thin. They are generally one room deep, and sometimes comprised of two sections. Windows are strategically placed for cross breezes. On the northern end of the Eastern Shore, the houses are even taller, most likely to catch cooler breezes on the second floor and to get up and away from mosquitos. Both feature porches and overhangs to take advantage of the temperate climate's long outdoor-living season.
Another of her projects is located in Virginia near Cape Charles, where it is a bit warmer and nearer to the ocean. That area is susceptible to hurricanes, so the classic form is squatter and often has a hipped roof for strength and stability in high winds—Harrison describes it as "a tropical shape." Because the house sits on the bay side of the shore, enjoying west-facing water views, Harrison added a deep porch and shade trellises with louvers designed to both temper hot summer sun and allow winter sun to penetrate through.
Asked about the Passive House approach to design, Harrison describes it as specific to Germany. "It's all about having a super-tight building envelope with extra-thick walls. In Maryland, we have to allow for varied seasons, so the limited number of windows that Passive House stresses is not a good design idea here," she says, noting that the U.S. has dramatically different climates, whereas Germany has primarily one. She does recognize the value in Passive House strategies but emphasizes the need to adapt them for local conditions.
Commenting on technology's impact on sustainable design, Harrison says: "Before electricity, houses were designed to capitalize on natural systems. They were built for the climate." She notes that some architects have gotten away from traditional design strategies for heating and cooling, favoring mechanical controls—on which many homeowners are completely reliant. "Common-sense knowledge of natural ventilation has been lost; there's a science to creating effective cross breezes but electrical systems have replaced that know-how," says Harrison. The result? Just as the wrong plant in the wrong place is a weed, the wrong house in the wrong place is an energy hog.
Harrison shares an anecdotal story about a design competition held in Washington, D.C., for which architects from Spain built a modern, flat-roofed house—one perfectly in line with their native vernacular architecture. However, it rained the entire week and the house leaked terribly. "It's a form they use in their country and it works very well there because it's dry, and they are built to collect sun. Point being: the best built houses are designed for their local conditions and function accordingly.
Harrison concludes by saying: "I have great respect for vernacular architecture, which has evolved for a reason. I don't think we should throw away all of that wisdom. However, in an age of climate change, if we build exactly the same way going forward, we are not going to continue to evolve." She certainly doesn't dismiss technological solutions—she just doesn't place them first in a line of problem solvers. "I believe we should first use all passive and vernacular strategies to get down to the lowest energy use possible, and only then start to add in technology."
Photos by Janet Harrison, except where noted
---
For more vernacular architecture and sustainable design:
Previous:
A Solar-Centric Build in New England
Next:
Passive House Meets Pueblo