Design
Interior Window Trim Ideas
Learn about 4 common types of window casings and how they fit with other interior trim details to help you choose molding for your home.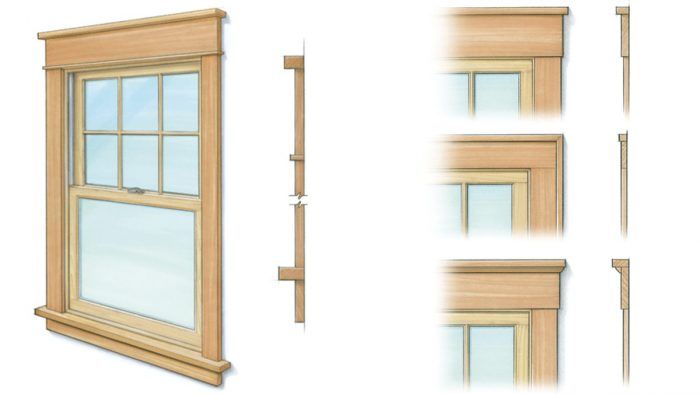 Interior window casings are the finishing touch for a window installation. Profiles are often coordinated with baseboards and door moldings so the room has a cohesive look. Whether the trim consists of a single layer or is made from multiple layers of stacked moldings, the idea is to dress the window and give it more decorative appeal than a simple drywall return.
There are a variety of  options, but an essential first step is to design trim so it's in keeping with the overall architectural style of the house. Victorian-style houses, for example, would look off with the more modest trim intended for a mid-century Ranch. For help, see some of the articles listed below or consult a more detailed reference, such as A Field Guide to American Houses. Choosing stock for the trim depends on whether it will ultimately be painted or stained and clear-coated.
Here are a few basic types:
Low-profile casing is more utilitarian than decorative. It lays flat against interior walls and lends a finished look that helps tie the window to the room visually.
High-profile casing offers the most options. There are a number of plastic or composite materials on the market that look like layered moldings but don't require extensive carpentry to install. High-profile casing is especially fitting on traditional and Victorian homes.
Modern casings are minimal and often match the wood or material of the rest of the window, with the object of blending in rather than standing out. On modern homes, showcasing the glass is the focus of the design rather than the moldings.
Traditional casings are similar to low-profile casings in that they generally suit older homes and lay flat against interior walls. They can be made up of a single layer of wood or composite material and often have an understated design, such as a stool molding supported by an apron along the bottom of the window, a slightly protruded header molding and perhaps a more decorative or fluted column design flanking the window frame.
---
More about window trim:
More Than One Way to Case a Window — You can vary the look with  simple combinations of flat boards and simple moldings.
Adding Detail With Built-up Molding — The final result looks like custom trim, but it's painless and affordable to make by combining stock profiles.
Trimming Windows — Get the jambs flush with the drywall, and the miters come easily.
Re-creating Victorian Trim — Complicated profiles require custom knives, but installation should be a cinch.
Craftsman-Style Casing — Clean lines and balanced proportions are the key ingredients for this classic trim treatment.
Next:
Trimming Windows