Tools & Materials
Cutting Tools for Trim
For professional-looking results, use easy-to-adjust tools that will make clean, straight cuts in trim boards.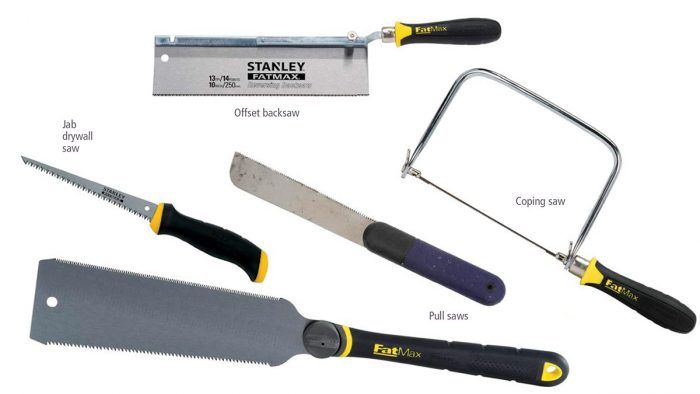 Miter saw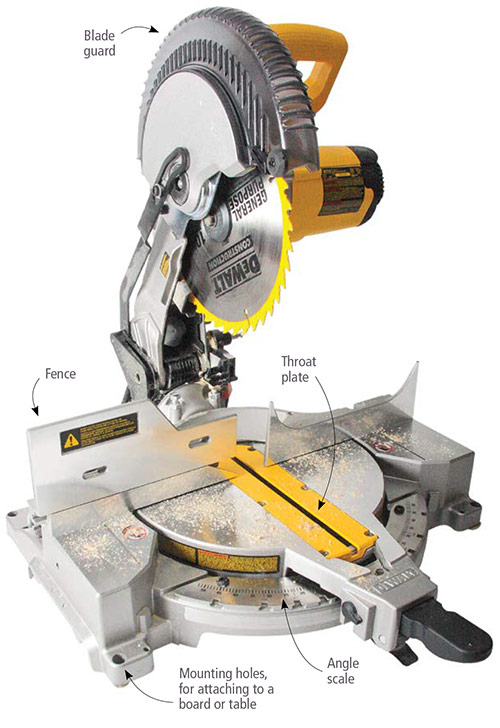 A power miter saw, sometimes called a chop saw, is a standard part of most wood shops, as well as a constant companion for many carpenters. It makes quick work of making precise and clean cuts in trim boards. Properly adjusted, it will consistently cut boards at any angle between 45 and 90 degrees and will also cut perfect bevels.
TIP: To be sure your saw can make the cuts you need, check its specifications (available online or at the store) to find exactly which size boards it can cut and at which angles.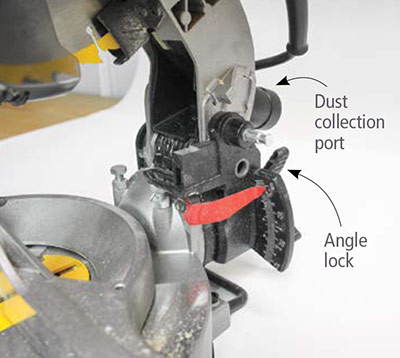 A standard miter saw, sometimes referred to as a simple miter saw, can make simple miter cuts and crosscuts. A single compound miter saw, often just called a compound miter saw, can make miter cuts, bevel cuts, and crosscuts. It can tilt in one direction to make most compound cuts—the combinations of miter and bevel cuts—needed for crown molding. A dual compound miter saw, sometimes called a double-bevel miter saw, tilts in both directions, making it easier to figure out and make compound cuts. A sliding compound miter saw slides to cut wide boards, and can create compound miters as well.
Be sure your saw can cut the boards you will install, at all the angles and bevels you will use. For instance, a standard chopsaw with a 10-in. blade will easily handle almost every cutting task. A typical 10-incher can make a 90-degree crosscut that is 6 in. wide, as well as a 45-degree miter cut on a 41⁄4-in.-wide board and a bevel cut on a board 6 in. wide. A smaller saw will handle most baseboards and casings. If you will cut very wide crown moldings, you may need to buy a sliding compound miter saw, or a compound miter saw with a 12-in. blade.
| | |
| --- | --- |
| A sliding chopsaw uses a smaller blade but can make wide cuts and compound miter cuts. This one is set on a miter saw table, which holds it firm and provides support for boards on each side. | A double-compound miter saw tilts to each side, for quick cutting of compound miters in both directions. |
Hand Miter Saw
A hand miter saw like the one shown here cannot make compound miter cuts, but it does have advantages over a cheap plastic unit. Its saw is adjustable for tightness, and the blade can be changed. It quickly adjusts to make accurate 90- and 45-degree cuts and can be adjusted for odd angles as well. A series of holes with plastic "cams" clamp your work securely in place as you cut.
Tablesaw
Though using a power miter saw is usually the easiest way to cut molding, a tablesaw comes in a close second, and it can also make long cuts that a miter saw cannot. If you're lucky enough to own a heavy-duty professional tablesaw—the kind that calmly hums when it's turned on—you've got a great tool for making all sorts of cuts. But even a mid-priced portable tablesaw reliably delivers accurate crosscuts, miter cuts, rip cuts, and even bevel and compound miter cuts.
Most portable tablesaws nowadays quickly collapse for easy moving; some have wheels, whereas others can be simply carried by one or two persons. A 10-in. tablesaw is the most common size, and will easily handle all trimwork.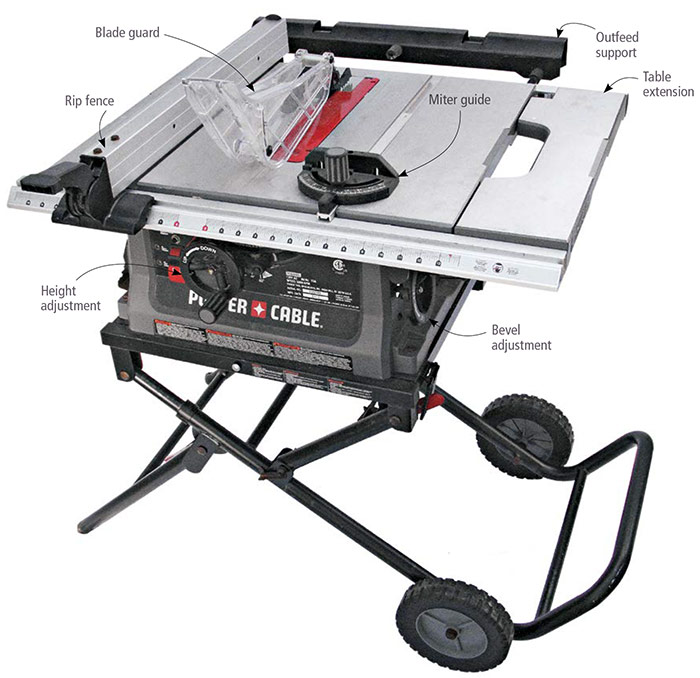 Here are some things to consider when choosing a table saw: The table should be large, so long pieces can rest firmly on its surface. "Outfeed support," usually in the form of a bar that can be pulled out, supports long pieces as you rip-cut them.
The rip fence should clamp firmly and be parallel to the blade. Some models, like the one shown below, have a removable fence, which you may need to check to be sure it is parallel to the blade; others have a permanent fence that moves via a crank and stays parallel to the blade at all times.
If you will be cutting large plywood panels, you may want a fence that can be positioned 24 in. or more away from the blade. The saw should have a riving knife, anti-kickback panels, and a blade guard to protect you from material kickback and cuts.
| | |
| --- | --- |
| For the sake of clarity, most of the tablesaw photos shown here do not show this safety equipment. This setup has clear plastic guards to prevent touching the blades, a splitter that keeps the cut board separated as you cut, and anti-kickback pawls that keep the boards from lunging backward. | This tablesaw has a permanent adjustable fence, which stays parallel to the blade. |
TIP: A tablesaw can produce plenty of sawdust, so always use a dust collector and wear a dust mask.
Radial-Arm Saw
Radial-arm saws are not as popular as they once were. But if you have one that's in good shape, it can make long, accurate crosscuts and miter cuts, and rip cuts as well. Set yours up with a dead-level table and a fence, as shown. Make test cuts and check that they are square or at 45 degrees. You may need to follow manufacturer's instructions for adjusting the saw for accuracy.
Circular saw
A circular saw is not usually the tool of choice for cutting trim boards, but with care and the use of guides it can make very good straight crosscuts and rip cuts. A lightweight sidewinder-type saw, like the one shown here, is more suited to trim work than a worm-drive or a heavy saw.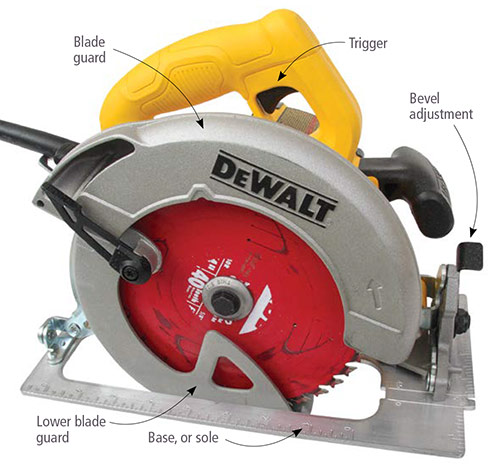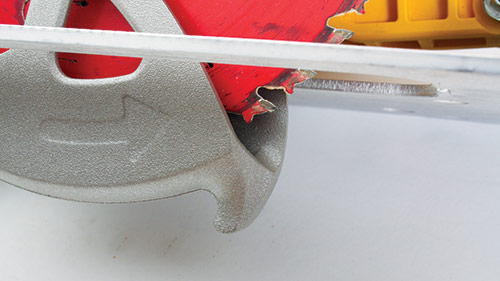 A 7 1⁄2-in. circular saw is the standard size. It will cut through 2× lumber even at a 45-degree angle. When choosing a circular saw, test the depth and angle adjustments to be sure they are easy to operate and firmly fi x the base in place. The blade guard should be shaped so it will not bind on the wood, even when you are cutting thin boards or cutting near the edge of a board.
Some saws have an electric brake to stop blade rotation 2 to 3 seconds after releasing the trigger, for safety and to reduce the time you have to wait after making a cut. A pro-quality cord feels rubbery rather than stiff, and is less prone to damage. The base (or sole) should feel solid and perfectly flat.
For trimwork, use a fine-cutting blade with 60 to 90 teeth. Switch to a rough-cutting crosscutting blade when cutting framing.
Jigsaw
A jigsaw (also called a sabersaw) makes curved cuts, and does so while creating a minimum of sawdust, which makes it useful for a variety of jobs. It is often used when making a cope cut (see p. 68). In a pinch, a high-quality jigsaw used with a guide can make straight cuts as well.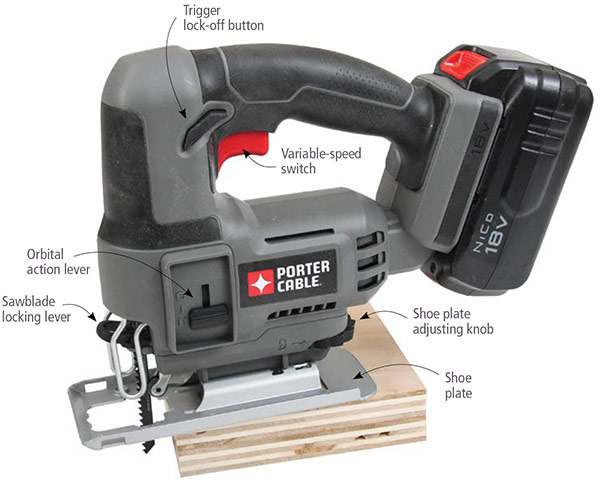 Older jigsaws had wobbly shoe plates and as a result blades were easily bent, making it difficult to keep a cut square to the surface of the board. But newer models are better built, so the blade will stay perpendicular to the shoe plate as you work. You can also adjust it for cutting 45-degree and other bevels.
| | |
| --- | --- |
| TIP: An "orbital" jigsaw moves slightly forward and back as it moves up and down, for a slightly circular movement. This provides greater cutting power, so the saw does not need to work as hard and you do not need to push as hard. | The three most commonly used jigsaw blades are for general purpose (top), rough cutting (middle), and scrolling, for cutting tight curves (bottom). |
Renting Tools
If you have only a room or two to trim out and do not have a power miter saw or a set of nail guns, it may make economic sense to rent rather than buy either of these tools. Rented tools are usually of professional quality, and the rental salesperson can quickly show you how to operate them. When renting nail guns, you will need to purchase the nails.
Handsaws
Handsaws are still used in finish carpentry and are sometimes essential. These saws often give greater control for very fine cuts, and they produce very little sawdust. Handsaws can also be used to complete cuts made with a tablesaw or chopsaw.
You may need to use a jab drywall saw to cut away a section of drywall. Pull saws (sometimes called Japanese pull saws because of their country of origin) cut on the pull stroke, producing a nice straight cut. Some types are very thin, for fine cutting. A coping saw is used strictly for that purpose. A backsaw is rigid so it won't bend while you cut. The one shown here is offset, for cutting bottoms of casing to accommodate flooring that will slip under.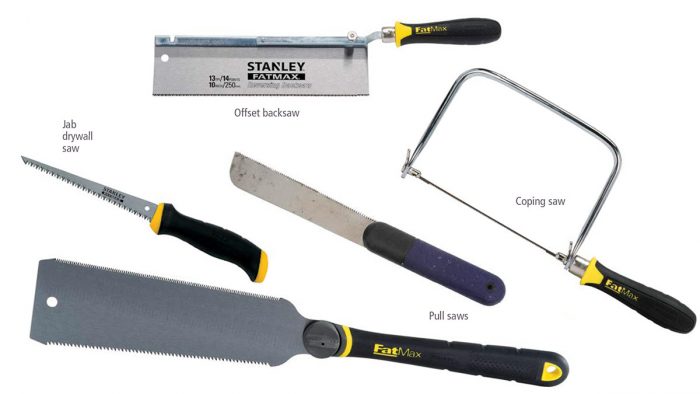 UTILITY KNIFE

You'll use a utility knife more often than you might expect, to finish cuts, open packaging, and perform other general tasks. Spend a bit more for a professional model like this one. It feels solid in your hand, changes blades quickly, and has a retracting mechanism that won't get sticky.
---
Excerpted from Trim (The Taunton Press, 2015) by Steve Cory.
Next:
Compact Cordless Miter Saws