Tools & Materials
Wood and Other Trim Materials
Learn about the various options for trim boards, from unfinished softwood trim to synthetic moldings.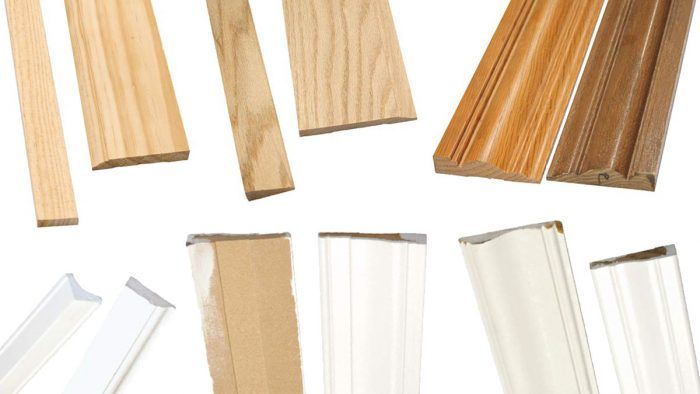 When shopping for moldings, you'll see wood trim boards described by their species and MDF labeled as such. But synthetic moldings often are not listed by their actual material; you may need to read the literature closely to tell if it is polystyrene, vinyl, or PVC, for instance. Home centers and lumberyards carry different types, but here are some of the most common.
Straight and Wavy Grains
Trim boards with wide, wavy grain lines like the one on the right will most probably remain warp-free as long as they are fastened securely to the wall. But boards with narrow, straight grain lines (like the board in the middle) are more stable and certain to stay nice and straight. Many boards (like the one on the left) have a combination of straight and wavy grains. If you have a choice, choose as many straight-grained boards as possible.
Unfinished softwood
Softwood trim is often made of pine but is sometimes fir or hemlock. Softwood is light and easy to cut and fasten, and has a natural handsome appeal. It is common to paint softwood, but careful staining and finishing can produce a rich appearance. Softwood is strong and fairly resistant to moderate exposure to moisture, but it can be dented.

Hardwood
Oak is the most popular and readily available type of hardwood molding, but if you've got some extra bucks you can go to a hardwood supplier and get maple, cherry, or even hickory. Hardwood trim is somewhat more difficult to cut and fasten than softwood, but if you prefer a natural or stained wood finish, it will give you a beautiful result, and it is difficult to dent as well.
Finger-Jointed Trim
Finger-jointed trim is made of short pieces solidly glued together with intricate jointing. (Newer finger joints appear flat, whereas older finger joints looked more like fingers.) Finger-jointing is a "green" option because it makes the most efficient use of available lumber. Protect fingerjointed boards with at least two good coats of paint, because the joints may delaminate if exposed to moisture.
Primed or painted
Painting can often take much longer than installing. So if you plan to paint the molding, consider buying primed or painted wood moldings. These moldings have the characteristics of softwood trim.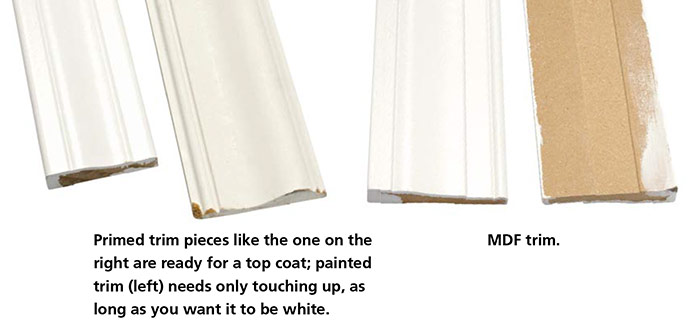 MDF trim
Medium-density fiberboard is heavier than natural wood, but it cuts and fastens fairly easily. Trim made of MDF comes with a solid coat of paint, and it's often the least expensive option. MDF also resists denting. However, if it gets even a little wet, MDF will swell unattractively. So use it in rooms that are not likely to be moist, and apply primer to the back side before installing.
TIP: If you want to stain your molding, resist the temptation to buy "paint grade" trim. It may look like you can stain it, but the results will be far less attractive than what you can achieve with "stain grade" molding.
Polyurethane, vinyl, PVC
Moldings made with strong plastics like cellular vinyl, polyurethane, PVC, or even resin can be expensive, but they are easy to work with, strong, and completely immune to rot. Be sure the type you choose is paintable, and pay attention to the type of paint that is recommended. Often, a 100-percent acrylic paint is a good choice.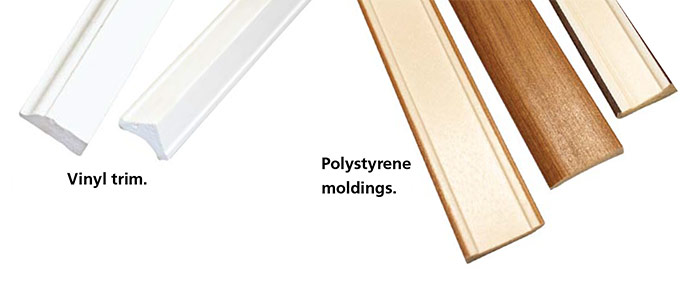 Polystyrene
Many home centers carry a line or two of inexpensive moldings that are very lightweight. Some have a printed faux-wood design, whereas others may be a solid color. Though the label may not say so, these are made of a plastic foam called polystyrene. These may be a good option in certain spaces, but be aware that they dent easily, and cutting or fastening imperfections cannot be hidden with caulk. Polystyrene should be installed with a nail gun; using a hammer with finish nails will lead to an unattractive installation. Painting this product can be difficult; you may need to apply an alcohol- or oil-based primer first.
Blocks and Rosettes
To add interest and make the installation easier, consider installing blocks at corners for base molding and rosettes for window and door casing. Special blocks can even be used for crown molding. Once blocks are installed, you need only cut the moldings at right angles, rather than making difficult miter, bevel, or coped cuts.
Choosing boards
Synthetic trim boards are all pretty much the same, but wood boards can vary in quality. Because the boards are thin, minor curves and twists can be straightened out during installation, but pieces with severe distortion may crack during installation.
If a board is cupped—bowl-shaped along its width—try bending the board with your hands to straighten it. If you cannot, choose another board.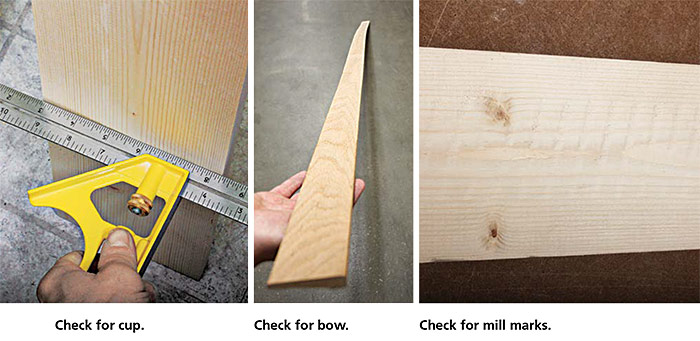 Sight down the length of a board. If it deflects more than 1⁄2 in. over the length of 8 ft., choose another board.
Some boards have indentations or a series of wavy marks left by the milling process. These will likely become more pronounced once the board is painted or stained. You could sand them out, but it is probably easiest just to choose another board.
Beadboard
Wainscoting is often made using beadboard, which is milled with decorative vertical lines. This is available in several ways. Individual pieces (top left), with a groove down the middle, fit together via a protruding tongue on one side and a receiving groove on the other, so the pieces nest together. There is a groove down the middle that mimics the appearance of a tongue-and-groove joint. Individual boards may be 3⁄4 in. or 3⁄8 in. thick. You can also buy sheets that imitate the look of beadboard (bottom). These are quick to install and, once painted, look much like real beadboard.
---
Excerpted from Trim (The Taunton Press, 2015) by Steve Cory.
Previous:
Festool's Domino: Worth the Dough?
Next:
Paint-Grade Trim Options