How-To
Salvaging Old Trim for Reuse
Learn how to pry baseboard trim from walls without damaging either one.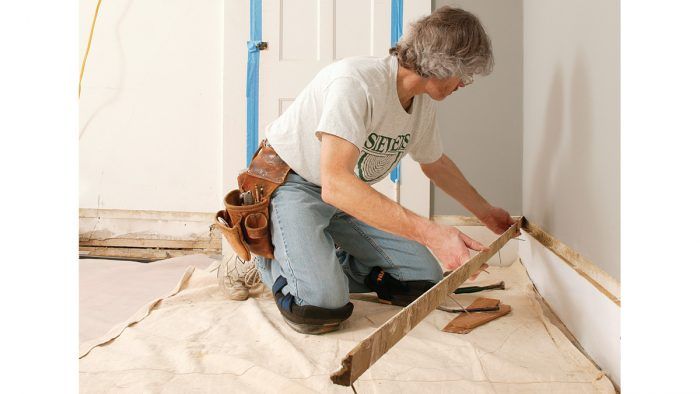 Renovation work often means removing trim elements that then must be saved and reused. This work is considered rough carpentry, but it ought to be treated like surgery, a series of deliberate steps that employs a variety of small pry bars. Leave the sledgehammer in the tool shed, and use a big wrecking bar only as a last resort. Replicating a short length of carelessly destroyed molding is expensive, as is patching a damaged wall. When a molding is to be put back in the same place, prevent confusion by numbering pieces according to their location. And for safety's sake, be aware that any moldings installed before 1978 might be covered with lead-based paint. For information about how to work safely around lead-based paint, read Lead-Paint Safety, at Home and on the Job  from Fine Homebuilding Issue #150 (Oct/Nov 2002), pp. 66-73.
Start small with the pry bars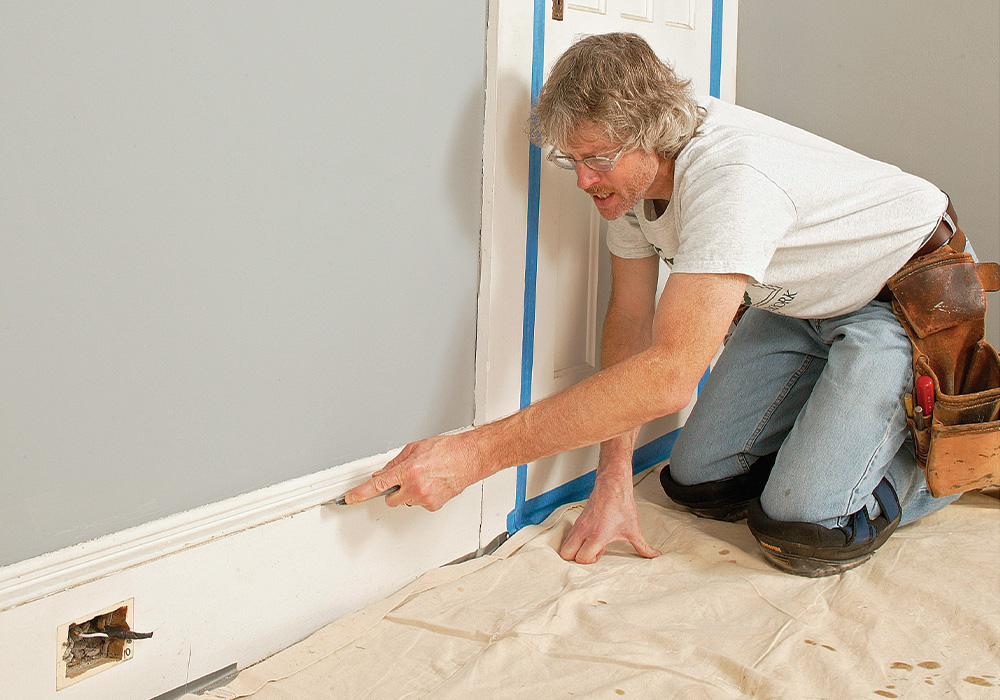 Step 1: Cut the paint first. Multiple layers of old paint can fasten trim as securely as nails. To ease removal and to prevent damage to adjacent surfaces, cut through the joints with a sharp utility knife. To prevent having to change blades constantly—old paint is rough on knife blades— keep a pocket-size sharpening stone on hand to regain the edge quickly.
Step 2: Putty knife precedes pry bar. With its thin, stiff blade and sharp, knife-like edge, a painter's 5-in-1 putty knife is the ideal tool to divide wood from plaster. Slip the knife behind one end of the trim—tap the handle with a hammer if it needs a bit of persuasion—and wiggle the tool back and forth until the gap is wide enough to insert a thin pry bar.
Step 3: Use framing for support when prying. Slide the knife behind the molding until it hits a nail, then mark the stud location for future reference. To prevent plaster damage, pry directly over the studs, and always back up the pry bar with the 5-in-1, or a wider knife if necessary. To avoid splitting the wood, apply leverage slowly, and stop when the molding hangs up on the next nail down the line. Depending on the length of the nails, you may have to switch to a full-size flat bar to draw them completely free of the wall.
Indispensable tools for trim removal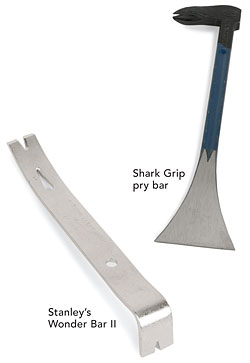 The hardest part about removing trim in good condition is getting started. For that, you need a wafer-thin pry bar that can slide into the tiniest gap between wood and plaster and still provide enough leverage to widen that gap. For years, the clear choice was Stanley's Wonder Bar II (www.stanleyworks.com). This miniature flat bar is effective, and it's available at almost every hardware store and home center. A newer arrival from Japan is the Shark Grip pry bar (www.sharkcorp.com). The 8-in. version is the same length as the Stanley (both fit easily in a tool pouch), but its blade is wider and sharper. (Larger models are also available.) A serious renovator should own both of these tools.
Larger trim demands bigger tools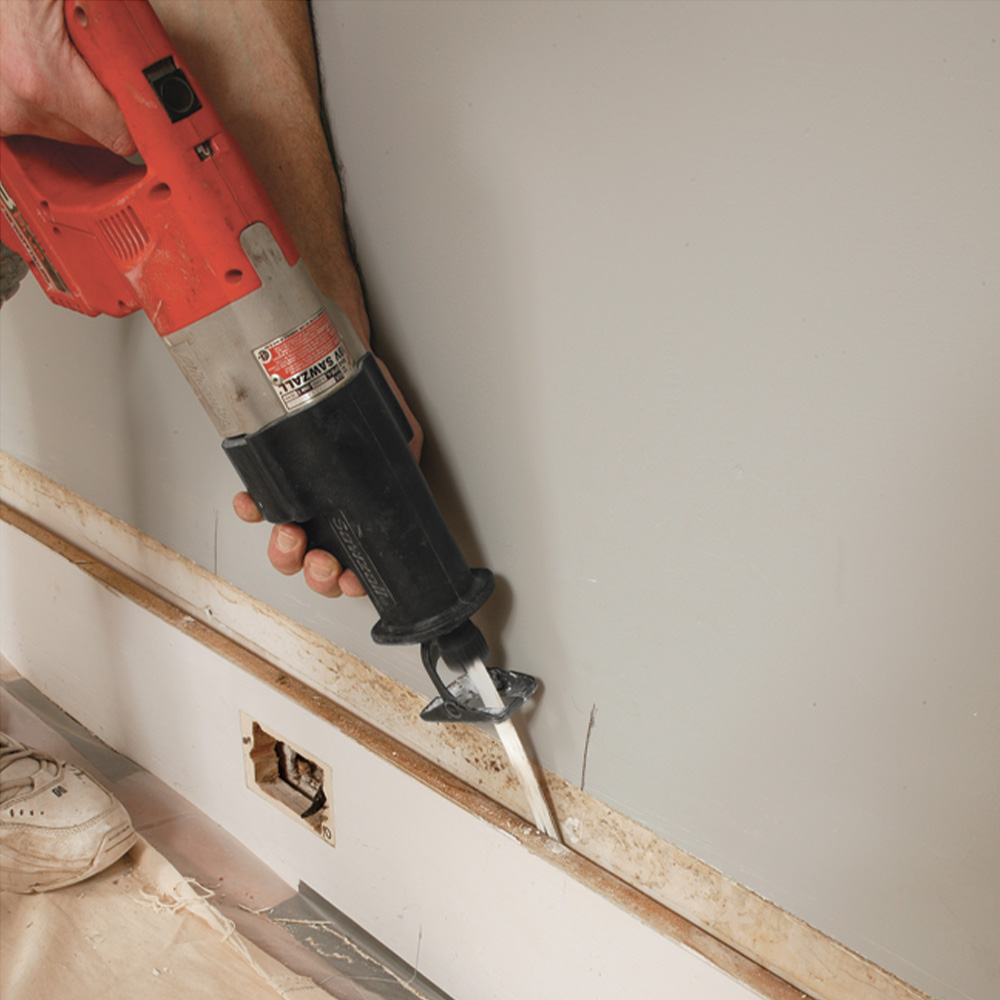 Step 4: Cut the nails, cut the resistance. Compared to simple moldings, large items such as baseboards, casings, and door jambs require substantial leverage to detach. Use pry bars to open a slight (1/16 in.) gap, then slip in a metal-cutting reciprocating saw blade, and chop off as many nails as you can reach.
Step 5: Bigger bars, more leverage. Place the flat bar over a wide shim shingle to protect the plaster better, and force open at least a 1/2-in. gap. At this point, if the trim refuses to pop off easily, insert the business end of a full-size wrecking bar in the gap, and allow the tool to provide the leverage necessary to get the job done.
Prep trim for reuse
Step 6: Cleanup and repairs are best done immediately. After the molding is free but before it's put away for storage, extract the nails by pulling them out through the back side using a pair of end nippers. This is also the time to scrape off excess paint that might interfere with re-installation and to inspect for damage.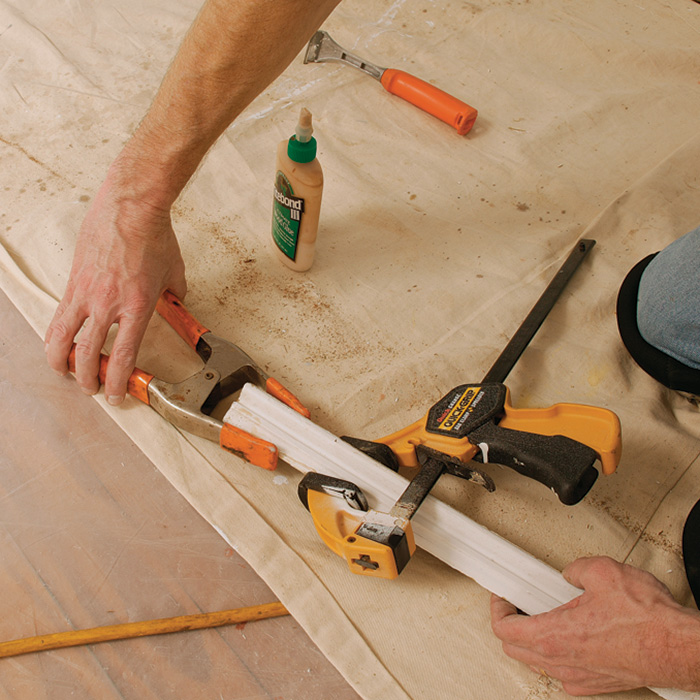 Step 7: Repair splits and cracks easily with a dab of glue and a clamp or two.
Photos by: Charles Bickford
From Fine Homebuilding #178
Previous:
Retrofitting a Skirtboard
Next:
Crown-Molding Fundamentals