Low-E Glass
Low-emissivity glass is the go-to choice for energy-efficient windows.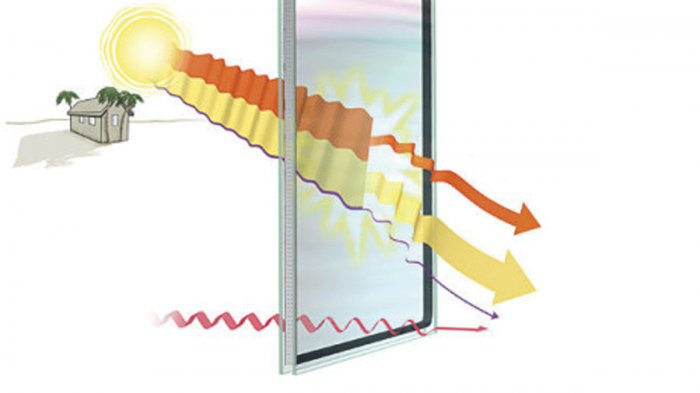 Synopsis: Low-e, or low-emissivity, glass is the go-to choice for energy-efficient windows. In this "How It Works" article, Debra Judge Silber outlines the various coatings and processes used in low-e windows. Different types of coatings let in different amounts of UV-rays, infrared-heat rays, and visible light. Low-e windows strive to block UV-rays, admit as much visible light as possible, and manage infrared-heat rays to the best advantage of the house for either solar control or passive-solar gain, depending on its climate zone. Low-e glass uses either sputtered coatings for solar control or pyrolitic coatings for passive-solar gain.
---
Since it arrived on the scene in the 1980s, low-e, or low-emissivity, glass has been the go-to glazing for energy-efficient windows. Typically used in insulated-glass units (IGUs), low-e glass has a very thin, transparent metallic coating that permits light to enter, but inhibits the transfer of heat.
The sunlight that hits windows consists of ultraviolet, visible-light, and infrared waves. When infrared waves strike a window, some are reflected, some pass through, and some are absorbed and re-radiated through the window as long-wave infrared (heat) waves. Emissivity refers specifically to a material's ability to radiate heat, so low emissivity glazing is glazing that isn't good at absorbing and emitting the infrared (heat) energy that strikes it.
Emissivity, however, is only part of the picture. Different types of low-e coatings let in different amounts of UVrays, infrared-heat rays, and visible light. What manufacturers strive for is glass that blocks most UV-rays, admits maximum light, and manages heat from infrared rays in a way that's most advantageous to the home's climate and orientation. Typically, windows that excel at rejecting solar heat (those with a low solar heat-gain coefficient, or SHGC) are recommended for hot climates, while windows that allow some solar gain (to aid in passive heating) are the customary choice in cold regions. Window orientation is also a factor, however. A north-facing window in a cold climate home is unlikely to provide much solar gain in winter, when it is most needed; likewise, even in a southern climate, a south-facing window may provide some useful heat gain in cooler months, as long as summertime gain is mitigated by shading or other means. By varying the formula of the low-e coating and its placement on the IGU, manufacturers can tweak performance to suit a variety of situations.
For more diagrams and details on how low-e glass works, click the View PDF button below. 
From Fine Homebuilding #230
View PDF
Previous:
The Stack Effect
Next:
Insulating Glass Keeps Getting Better