Tools & Materials
Making Passive House Mainstream
Chris Corson says someone has to elevate American housing, and he's ready for the job.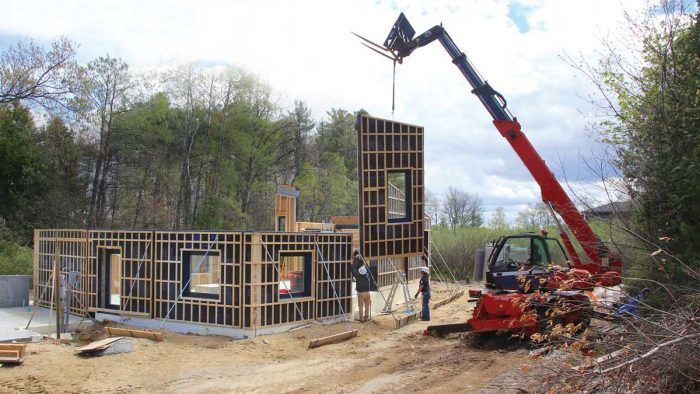 This past spring, I arrived at the Ecocor shop in Searsmont, Maine, shortly after work had started for the day. I'd come to learn more about Ecocor, a construction firm startup founded by Chris Corson that builds panelized, superinsulated Passive Houses. I first learned about Chris in 2012, when his intelligently designed Passive Houses were coming in at half the cost of other site-built Passive Houses. As I walked around his expansive shop, snapping photos of the eight-person crew assembling panels for a 2400-sq.-ft. custom home that would later be shipped to and assembled in Nashua, N.H., I couldn't help but wonder what the 25,000 sq. ft. of shop and warehouse space were costing the company. On the Swedish-built assembly tables were five panels in various phases of construction, and the place was spotless and well organized. Chris arrived shortly after. Seeing that his down jacket had been repaired with European air-sealing tape, I had hope we could talk over beers later.
After some niceties, I asked Chris if the state of Maine had given him tax incentives or low-interest loans for what looked like millions of dollars worth of manufacturing equipment. He told me he was entirely self-financed and that he had always been good with money. He added, "Well, really I can do this because my wife lets me."
I then asked him why he would risk building a factory and incurring so much overhead for what amounts to a very expensive niche product. He reminded me how hard it is to frame a house during Maine's brutal winters and how construction slows to a crawl for three or four months. He also talked about how tough it is on a framing crew to shovel a foot of snow off floors and roofs just so construction can continue. He pointed out that even during warmer months, regular rain makes a typical construction site a muddy mess. He told me that by building panels indoors, he can produce a weathertight shell in days or weeks, instead of months.
But improving workflow efficiency and working conditions for his framing crew are only two of his reasons for moving production indoors. Corson, who has studied environmental issues since college and whose wife consults internationally on fisheries management, describes climate change as the single greatest threat to the planet and its population: "The built environment is responsible for approximately 50% of global carbon emissions annually. American housing is a big part of the problem and somebody has to elevate it. Why shouldn't it be me?" Through his business, Corson says he's creating jobs, impacting climate change, and selling high-quality housing at an affordable price, and from my perspective he's put his money where his mouth is.
From Fine Homebuilding #270
To read the entire article, please click the View PDF button below.
View PDF
Previous:
What Are Passive Houses?
Next:
What's the Definition of "Green Building"?