Tools & Materials
Mineral Wool Makes a Comeback
This natural spun-stone insulation is enjoying a resurgence in popularity—and for good reason.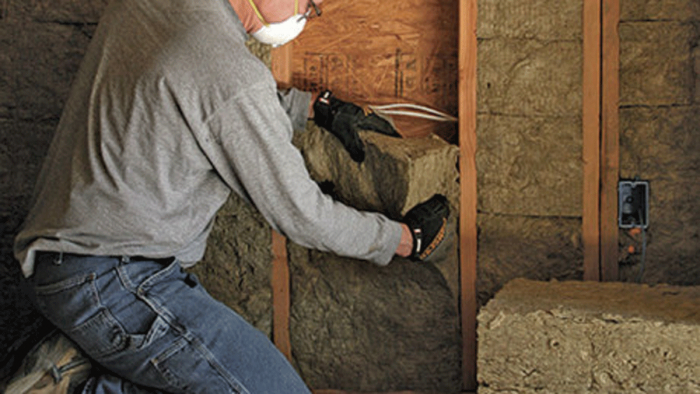 Synopsis: Although it's long been popular in residential construction in Canada, mineral-wool insulation (also known as rock-wool insulation) has mostly been limited to commercial building in the United States. Thanks to a renewed push from manufacturers and a growing interest from builders, mineral wool is starting to gain  traction among builders in the States, particularly because of its inherent fireproof, watershedding, and chemically inert qualities. Residential designer Mike Maines takes a close look the material, from its basic traits to best practices for installation. A chart shows how mineral wool compares to other insulation materials in five categories: R-value, water-vapor permeability, airflow resistance, fire control, and sound control.
---
Mineral-wool insulation has been in use since the late 1800s, so it's nothing new. But as the market shifted in the 1960s to less-expensive and better-promoted fiberglass insulation, the mineral-wool industry shifted its focus to industrial and manufacturing applications, where mineral wool became a perfect replacement for the asbestos mate rials being phased out due to health concerns. Yet over the last 25 years, the cost of energy, the public's awareness of health and environmental impacts, and building-science research have led to a renewed interest in mineral wool for the residential market also.
It's not hard to see why mineral wool is regaining lost ground. It's got an R-value of 3.8 to 4.3 per in., it's chemically inert, it contains almost no VOCs, it's fireproof, it absorbs sound, and its embodied energy is lower than that of most petroleum-derived foams. Sold most commonly as batts, it's also available as boards and as loose fibers for blown installations, and it can be used in all the critical locations: walls, floors, ceilings, roofs, exteriors, and even below grade. It is vapor permeable — which has its disadvantages as well as its advantages — and is fairly easy to install well. In a category that has long been dominated by fiberglass batts, mineral wool is worth a fresh look.
Yes, it's made of rocks
Ranging from tannish-yellow to greenish-brown, mineral wool has a matted-wool texture that's coarser and denser than fiberglass, thanks to its main ingredient: rock. Part of the fibrous insulation family of products, mineral wool is made by spinning molten basalt and/or blast-furnace slag (a by-product of the processing of iron ore and other minerals) to form short, multidirectional fibers.
Supply and demand
Although more available than ever before, mineral wool still competes for shelf space. Batts are typically 60% to 70% more expensive than fiberglass, and boards are at least 80% more expensive than rigid-foam boards.
Boards
Mineral-wool boards are almost as stiff as rigid foam and are always about 48 in. long, between 16 in. and 96 in. wide, and between 1 in. to 3 in. thick. Denser than mineral-wool batts as well as rigid-foam boards, which have a density of between 0.75 lb. and 3 lb. per cu. ft., these boards range from 4.4 lb. to 8 lb. per cu. ft. (and up to 15 lb. per cu. ft. for commercial grades). They can be used both for interior and exterior applications.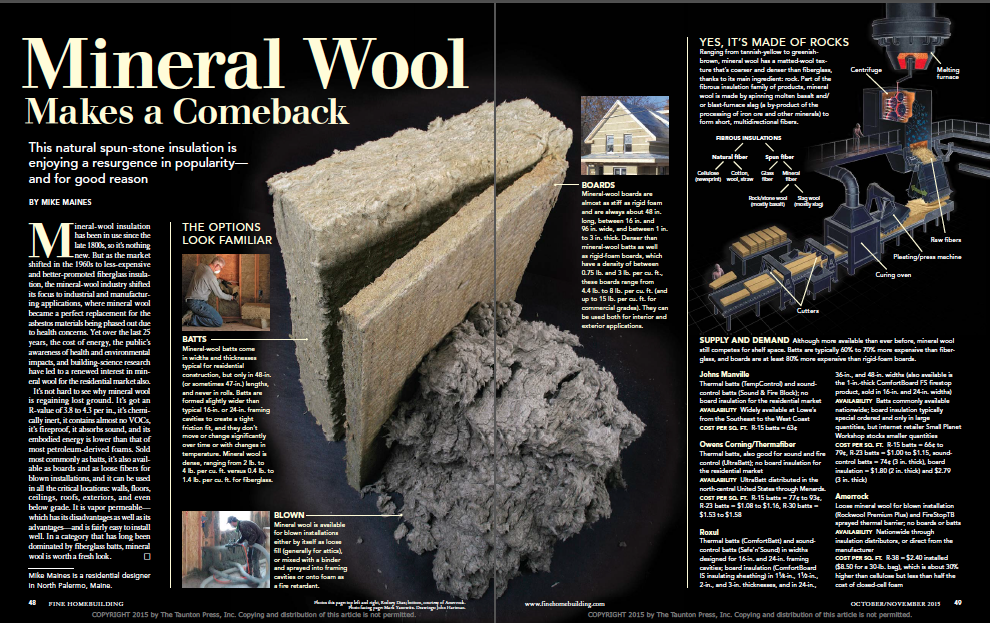 From Fine Homebuilding #254
For more photos, illustrations, and details, click the View PDF button below:
View PDF
Previous:
Dense-Pack Cellulose Coverage Chart
Next:
What to Consider When Choosing Blown-In Mineral-Wool Insulation