Sponsored Post
Design
Insulating for Passive House Standards
Learn how the team at the 2020 FHB House utilized Rockwool products to make the home more comfortable and efficient.
Sponsored by Rockwool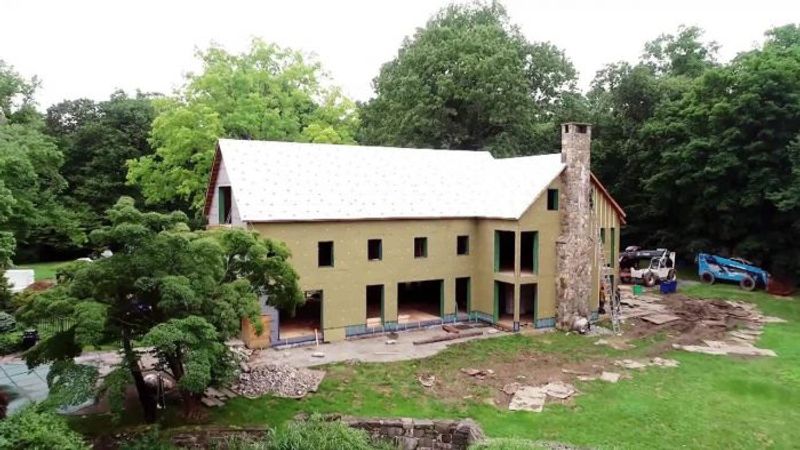 We're on site at the 2020 Fine Homebuilding House to take a look at how Rockwool insulation products were used to take this leaky New England-style house to energy-efficient Passive House standards. Rockwool insulation is made from mineral wool, a volcanic rock byproduct that's fire resistant, sound absorbent, and naturally water repellent. There are many products Rockwool has developed to insulate the different areas of your home, but in this house, the team utilize three: Comfortboard 80, Comfortbatt, and Safe'n'Sound acoustical insulation.
On the exterior of the house, the team chose Comfortboard 80, which is a rigid mineral wool product that's installed over the structural sheathing and is continuous across the whole exterior of the building under all types of siding. What's cool about the product is that it's R4 per inch, but it's vapor open. What that means for the building, is that if any moisture gets into the assembly, it can safely dry outward. Exterior installation is especially appealing to people building in cold climates. By putting the appropriate thickness of rigid insulation on the outside of your wall assembly, it keeps the sheathing warm enough to prevent condensation on the inside of the sheathing.
On the inside of those exterior walls, the team used Comfortbatt. Comfortbatt is that it strikes a nice balance between being firm and flexible, making it easy to cut while also tightly fitting into the wall cavities with just a friction fit. Because Rockwool is a durable rot-proof material, it also maintains its performance even when the temperature and humidity change over the lifetime of the home.
In addition to thermal insulation, Rockwool also makes acoustical installation, like Safe'n'Sound, that's designed to limit the noise transmission between interior spaces. It can be used in walls and ceilings, say, between bathrooms and bedrooms or bedrooms and kitchens to keep those spaces a little more private.
Safe'n'Sound is denser than traditional insulation products, which makes it great for sound absorption. It can also be used in areas where superior fire resistance is required because it can withstand temperatures above 2,000 degrees Fahrenheit.
Choosing the right insulation products and getting those installation details correct goes a long way towards making this or any home more comfortable and efficient. To find out how you can use Rockwool products to make your home more comfortable and efficient, visit www.rockwool.com for more information.