Sponsored Post
The Power of Automatic Standby Generators
Learn how FHB House Wisconsin has been set up to prioritize backup power with a Champion 14kw home standby generator and load management modules.
Sponsored by Champion Power Equipment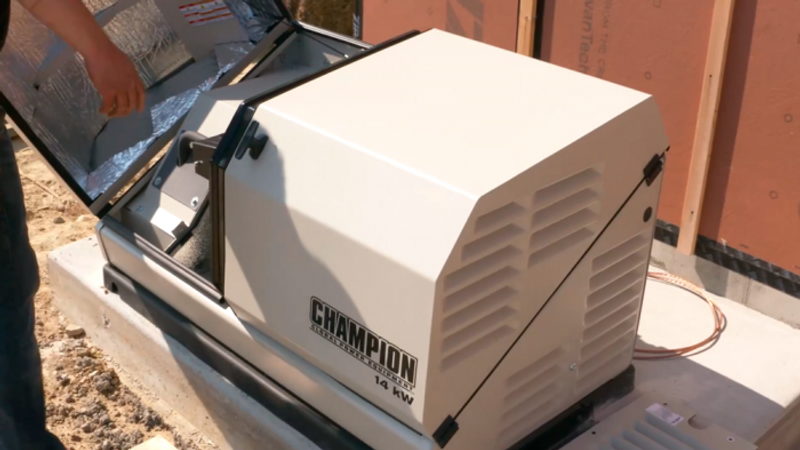 While many of the considerations that go into building a high-performance home are based around how to protect the building envelope, it's also important to think about how to protect your house after occupancy. Ian Schwandt, builder and homeowner of FHB House Wisconsin, was hooked up with a 14kw Home Standby Generator with an automatic transfer switch and two aXis load management modules from Champion Power Equipment to keep the home running in the event of a power outage.
With severe storms occurring more frequently, and longer outages as the result, you need to think about which appliances are necessary in order to stay warm or cool and keep devices charged. The Champion standby generator is great because when the grid goes down, it will fire up automatically and power the prioritized circuits.
When deciding where to place the unit, you have a few things to consider:
Locate your generator near the fuel supply to minimize the cost of connecting fuel to the generator. Champion generators operate on natural gas or propane.
Place your generator away from windows that can open, doors, and intakes for HVAC equipment, and place it on a pad.
Install the automatic transfer switch on the outside of the house, near the meter.
It's always a good idea to check your local codes for more regulations.
The automatic transfer switch is really the brains of the unit.  It's able to sense when grid power goes down and automatically turn on and feed power from the generator through the electrical panel and into the home. And when power is restored, it safely turns off and allows grid power back into the home.
Load management
When it comes down to deciding which generator to purchase, think about what kind of load management modules you're going to need. For FHB House Wisconsin, the modules have been connected to two large electric loads: the dryer and the electric range.
The modules will ensure that these appliances are run only at times when sufficient generator power is available, which gives us peace of mind knowing our unit can handle the load. It's also useful that you can assigned priority levels to loads to more easily manage appliances.
Including load management in your system can also help you save money. First, by prioritizing loads, you'll be able to choose the right size generator and won't pay more than you need to. And when the generator is in use and circuits are prioritized, you'll save money on fuel as well.