A Kitchen Actually Built for a Cook
Builder Ian Schwandt details the design decisions around their kitchen's scullery and how it flies in the face of the traditional kitchen triangle concept.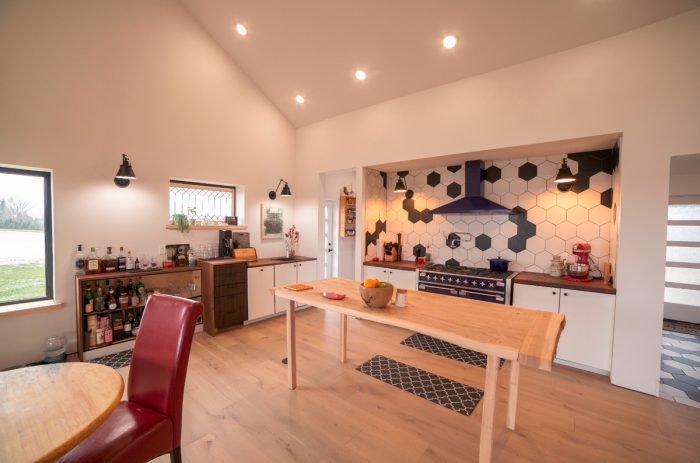 My wife, Sara, a James Beard–nominated chef, has spent over 15 years working in and running professional kitchens ranging in size from a tiny 8-ft. by 10-ft. cocktail-bar kitchen to a massive open kitchen at a high-end New York City restaurant. This experience has given her an entirely different view of kitchen layout, workflow, and the seemingly set-in-stone kitchen triangle. To say that our house was designed around the kitchen would be a bit of a stretch, but the kitchen and our planned use of our great-room space did have an influence on the project.
We knew that we wanted an open kitchen, dining space, and living room that had the feel of being a single living space where we spend the majority of our waking hours. Open kitchens have been popular in homes for many decades for this reason, but nearly all open kitchens struggle to make amends with the simple fact that cooking can be a messy business. Cooking for even two people, let alone a large group, can produce multiple dishwasher loads of pots, pans, and plates. Depending on your cooking style, a bunch of countertop appliances might be among the mix of things to clean up before guests arrive.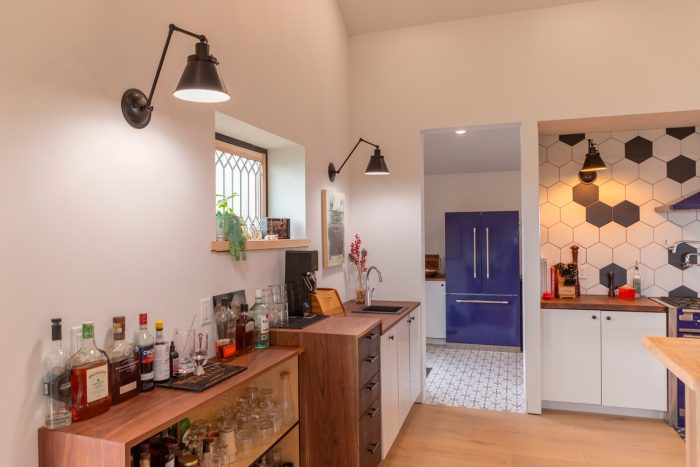 Enter the scullery. Or, as I like to describe it­, a pantry with running water. This space is typically in a small room adjacent to the kitchen, and becomes a place for cleanup and prep work (just like the "back of house" space, as the kitchen is called in the restaurant industry). Our scullery houses a large pantry cabinet, a 36-in. single-bay kitchen sink, a dishwasher, a refrigerator, a spice rack, multiple countertop appliances, and about 10 ft. of counterspace. It is also connected to the outdoors via a small deck that serves as an outdoor kitchen and the place where we let our dogs out to a fenced-in area. The great-room kitchen is home to our AGA Range, stand mixer, an additional 10 ft. of counterspace, a bar, a bar sink, a 9-ft. by 3-ft. worktable, and cabinetry that has space for storing cooking utensils, pots and pans, and serving ware.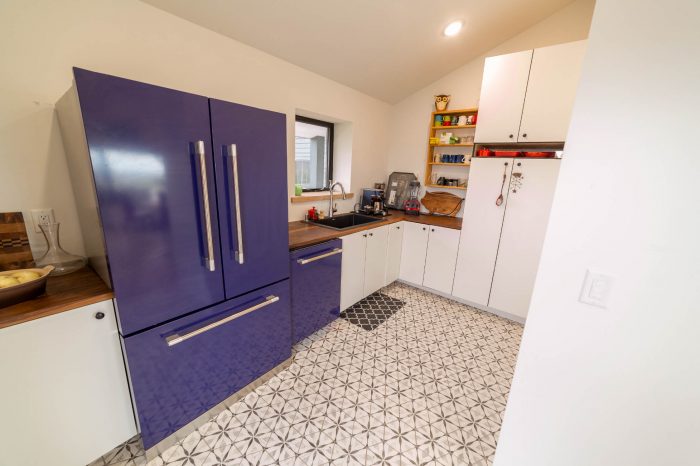 All of this flies in the face of the kitchen triangle, which urges kitchen designers to keep the range, refrigerator, and sink within quick access of each other. This is where my wife's professional cooking habits come into play. In commercial kitchens, there is no triangle. A professional chef needs to be organized. These work habits dovetail perfectly with the scullery, which serve as cold and dry storage, and our dish pit.
Like all open-kitchen designs, our layout keeps the cook out in the open and part of the group for gatherings of family and friends and game-day cooking. Thinking outside the box and splitting our kitchen up between the great room and scullery goes one step further and keeps our great-room kitchen cleaner, more organized, and free of kitchen tools that see infrequent use, achieving our main design goal of a sleek, modern interior.
Photos courtesy Joel Witte
---
RELATED STORIES