How-To
Installing a Plank Floor
Wide boards demand careful persuasion.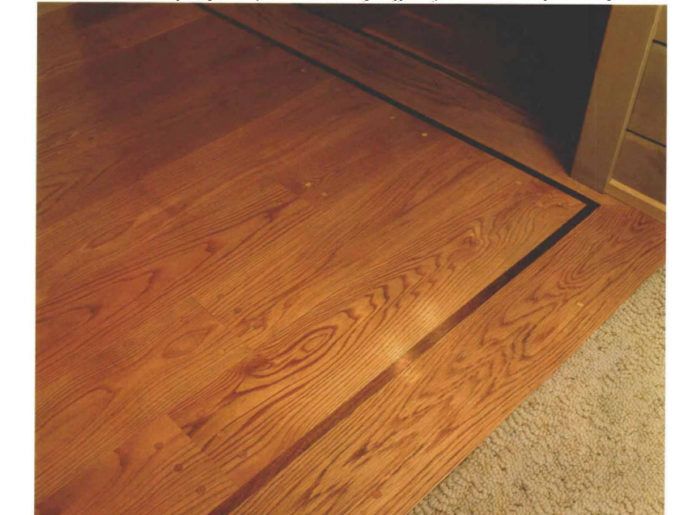 Synopsis: The author, a flooring specialist, discusses the installation of flooring made of planks from 3 in. to 8 in. wide. Planks have a warm, traditional look but they take a little extra effort to install. Here's how.
It wasn't until the end of the 19th century that the wind stopped blowing through the cracks in wood-plank floors. Prior to that time nearly every type of house, from log cabin to saltbox, had floors made out of square-edged planks. They were milled from whatever wood was available, and builders used cut nails or dowels to affix planks directly to the joists. The planks were wide, up to 14 in. in some cases, and as they expanded and contracted with seasonal changes, so did the cracks between them. That all changed with the industrial revolution, when kiln-dried planks with T&G edges began to emerge from lumber mills.
Most of the hardwood floors that my company installs are made of slender T&G strips. But some of my customers still prefer the traditional look of the wide floorboards and decorative plugs that characterize a plank floor.
There is a price to pay for this tradition. On the average, the materials to do a plank floor cost about 50% to 75% more than they do for a strip floor of a comparable grade of material. Plank floors are also harder to install than strip floors because the material is less forgiving. But if you like broad expanses of wood grain underfoot, nothing compares with the look of a plank floor.
Those of you who read my article on strip flooring will recognize the similarities in the work that has to occur before installing either a plank floor or a strip floor. The layout, framing, underlayment, and barrier requirements are the same. But coaxing the planks into place and affixing them to the subfloor takes another set of solutions. In this article I'll talk about plank floors made of unfinished oak, but these techniques can be used for floors made of other species of wood as well.
Dimensions, grading, and ordering
The typical plank floorboard is tongue-and-grooved along edges and ends. This is called end-matched flooring. The wider the plank, the more likely it is to cup when the humidity goes up. Because of this, I avoid installing planks more than 8 in. wide.
Oak flooring comes in four basic grades. The best is called clear, and it contains flatsawn and quartersawn boards. Most will be hardwood of uniform color. The next grade is called select. It includes clear boards with sound sapwood. Numbers 1 and 2 common are the lowest grades. They are variegated in color, with character marks such as knots and worm holes.
Quartersawn hardwood is especially good for plank floors because the dimensional changes in wood are greatest tangential to the growth rings. Flatsawn hardwood expands and contracts substantially across its width as humidity levels change. This can result in ugly gaps, cupping, or even buckling. Quartersawn planks confine most of their dimensional changes to variations in thickness. The face of quartered planking also resists compression and abrasion. Today, quartersawn flooring is expensive and hard to find in widths over 5 in., but it's commonly available in lesser widths.
For more photos and details, click the View PDF button below:
View PDF