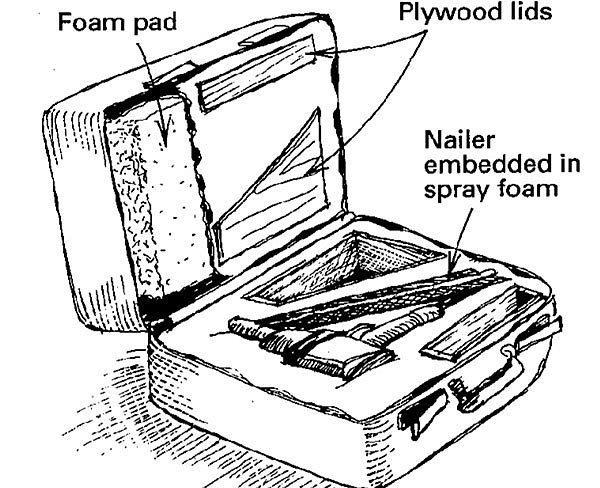 I needed a protective case for my framing nailer and its gear, and I found the shell for it down the street at a yard sale. There I picked up an old suitcase of suitable volume. I removed its innards and arranged my nailer and a couple plywood boxes inside it as shown in the drawing. The larger box is for nails, and the smaller one is for accessories. I marked the location of the boxes and the nailer on the suitcase lid and then set them aside.
Next I wrapped the nailer with several layers of thin polyethylene held fast with tape. With small blocks in place to orient the wrapped nailer properly and masking tape along the rim of the case, I spread a layer of triple-expanding insulating foam sealant across the bottom of the case. I placed the nailer and the boxes into the wet foam, pressing them firmly to the bottom. Then I foamed all the remaining voids in the lower half and let the foam cure.
After a couple of days, I used a serrated bread knife to trim away the excess foam and to finetune the nailer's recess. Next I placed 1/4-in. plywood lids over their respective boxes (separating them by a layer of poly) and coated the lids with a 1-in. thick layer of foam. I gently closed the lid and let it set for a day.
After touching up the lid with the knife, I used contact cement to attach a scrap of foam rubber to the top lid to hold the nailer firmly in place. With a modest supply of nails, the case is perfectly balanced.
William H. Brenne, Boulder, CO