Tools & Materials
Maintaining a Plunge Router
For trouble-free operation, avoid oil lubricants, replace worn brushes and keep the collet clean.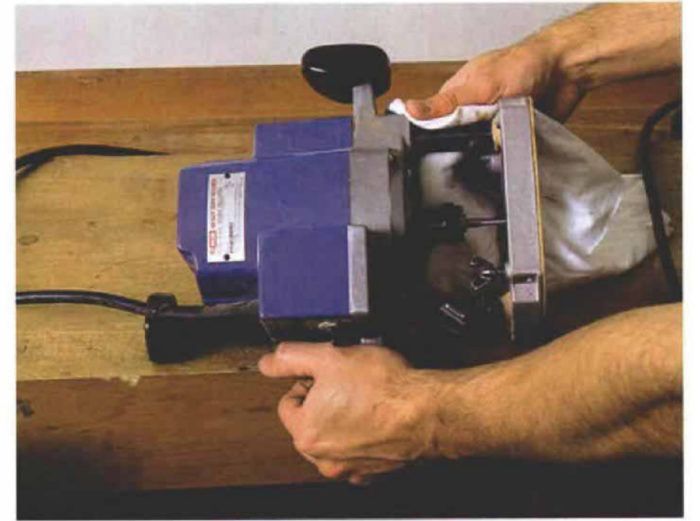 Synopsis: This is a very short guide to keeping a plunge router in good working order. One tip: Skip the WD-40.
I made the mistake of spraying WD-40 on the posts of my first plunge router. The plunge stroke gradually became more stubborn, then the router began seizing in the plunged position. Eventually I had to use a hammer to free it. Plunge-router manufacturers caution against the use of oil-based lubricants on their plunge posts. That's because these lubricants attract dust and carry it up into the plunge-spring housing where it will gum up the action.
It's best just to wipe plunge posts clean with a dry cloth and then apply, at most, a dry graphite or Teflon lubricant. One such product is Dri-Cote, made by Sandaro (Novato, Calif.). The manufacturer says Dri-Cote contains neither silicone nor petroleum oils and is made with a Teflon-derivative that doesn't attract dirt or dust. Don't use solvents for cleaning plunge posts — they'll dry out oil-impregnated bushings.
Plunge-router manufacturers also caution against overtightening the plunge-lock mechanism. Most locks are simple levers attached to a screw that presses against one of the two plunge posts. Overtightening can mar the post, rough up the plunging action and make it difficult to lock the router exactly where you want it. Most manufacturers minimize potential damage by using a brass-tipped screw or a brass bushing to contact the post. The soft brass conforms easily to the steel post and isn't likely to mar it. If you do ding a post with the locking mechanism (or with the slip of a wrench), file the post smooth.
Inverting plunge routers for use in router tables is an area rife with controversy. It's a common practice because it is easy to make fine adjustments in the height of the bit with a plunge router. And many plunge routers are powerful, so they perform well in a router table — especially with some of the heavy bits available for them. But few manufacturers openly encourage the practice because the router bits extend unguarded above most site-built tabletops (although Elu, Porter-Cable and Skil do sell router tables). Most carpenters I know aren't about to shell out a grand or more for a shaper when they can hang their routers upside down at a fraction of the cost. But bear in mind that inverting a router can shorten the life span of its bearings because sawdust will drop down into the motor housing. And exposed cutters are dangerous.
For more photos and details, click the View PDF button below:
View PDF