How to Patch a Large Hole in Drywall
Repairing damaged wallboard is easy to do with these basic tools and materials.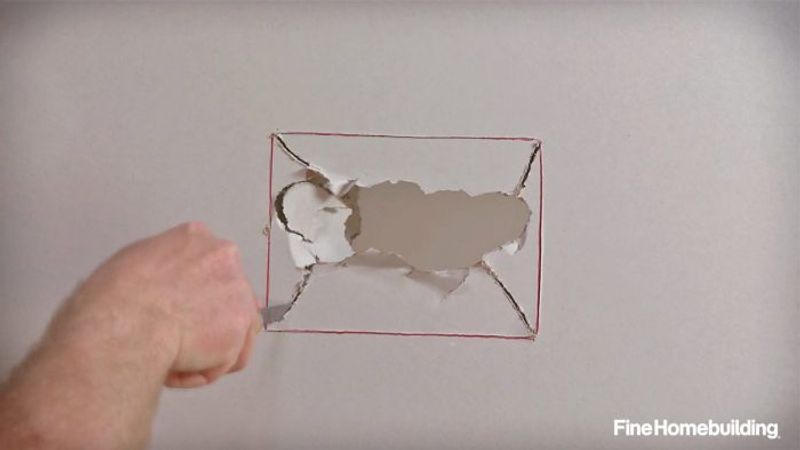 Drywall is a great building material, but it's relatively easy to damage. Maybe you're missing a doorstop on one of your rooms and one of your energetic kids has swung a doorknob into the wall, or perhaps you've made a nice gash with the corner of a table while moving some furniture around. Regardless of the cause of the damage, repairing a hole in drywall is an easy task.
Here's what you will need:
Rectangular piece of drywall slightly larger than the hole
Scrap of plywood wider than the hole
Pencil or marker
Utility knife
Drywall saw
Drill/driver with a Phillips bit or drywall-screw bit
Box of 1-1/2-in. or  1-5/8-in. drywall screws
Mesh drywall tape
Joint compound
Drywall-taping knives
Here's how to do it:
Measure the width and height of the hole.
Cut a rectangular patch about a half-inch larger than the hole in both dimensions.
Center the patch over the hole and trace it's shape onto the wall.
Score the lines with a utility knife, then use a wallboard saw to cut from the hole to each corner of the scored rectangle.
Snap the drywall back to the scored lines, and cut the paper backing with the utility knife.
Cut a scrap of plywood the same height as the patch but several inches longer.
Drive a screw in the center of the plywood to use as a handle.
Insert the plywood into the hole, center it, and drive several drywall screws to secure it in place. Then remove the center screw.
Insert the patch and secure with as few screws as necessary to hold it in place.
To finish, apply mesh tape and joint compound to the seams.
After the first coat of joint compound is dry, follow up with another coat of compound over the entire patch, feathering the edges to blend it into the surrounding wall. Repeat the process with additional coats if needed.
Once the final coat is dry, sand it smooth and finish with primer and paint.
---
More ways to patch drywall:
Invisible Drywall Patch

This tip uses polyurethane glue to make a seamless patch.

Small Drywall Patch

This video shows a simple method for repairing small holes.

Here's that no-tape method shown again with step-by-step illustrations.

California Drywall Patch

This is a reader's submission on the California patch method.

This tip uses tape behind the patch instead of wood blocking.

Nifty Drywall Patch

This video is a combo tip that shows you how to make access holes for wiring, and then easily close them back up.

This tip uses housewrap, of all things, as part of the fix.

Large Drywall Patch

Here's a video showing another way to fix a big hole in drywall.
Previous:
Repairing Holes in Drywall
Next:
There's a Better Way: Large Drywall Patch