How-To
Pattern Routing Exterior Details
This production-line method of shaping helped put a new deck on a Tudor house.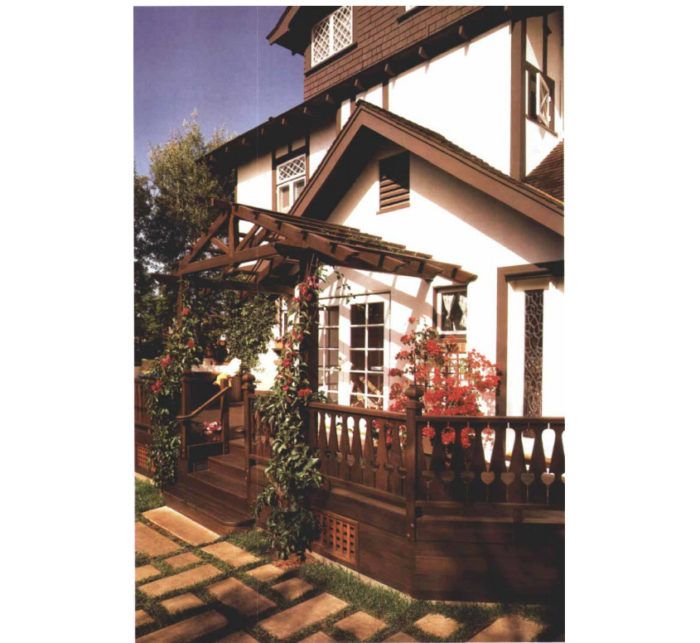 Synopsis: The author, a San Diego builder, adds a pergola and deck rail whose parts have been detailed with the help of a router and a pattern bit. The process is fast and accurate.
All right, a Tudor!" That's the first thing I thought when I arrived at the Roses' house in Coronado, California. I was there to see about replacing their old deck, and my favorite jobs are outdoor projects where I can recreate custom millwork on period houses.
When I design and build a project for a house with a particular style, whether it's Southwestern, Victorian, Craftsman or whatever, my first step, after looking through my own books, is to go to the library to find out what details define these styles. In this case I was replacing a deck, and my goal was to build one that would look good on a Tudor-style house.
I found that Tudor homes exhibit a heaviness both in construction and in details left exposed. These homes are usually half-timber construction infilled with brick, stucco or stone, and the timbers are big; roofs are steep with wide barge-boards, and colors are often dark.
I did a few things to lend this deck a Tudor quality. First I sheathed the deck sides to give the profile bulk. For the railing I fabricated broad, pattern-routed balusters of 1×6 redwood. And to create a Tudor theme, I erected an open-roof timber-frame entryway, or pergola. For a heavy look, I stained the deck dark. The finish I used on this deck, and on all my outdoor projects, is Olympic oil-based deck stain. In this case it was Expresso semi-transparent stain.
Enclosing the crawlspace
The size and the shape of the deck were restricted by a driveway and a walkway, so I pretty much built the deck with the same perimeter as the old deck. I placed a new continuous concrete footing around the perimeter and built the supporting structure from pressure-treated Douglas fir. The deck joists bear on a 4×6 girder that's supported by a stemwall of pressure-treated 2x4s spaced 16 in. o. c. I sheathed the stemwall, enclosing the crawlspace beneath the deck, to get a heavy look consistent with Tudor architecture. Exposed posts or a lattice skirt would have looked too light. To ventilate beneath the deck, I built mahogany grilles with redwood frames.
All of the exposed stock on this project is kiln-dried clear-heart, vertical-grain redwood, the sweetest wood to work that you could ever find. Redwood is great for outdoor use because it's stable — no warping, checking or splintering — and it lasts a long time. Its workability allowed for a lot of pattern-routed details — most notably the profiled members on the railing and the pergola — that really helped the deck work with the Tudor-style house.
For more photos and details, click the View PDF button below:
View PDF