Accurate Stapling for Drawer Assembly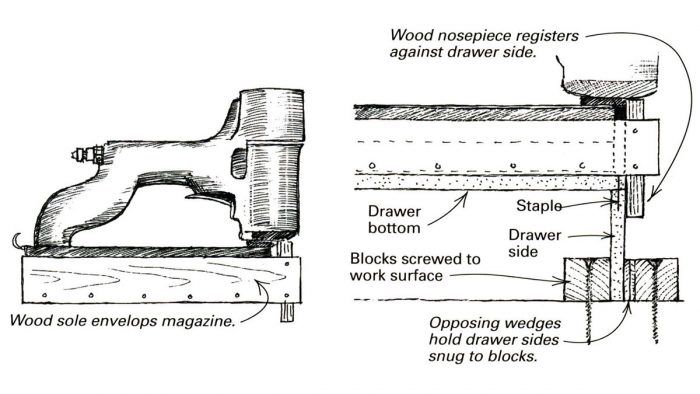 I had a stack of melamine drawer bottoms and sides that had to be stapled together, and I found that I didn't have much room for error. If the stapler's nosepiece was slightly off-center or out of plumb, I ran the risk of a staple blowing out the face of the drawer side. To ensure perfect alignment, I tacked together a wooden sole with a registration nosepiece for the stapler, as shown in the drawing.
The sole, which is made of 3/4-in. plywood, envelops the stapler's magazine. A piece of solid stock, planed to the width of the magazine, fits between the plywood sides, creating a flat, stable base for the stapler. At the business end of the tool, I put a wood nosepiece that extends an inch below the sole plate. As the drawing illustrates, this nosepiece registers against the drawer side and the edge of the drawer bottom, holding the two flush to one another as the staple is driven.
Incidentally, I clamp a drawer side between a couple of wood blocks that have been screwed to the workbench. A pair of wooden wedges that are driven in opposite directions do a pretty good job of clamping the drawer side during this operation.
Rich Van Rheen, West Linn, OR