How-To
A Builder's Real-Life First-Aid Kit
Bandages, bee-sting medicine and everything else a carpenter shouldn't leave home without.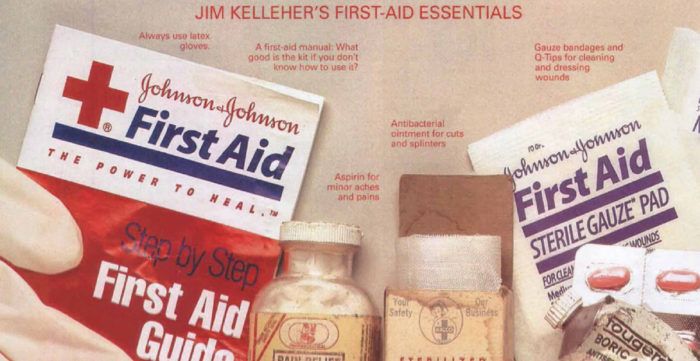 My qualification to write this article is that I am 50 years old and I still have all my fingers. I have mashed, bashed, sliced and punctured them, and last year I fell off an extension ladderand broke my ankle. But I am not accident-prone. I simply work with tools to earn my living.
I am also self-employed, which means that no one is going to rush to me when something bad happens. As a result, I work slowly and methodically, and when I hurt myself, I stop and try to fix myself. And I can't fix myself if I don't have the right tools to do the job. I put together my first-aid kit the same way I acquired my carpentry tools. At first, I started out with an empty box. Then I stuffed that box with everything I could find and struggled to carry the damn thing. Now I have a small box full of essentials.
I didn't even own a toolbox, not to mention a bandage box, when I started in 1970 as a carpenter's apprentice for the Building Trades Council in New York City. I had contact lenses, a beard that got me the nickname "Abe" (as in Lincoln) and many illusions about the romance of building. The ceiling contractor who hired me loaned my body to a commercial-partitions contractor. I never touched a stick of wood, instead spending those early days and nights as a carpenter unloading drywall trucks. When I wasn't stacking drywall, I toted boxes of ceiling tile and bundles of metal studs.
One afternoon, my education as an apprentice was about to conclude with a 30-second demonstration on the use of aviation snips for cutting metal crown molding. My foreman, Andy Levandowski, was showing me how to cut and bend the metal.
"Then you snap it like this," he said. The molding neatly broke into two pieces, except for the tiny shard of metal that immediately flew into my left eye. My eye reddened and watered. My contact lens came out undamaged, and Andy didn't see the metal in my eye. But I wasn't so sure I would ever see out of that eye again. Muttering and swearing, Andy ordered me to the emergency room but not before making me promise that I would hurry back because two trucks were due. "Better take a cab," he said. At the emergency room, a nurse doused both my eyes with a sterile solution and aimed a flashlight into my pupils. She couldn't find anything. The metal had probably flushed itself out. I would have cried if I'd had any tears left.
So I gave up my contact lenses for prescription safety glasses. They protect my eyes from airborne bits of molding and flashing, loose carbide tips on sawblades and the hidden nails I sometimes hit when recycling old building materials. I mention these safety glasses to illustrate Jimmy Four-Eyes' primary first-aid principle: Work safely, and you can keep your bandages in the truck. But you should keep an eye patch and some saline solution in your first-aid kit anyway, just in case.
For more photos and details, click the View PDF button below:
View PDF