Paintbrush Garage
This handy rig will save you cleanup time and effort.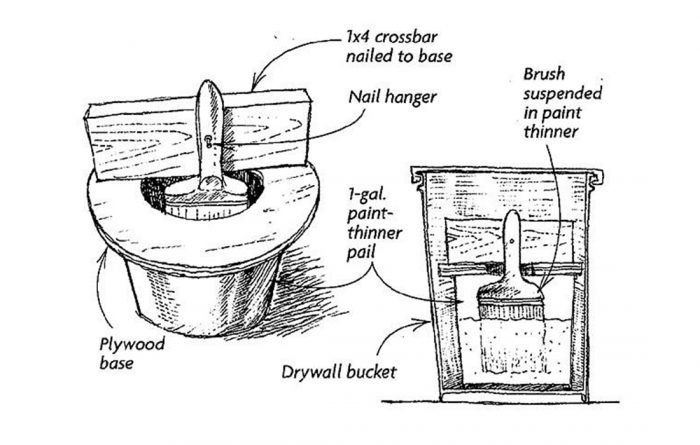 Real painters clean their brushes every day. I am not a real painter. But I often seal end-grain cuts and back-prime siding and exterior trim with an oil-based primer. To save cleanup time at the end of the day, I keep my brush in the rig shown in the drawing.
My brush garage consists of a 1-gal. paint pail, a 1×4 crossbar nailed to a doughnut-shaped plywood base, and a 5-gal. drywall bucket with a lid. To use it, I put several inches of paint thinner in the paint pail and suspend the brush from the nail hanger so that the bristles are immersed in the thinner. Then I cover the drywall bucket to keep the thinner from evaporating.
This setup allows me to go weeks between cleaning my brush. And at the end of a long day of running siding and trim, it sure is nice not to have to deal with paint-thinner fumes and drips.
—John Carroll, Durham, NC
Edited and illustrated by Charles Miller
From Fine Homebuilding #120