Preventing cracked ceramic floor tiles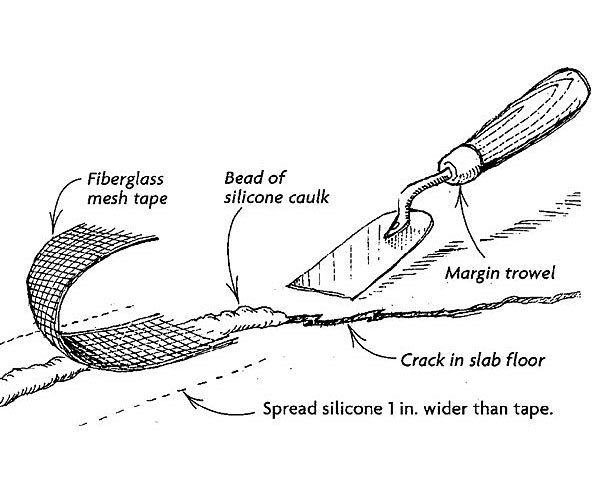 My grandfather was a tilesetter from the old country who once told me that an ounce of prevention is worth a pound of cure, especially when confronted with the risk of setting ceramic floor tile over visible stress fractures on concrete slabs. Stress fractures, or cracks, routinely occur in concrete slabs throughout the curing process as a result of expansion and contraction with changes in both temperature and humidity. The problem with attempting to bond a piece of tile to a concrete slab directly over a stress crack is that slab movement will transfer the crack right into the floor tile, effectively ruining your otherwise flawless installation and triggering a callback for repair.
There are numerous commercial products available that allow tile installers to fabricate antifracture, or isolation, membranes that can be installed directly over the fracture prior to installation using the thinset mortar method. These antifracture systems range from polyvinyl membranes and ultra-flexible mortars to liquid-applied membranes with reinforcing fabrics. Although these systems do effectively isolate the slab surface from the tile, they can be costly to do and raise the substrate somewhat, thereby creating an uneven setting surface that has to be resolved by the installer.
Over the years, I have found that the simplest, least expensive and most effective method of creating a nonstick isolation membrane at the job site is to use a combination of silicone-adhesive caulk and fiberglass-mesh tape. Once I've located the entire length of the crack, I clean the surrounding surface thoroughly with a damp sponge. Then I apply a thick bead of silicone caulk directly over the crack, as shown in the drawing. I then carefully press the mesh tape into the silicone using a margin trowel or a small taping knife. I spread the silicone wide enough to coat the slab at least 1 in. beyond the edges of the tape. The result is a flexible, reinforced membrane that prevents thinset mortar from bonding to the slab directly over the cracked area. The floor tiles, which are 12 in. sq., are large enough to span the crack and adhere to the slab. I've used this quick, inexpensive method successfully on fractures up to 1/4 in. wide without failure.
Frank Pierce, Orange Park, FL