How-To
Working Alone: Replacing a Helper's Hands
Tips and techniques that will speed up the process when you build by yourself.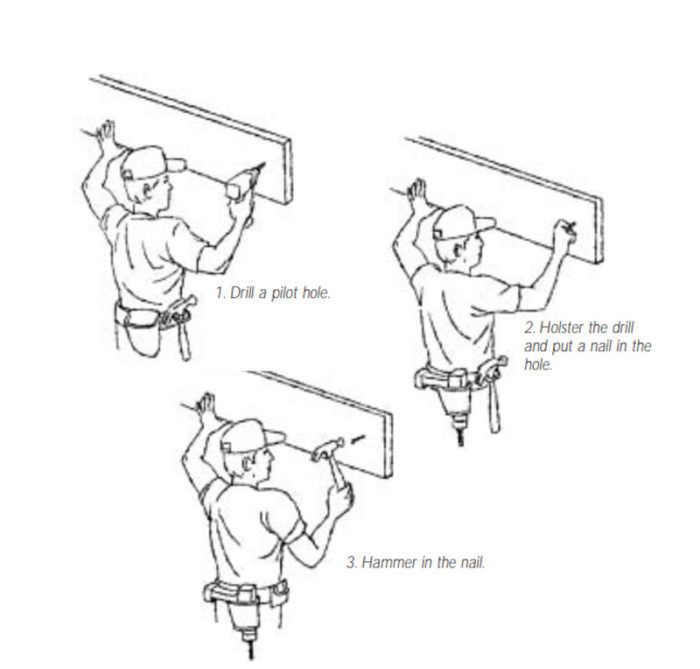 Synopsis: Being able to accomplish common building chores alone makes life easier for all kinds of builders — not just self-employed contractors. "Weekend warriors" can do a project without lining up neighbors or in-laws. Professional builders can keep working when some or all of the crew is out. Or they can leave the crew on one job and take care of a small task on another — without dragging along a helper.
The advantages of being able to work alone are easy to see, but the techniques themselves are seldom obvious. In Working Alone, author John Carroll has compiled the techniques he has developed in over 30 years of solo building. In this excerpt, you'll learn about some clever solutions to doing work that usually requires a helper.
Replacing a helper's hand
The human hand is a magnificent structure, and it will never be completely replaced. Machines can lift heavier objects; they can work to finer tolerances; they can do repetitive tasks a thousand times faster than human hands. But compared to our hands, they are clumsy and inflexible.
This is readily apparent to those of us who build and repair houses. We use power tools and equipment, but the equipment is portable and guided by our hands. Furthermore, when we use these machines we usually have to finish up by hand. Floor finishers, for example, use sanders to do most of the sanding but follow up with hand tools to do the perimeter of the floor and stair treads. Machines relieve us from a lot of hard, boring work, but they're often too clumsy to finish the job.
Machines are not only clumsy but also expensive and time-consuming. Over the long haul, time and money invested in complex, highly specialized machinery can be recovered on farms and in factories. But on construction sites, which are temporary and ever-changing, it is often impossible to use this kind of equipment effectively or to recover such large capital outlays.
For example, a machine that lays bricks has been around for decades, but it costs hundreds of thousands of dollars and takes days to set up. Such a machine is sometimes used in a factory setting to produce the prefabricated brick panels that go on commercial buildings. But this complex machine is not practical on residential projects where the scale is small, access to the site is often limited, and most of the work can be rapidly completed by skilled craftsmen. It may seem odd in this age of orchestrated electrons and engineered genes, but the fastest and most cost-effective way to build a house or addition is usually for crews of skilled workers to roll up their sleeves and have at it with portable equipment and handheld tools.
Here's where working alone can get difficult. Those of us in this business cut our eyeteeth as the low man in a crew. We haul boards and bricks, run errands, and get yelled at when we move too slowly. Our principal assets are our hands, and we're reminded of this in the language that's used all through the day. Our bosses tell us to "give me a hand here," "hand me that block," "hold this," "lift that." We grow into our trades in a climate where simple, direct methods are taught and relentless forward progress is demanded.
When you're alone on a job, of course, you don't have the luxury of a helper's hands, so many of the standard techniques are useless. To work alone you develop a different mind-set and work at a different pace. You can no longer attack your work as you did when you worked in a crew. This adjustment from a brisk, sometimes frantic pace to a deliberate, measured pace is the first and most important step in becoming an effective solo builder. It's an adjustment that many seasoned builders have a hard time making.
For diagrams and the techniques that make building solo easier, click the View PDF button below. 
View PDF