Double-Duty Miter-Saw Bench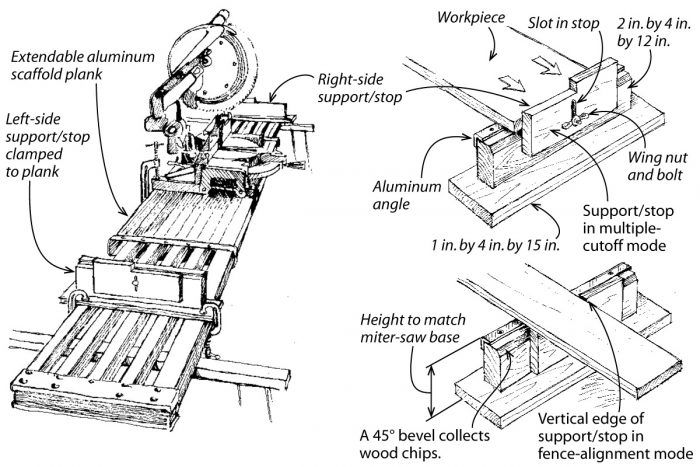 I upgraded my miter saw recently, and that got me looking at the commercially available stands. I wanted something portable that could handle long stock. Then I got to thinking about having to take yet one more specialty item to my job sites. I wondered whether I already had components that could be reconfigured into an acceptable saw stand. I did a little improvising, and now I've got what I think is a more adaptable saw stand than any commercial unit I reviewed — and it didn't cost me anything extra.
As shown in the drawing, the basic stand is composed of an extendable aluminum scaffold plank held up by a pair of folding sawhorses. I used Werner's PA 208 plank (Werner Ladder Co.; 888-523-3371) It weighs 40 lb., is 14 in. wide and extends from 8 ft. to 13 ft., but any similar plank will work. I affixed a power strip to one of the sawhorses. It's protected by a portable GFCI device. To be on the safe side, I make sure all my power cords are in top condition.
I made a pair of supports to hold up the ends of long pieces of stock. The supports are mirror images of each other, and like the chopsaw, the supports are anchored to the plank with C-clamps. The edges that contact the lumber are capped with aluminum angle stock, which reduces friction and makes the rig easier to use.
Each support includes a movable stop that can be raised above the support when I need to make multiple cuts (upper-right detail). I've cut multiples that were up to 11 ft. long with this setup. For one-off pieces, I lower the stop to the position where its vertical edge can be aligned with the saw's fence (lower-right detail).
Larry Jacobson, Seattle, WA
Edited and Illustrated by Charles Miller
From Fine Homebuilding #140