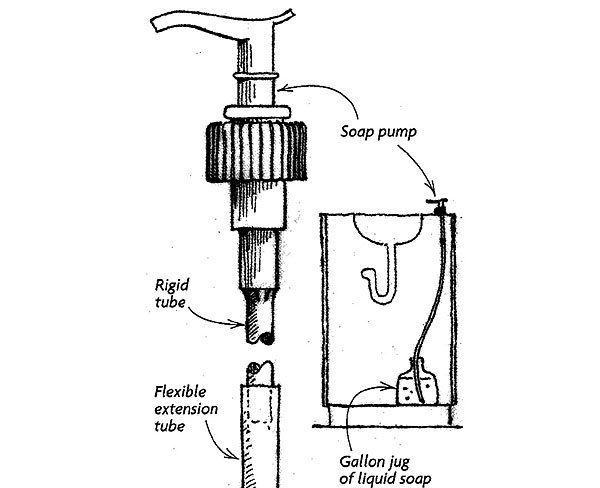 The sink-mounted soap dispensers in our home get plenty of use. But filling these dispensers is a pain. You either struggle under the sink to retrieve the bottle, or you have to fill them from the top, which isn't easy to do accurately. So what's my solution to this dilemma?
What I've done is to toss the bottle and extend the pump's rigid tube with a piece of clear, flexible hose that reaches into a gallon jug of soap under the sink. I've found that 1/4-in. or 3/8-in. I. D. hose works just fine. It should be a snug fit, and so far, hose clamps haven't been necessary. If the pump's tube is the flexible variety, use a short piece of rigid copper tubing with an I. D. that matches the tube's O. D. as a coupling to link the tube with a length of hose. Make the hose as short as possible —  24 in. should do it — and leave the lid off the gallon soap jug so that a vacuum doesn't form inside it.
Take a peek under the sink from time to time to check the soap level. At our house, a gallon should last, oh, forever.
J. Kaye, Phenix, VA
Edited and Illustrated by Charles Miller
From Fine Homebuilding #145