How-To
An Argument for Exercise
If building provides all the workout you need, why does getting up in the morning hurt so much?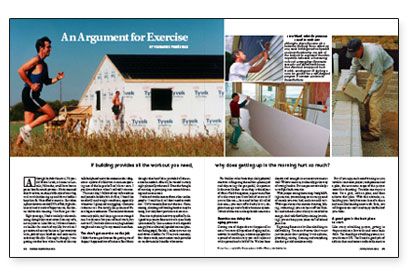 Synopsis: In this article, you'll learn how formal exercise differs from hard work, and why the former is necessary if you want to remain injury free. The author offers some sample exercises, makes the case that personal trainers aren't just for movie stars, and recommends some favorite books and magazines on fitness.
Although he didn't know it, 36-year-old Mario Lisak, a framer in Lincoln, Nebraska, could have been a poster boy for couch potatoes. Mario assumed that his active, on-the-job lifestyle of muscling tools and clambering up and down ladders kept him fit. He scoffed at exercise. But when a physical exam revealed 20 lb. of flab, high cholesterol and a touch of hypertension, the doctor delivered a warning: "Get fit or get sick."
Eight years ago, I had a similarly rude awakening, though the caveat came from my wife, not my doctor. Like Mario, I'd been a hands-on builder for much of my life; but when I got serious about my business, I put away my tools, picked up a briefcase and embraced a sedentary lifestyle. One night, though, I was getting another beer when I noticed that my wife had placed a new decoration on the refrigerator: a photo of a fellow in a swimsuit sporting one of the largest bellies I'd ever seen. I put down the beer when I realized it was me.
The next day, I followed my wife's advice and joined a health club. At first, I hated the treadmills and weight machines, especially whenever I glimpsed my jiggling silhouette in the mirror. But slowly, the promise of fitness began to seduce me. The workouts became more enjoyable, and the progress encouraged me. It took me a few years of hard work, but now at 47, I'm back down to my high-school weight and training for my second marathon.
You don't get exercise on the job
I didn't have a good excuse for getting out of shape; it happened out of laziness. But Mario thought that hard labor provided all the exercise he needed. After all, he turned in every night physically exhausted. Even the thought of running or pumping iron seemed daunting and unnecessary.
I've heard similar excuses from other tradespeople: "I work hard, so I don't need to work out." Unfortunately, that's not the case. Hammering, climbing and hauling lumber may be tiring, but they don't provide real exercise.
Exercise is physical activity specifically designed to promote fitness; it works your body systematically. Construction work expends energy, but in a limited, lopsided manner. Besides, unless you run up and down a ladder for 30 minutes nonstop, four days a week, construction work provides no cardiovascular benefits whatsoever.
For builders who limit their daily physical exertion to fingering the cellular-phone pad and depressing the gas pedal, the picture looks even bleaker: According to the editors of Men's Health magazine, a quarter-million of us die every year from lack of exercise. If you're like me — boss and lackey all rolled into one — you can't afford achy joints, depleted energy and a feeble immune system. I think of exercise as cheap health insurance.
For more photos, illustrations, and details, click the View PDF button below:
View PDF