Tools & Materials
Routers: The Best Tool You're Not Using
A well-equipped router is an indispensable tool for trim work, but which type and which accessories are right for you?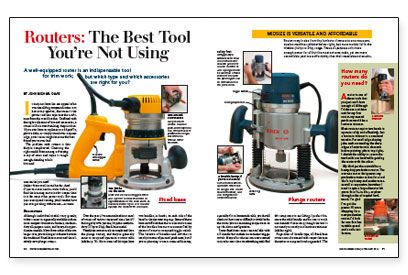 Synopsis: An introduction to routers, this article explains the basic sizes, types (fixed vs. plunge), and uses for routers. There are tips here for safe routing, as well as a guide to the most useful accessories.
It may not have the sex appeal of an oversize sliding compound-miter saw, but in my opinion, the router is the power tool that separates the craftsman from the wood butcher. Outfitted with the right collection of bits and accessories, a router is like a woodworking shop in a box. If you ever have to replicate an odd profile, plow a dado, or simply round over a square edge, your router might become the best friend you've ever had.
The problem with routers is that they're complicated. Choosing the right model from among a dizzying array of sizes and styles is tough enough; deciding which bits and accessories you need (rather than covet) is even harder. And if you've never used a router before, you'll find the learning curve is a bit steeper than it is for most other power tools. But once you're set up and running, you'll wonder how you ever got along without one — or more.
Size matters
Although individual models vary greatly, today's routers are generally available in three sizes: compact laminate trimmers, medium-duty all-purpose units, and heavy-duty production models. If you favor either of the two larger sizes, you've also got to choose between the traditional fixed-base routers and the relatively new plunge routers.
Over the years, I've accumulated an arsenal of routers of various types and sizes; but if I had to get by with just one, I'd pick a medium-duty (1 1⁄2 hp to 2 hp), fixed-base model.
Fixed-base routers are less complicated than the plunge variety, and they're generally easier to set up and operate in a router table. Most routers of this type have two handles, or knobs, on each side of the base for the operator to grasp. Some of them have on/off switches that are located on one of the handles; but most are controlled by means of a motor-mounted toggle switch. The location of handles and switches is mostly a matter of personal preference, but if you're planning to use a router-table setup, especially if it's a homemade table, you should check out how easy or difficult it would be for the router you're considering to operate in an upside-down configuration.
Some fixed-base routers are available with a D-handle that includes a convenient trigger switch. Many of us who are more accustomed to circular saws than woodworking tools find this setup more to our liking; I prefer it because the solid handle enables me to work one-handed if necessary, though the tool is not nearly as steady as a laminate trimmer.
Regardless of handle type, all fixed-base routers must be treated with respect because the cutters are exposed and unguarded. The first time you accidentally set down the tool right side up while the bit is still spinning will be an experience you'll never forget.
For more photos and details, click the View PDF button below:
View PDF