How-To
Octagonal Porch Posts
Octagonal porch posts.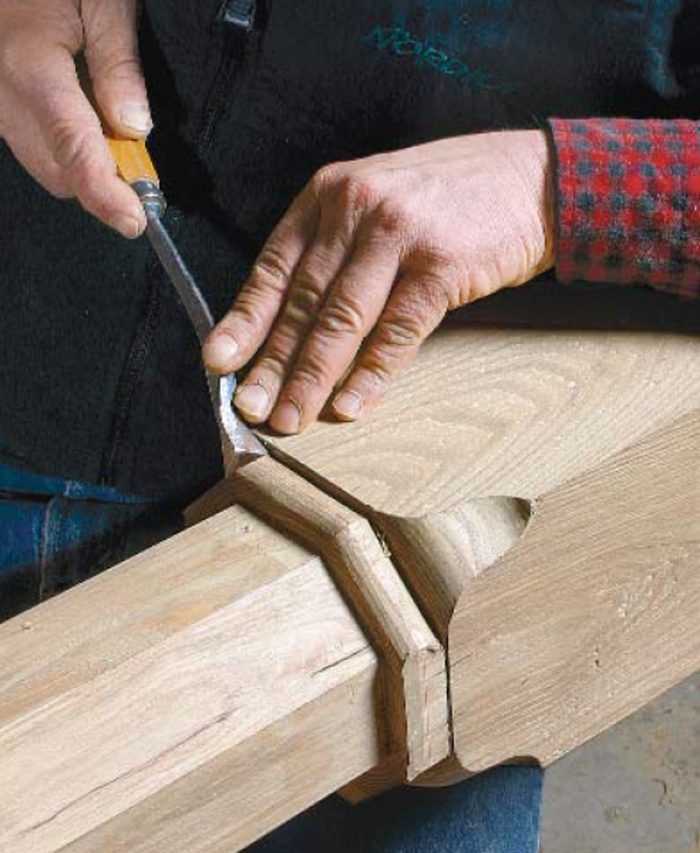 Synopsis: Learn how to fashion your garden-variety, square posts into elegant, tapered octagonal posts using not much more than a square and a router. We guide you through the process from start to finish, using detailed illustrations and pictorials. For the more ambitious, we also provide instructions for using chisels to add hand-carved details.
I've always been intrigued by octagonal posts, especially when they start square, turn into an octagon, then turn back into a square. When the octagon tapers as it rises, the fun really begins. I've made tapered octagonal posts in all sizes, from massive posts that hold up timberframe barns to octagonal newel posts on stairways and porch posts.
Story pole for consistent layout
Because octagons are formed from a square, I take great pains to square the posts before I start. To lay out the length of the octagon and the size of the top block (capital) and the bottom block (base), I work from a drawing of how the posts will be used. I'm careful to include details, such as the height of handrails that intersect the posts.
From the drawing, I make a story pole that shows the top and bottom of the octagon, the size of the top block, and the width of the decorative octagonal bead at the top of the taper. The story pole ensures that the details on all the posts will be identical.
Router sleds for quick tapers
The first step is tapering the four sides of the post. After squaring the layout lines to all four sides, I lay out the foursided taper. On these posts, each side tapers 7⁄16 in. A router riding on simple sleds is the safest, most accurate method for cutting tapered surfaces. I chuck a sharp 1 1⁄4-in. straight-flute bit into the collet of a router outfitted with a wide aluminum base. Aluminum is lightweight and stable, and it stays flat much better than wood.
A strip mounted on the lower end of the sled raises the rails so that the taper begins flush with the post face at the lower end.
Each face of these octagons tapers 7⁄16 in. from the bottom to the top, but because the stops at the end of the sled are placed farther back to include the width of the router base, I use a shim strip that's slightly thicker than 7⁄16 in. Marks on the sled index the sides to the layout lines I drew on the post earlier.
Two ways to calculate eight sides
To figure the width of each side of the octagon at the bottom of the taper, I use the octagon scale on my framing square. I transfer the octagonal layout lines to all four sides of each post. This step can be done before or after I taper the four sides.
For more photos, illustrations, and details, click the View PDF button below:
View PDF