Straightening boards on the tablesaw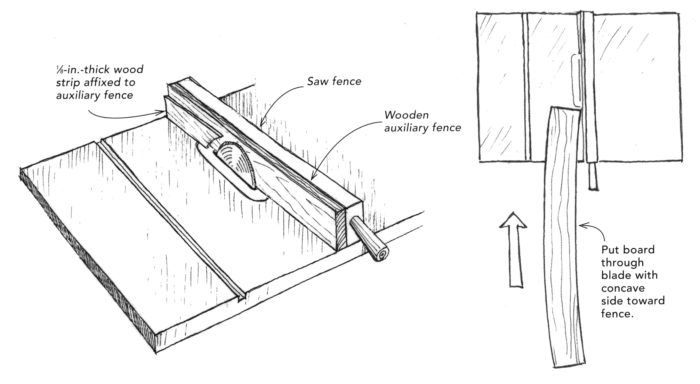 With a couple of simple modifications, you can turn your tablesaw into a jointer for straightening a bowed edge on a board. As shown in the drawing, begin by screwing a wooden auxiliary fence to your saw fence. Next, raise the blade so that it clears the thickness of the wood you want to straighten. Now bring the saw fence up to the blade so that the teeth just touch the wood. Using some two-sided tape or small brads, tack a 1/8-in.-thick strip of hardboard or wood just behind the blade.
Now carefully run the curved board through the saw with the concave side toward the fence. The section of the wooden auxiliary fence in front of the blade acts as the jointer's infeed table. The 1/8-in.-thick strip behind the blade acts as the jointer's outfeed table. By making multiple passes, you can straighten just about any badly bowed board with this method.
— Brian Everest, Nelson, None
Edited and Illustrated by Charles Miller
From Fine Homebuilding #165