A Site-Made Saw Guide for Cutting Vinyl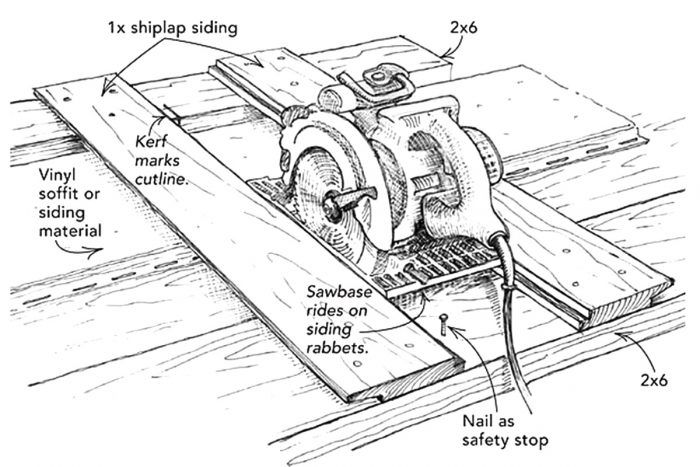 Cutting vinyl soffit and siding material can be done quickly and accurately with a saw guide, and the jobs I work on usually have a commercially available guide on site. But once in a while, the saw guide goes missing, and we have to improvise.
On a recent job with much vinyl to cut and no saw guide, I noticed a few scraps of 1×6 shiplap siding on the burn pile. As shown in the drawing, I cut two pieces 33 in. long and, with their rabbeted edges facing one another, laid them upside down atop a couple of 2x6s. With the 1×6 pieces set at a distance equal to the width of my saw's base, I screwed them to the 2x6s. This setup made a nifty little slide guide for cutting vinyl siding or squaring 1x or 2x stock.
The sawkerf in the far 2×6 indicates the cutline. In the near 2×6, a nail acts as a safety stop to keep the saw from accidentally backing out of the guide.
—Will Ruttencutter, Valdosta, GA
Edited and Illustrated by Charles Miller
From Fine Homebuilding #174