How-To
Installing Kitchen Cabinets Solo
Easily assemble and hang new kitchen cabinets by yourself with a few basic tools and some smart techniques.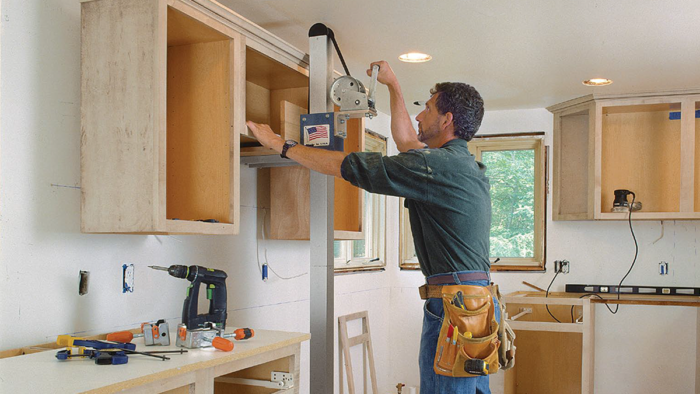 Synopsis: Installing kitchen cabinets is typically a two-man job that takes at least a full day's work. Through many years of working alone, contributing editor Mike Guertin has refined his procedure for installing cabinets smooth and solo. Here, he introduces some specialty tools, including a cabinet lift and face-frame clamps that allow him to gang the base and upper cabinets on the floor and hang them as one unit. Besides not needing to pay (or beg) for help, Guertin's technique also minimizes the problems cause by imperfect floors and walls.
---
Installing kitchen cabinets is one of my favorite projects. Whether I'm working on a new home or on a remodeling project, cabinet installation signals that the end is in sight. And installing the right cabinets transforms an empty space into a functional, good-looking kitchen.
Even factory-made stock cabinets, though, can be fussy to install. Walls are rarely straight or floors flat. A two-person crew with basic tools requires at least a day to install an average-size kitchen. But thanks to a few specialty tools and some techniques I've developed through many years spent working alone, I can do the same work by myself.
Good planning and joining cabinets together prior to installation are two important strategies. Tools like a laser level, face-frame clamps, and a cabinet lift save time while also improving the accuracy of my work. Throughout the process, I do everything possible not to damage the new cabinets.
Dings don't have to happen
On most projects, a lot of work has gone into getting the kitchen ready for the cabinets. The cabinets are a finish item, and I take every precaution not to let them become damaged during installation, starting as soon as they are delivered. Even if the cabinets arrive on the job before I am ready for them, I unbox them immediately to make sure everything I ordered was delivered and to inspect them for damage. Before installing the cabinets, I number (on painter's tape) and remove the doors, shelves, and drawers to protect them from damage. Removing these parts also lightens the boxes and makes them easier to handle. I don't reinstall any parts until the rest of the kitchen is complete.
Put the plans on the floor
For me, part of planning a smooth installation is drawing the cabinet layout as well as important plumbing and electrical information on the floor and walls. I draw the layout on the floor early in the construction process to help other tradesmen and myself proceed. This system speeds the installation process and helps me to avoid mistakes.
On the floor, I mark three lines parallel with the walls: the face of the wall cabinets, the face of the base cabinets, and the face of the rough toe kick. Then I mark the location of the individual base cabinets, wall cabinets, and appliances. I write the cabinet size code in each box and label the appliances and their sizes.
For more photos, drawings, and details, click the View PDF button below:
View PDF