Tools & Materials
A Look into Cordless Combo Kits
Whichever one you buy, the circular saw, drill, and batteries are the guts of the system.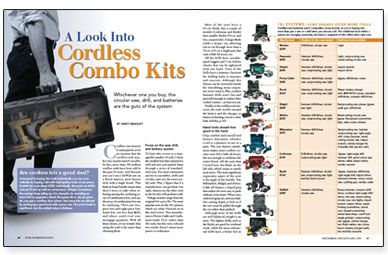 Synopsis: Cordless tools are overtaking their corded cousins. Case in point: cordless drills. Does anyone own a corded drill anymore? Now, cordless drills are being packaged with other cordless tools: circular saws, reciprocating saws, and jigsaws, to name a few. When you buy a cordless tool, you're really buying into a system of cordless tools. In this review, Andy Beasley presents a big-picture overview of what's available in the combo kit world, and a small-picture test of 18-volt drills and circular saws, which are the main reasons for buying a combo kit. A sidebar on battery technology contains a handy do's and don'ts section.
Cordless convenience is unsurpassed, so it's no surprise that the cordless-tool market has mushroomed steadily. In fact, more than 100 million cordless tools have been sold in the past 20 years. And because you can't run a DeWalt saw on a Bosch battery, most buyers stick with a single brand. This built-in brand loyalty means that there's more at stake when selecting among the confusing array of combination kits, and yes, the array of combination kits can be confusing. There are two-piece kits and eight-piece kits. Some kits cost less than $200, and others could rival your mortgage payment. With all these choices, it's no wonder that using the tools is far easier than choosing them.
Focus on the saw, drill, and battery system
To limit this review to a manageable number of tools, I chose the smallest kits that contained a drill and saw, and pushed them through a series of standardized tests. For most contractors and do-it-yourselfers, drills and circular saws are the most useful tools. Plus, I figure that if a manufacturer can get those two right, chances are the other tools in the kit also will perform well.
Voltage systems range from the original 9.6v up to 28v. The most popular now are the 18v systems, which are what I focused on in this tool review. Two manufacturers (Porter-Cable and Craftsman) make 19.2v rather than 18v tools, but this extra volt and two-tenths doesn't mean more power or endurance.
Most of the saws have a 6½-in. blade, but a couple of models (Craftsman and Ryobi) have smaller blades (5½ in. and 6 in., respectively). A larger blade yields a deeper cut, allowing you to cut through more than a 1¾-in. LVL in a single pass, but costs a little bit more, too.
All the drills have variable-speed triggers and 1⁄2-in. keyless chucks that can be tightened with one hand. Nine of the drills have a hammer function for drilling holes in masonry and concrete. Although this feature can be extremely handy for remodeling, many carpenters won't need it. Plus, cordless hammer drills aren't fast and powerful enough to replace their corded cousins — at least not yet.
Finally, in the cordless-tool universe, the tools revolve around the battery and the charger, so battery technology merits a close look.
Hand tools should feel good in the hand
Grip comfort and overall tool balance determine whether a tool is a pleasure to use or a pain. The rear battery attachment makes most cordless circular saws feel a little aft heavy, but not enough to condemn the entire breed. All the saws that I tested have the blade on the left side, which seems to satisfy most users. The most significant ergonomic aspect of the saws is the angle of the handle: The Milwaukee, Ridgid, and PorterCable all feature a sloped grip that makes the saws easy to push without wrist strain. When saws with level grips are used at a shallow cutting depth, it feels as if the saw must be pulled through the cut rather than pushed.
For more photos and details, click the View PDF button below:
View PDF